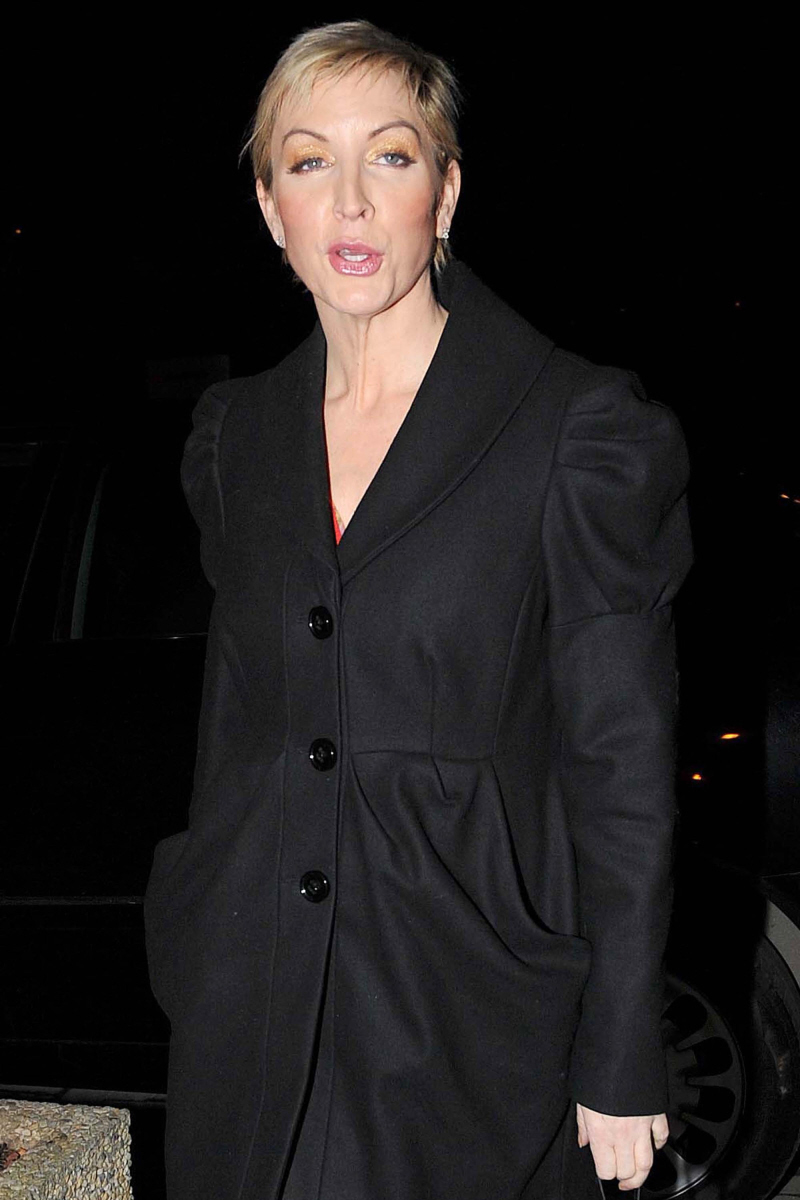 Remember the epic divorce settlement Heather Mills got from Paul McCartney? It was around $50 million dollars in cash, property and assets, plus an extremely generous monthly child support check. And remember how Heather made such a big deal about how she was giving so much money to charity and how she could support herself, et cetera? Yeah… not so much. The Daily Mail has an exhaustive report that starts out as a sort of editorial about why people hate Heather (she won't shut up, she's a narcissist, she's a liar, she's a famewh-re), and then it turned into some kind of hard-hitting expose on how Heather has run through more than half of her divorce settlement already, and how the charities Heather works with are in ruins. Here's the whole article, and here are the highlights (it's still pretty long, I apologize):
Heather's divorce settlement gave her two homes and other assets worth £7.8million, a lump sum of £14 million and a further £35,000 a year to help bring up Bea, her daughter with Sir Paul. Surely this huge sum would be enough for the Tyneside-born former underwear model who was once so poor she stole food just to have enough to eat? Apparently not.

According to friends, Heather, 42, is already complaining that she is running out of money. And when it comes to her charities, astonishingly, she is also pleading poverty.

The charity Heather has always been most associated with is No More Landmines. It was her work with it which first led to her introduction to Sir Paul McCartney at a charity event, and he donated £1 million to it soon after they married.

But, I can reveal, No More Landmines folded eight months ago. The charity, which in 2007 held more than £200,000, reported an income of just £285 last year.

In interviews to publicize herself, Heather says many of her charities have suffered because of her poor public image and the best she can do for them is dissociate herself. However, despite the fact No More Landmines has been wound down, it is still heavily plugged on her website as the charity she is most involved with.

Blaming negative media coverage on GMTV earlier this month, Heather – who bizarrely refers to herself in the plural – said: 'Well, we were in a situation where our charity was virtually destroyed by all of that. We were the largest landmine-clearing prosthetic charity in the world and it got completely destroyed. I can only fund it so far with all of our other charity commitments. So I had to get out and say: "OK, let's see how this goes."' Not very well for No More Landmines, it seems.

She offered to provide $1million of vegan food to the charity which works in America's most poverty stricken urban ghetto. Mills became involved with the New York community group when she befriended its founder Maryann Hedaa at a charity function. When she announced the donation, she was given an honorary congressional award. But the charity is still waiting for much of its money. 'So far, I would say we have been given about $150,000 in cash and another $200,000 of food products,' says Maryann. 'I would say we have been given about a fifth of the money so far.'

But Maryann holds faith in Heather: 'When she offered to help, everyone warned me not to get involved. They said she does not follow through. But I have to say that so far she has really rolled her sleeves up and got involved. She has been pretty amazing.'

But, by her own account, Heather has struggled to pay for what she has promised. Writing on Twitter in August, she said she was renting out her plush £2.5million New York apartment – where Nicole Kidman and Calvin Klein were neighbours -'to fund free café in the Bronx for kids', adding 'sad to see it go'.

Heather's divorce from Sir Paul also showed she had a history for not giving as much to charity as she claimed. During the bitter divorce proceedings, Heather claims she was a millionaire before she met Paul and had always donated 80 to 90 per cent of her earnings to charity. But Mr Justice Bennett, who accused her of being 'less than candid' in her evidence, said this appeared to be unlikely.

Heather had been unable to produce records of money sent by her to any charity between 1997 and 2000. He added: 'Moreover, her tax returns disclose no charitable giving at all.'

His judgment revealed that, although she had promised that her £110,000 Dancing With The Stars fee would go to the animal rights charity Viva!, she actually gave them only £50,000. The reality is that Heather has found more interesting things to spend her money on than charity.

First, there are her homes. Heather got two houses in the divorce settlement. Her main home is a stunning six-bedroom house on Brighton's millionaire's row. It was bought for £750,000 in 2001, courtesy of a loan from Sir Paul. It is now worth more than twice as much. She also owns a £3.2 million seven-bedroom house near Paul's home in Peasmarsh, East Sussex, which was, again, included in the settlement.

From her £14million lump sum, she bought her two-bedroom New York apartment and a £2.4million flat on one of London's most exclusive roads, The Bishops Avenue, in North London. She recently put the three-bedroom flat back on the market for £3.75million.

Then there is her entourage. Many of Heather's closest friends have fallen away over the years. All tell the same story – one Sir Paul may recognise. Invariably, Heather is utterly charming at first and her determination in the face of adversity is something to be admired. She is a pro at portraying herself as a do-gooder. But Heather is, undoubtedly, also a fantasist. She is seemingly unable to stop lying – and believing the lies that she tells.

[Meanwhile Heather's] former hairdresser David Paul is [excoriating]. He started working with her in 2005 and, after she told him she was waiting for Sir Paul to give her a bigger income, David did her hair for free on the understanding that she would pay him when she could. But during the divorce proceedings it emerged she received £350,000 a year from Sir Paul. Plus, he paid all her bills.

David was shocked, as he tells me: 'I was seduced by her charm. But she was lying to me. I was shocked when I discovered how much money she had coming in when she met me. She hardly paid me anything. What was disturbing to me was that she was pleading poverty at a time when my brother was dying of Aids – and she still lied to my face about not having any money. She has no conscience.'

Many of the friends Heather has left are on her payroll. After winning her divorce settlement, she took 20 of them on a £250,000 holiday to Richard Branson's Necker Island. Heather's sister Fiona is the director of many of her companies. Heather's boyfriend, Jamie Walker, who was a holiday representative, appears to have no other source of income and works as her odd-job man.

She has got rid of her £3,000-a-week security guard, but sports trainer Ben Amigoni is still an almost daily visitor to her house and she has a personal assistant. Beauty therapists and hairdressers are constantly on hand.

Says one acquaintance: 'Since the trip to Necker, Heather has not made any grand gestures. But there is a drip, drip frittering away of money. A lot goes on flights – she doesn't get upgraded any more. Hotels are always five star, her houses are always filled with fresh flowers and she has a team of people to support her. I know it sounds ludicrous, but she has started complaining that she doesn't have enough money – that it is running out. I think Heather thought she would make millions after the split – that she would be the new Larry King with her own chat show. But she is living in a dream world. Heather is a nobody. And that is why she is back in the UK.'

Heather's biggest expenditure has been her purchase of the successful vegan food company Redwood. Although details of the sale were never released, Redwood's net worth was £3.1million at the time she bought into it last year. And she already has big expansion plans. At present, although Redwood has a £3million turnover, its profits are pretty modest – in the last accounts they stood at £309,000. Not really a yearly sum that can keep Heather at the rate she is spending.
[From The Daily Mail]
Heather is currently a contestant on Dancing on Ice in the UK, and apparently she's already promised her winnings to various charities too. She's also given multiple interviews claiming that she is not, in fact, a gold digging fantasist, but at this point, who believes her? I tend to think that there's a lot of truth in this report, and I had been wondering who long it would take for Heather to run through her divorce settlement. I'll tell you something else – money is wasted on Heather. Do you know what I would do with that kind of insane settlement? The mind boggles, for sure, but I would also think it's really, really tough to spend that much money so fast. You really have to try to spend that money every damn day.
Heather outside the RTE studios in Dublin on January 29, 2010. Credit: WENN.