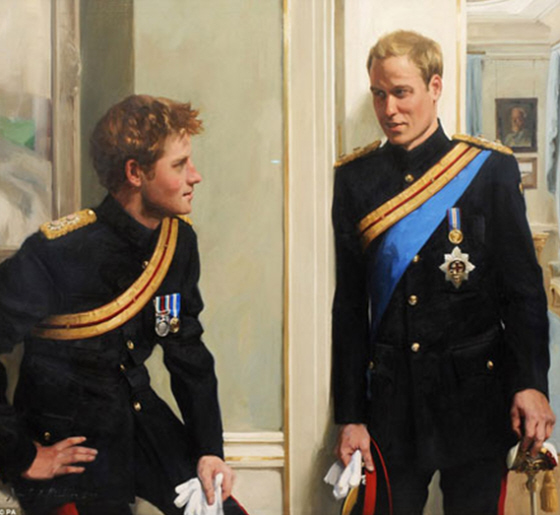 Several weeks ago, the first official portrait of Prince Harry and Prince William was unveiled (Above). It kind of sucked – Prince Harry looked like he was squatting on the toilet, while William looked… okay, I guess. Half of his face is in shadow, and he looks like a "full Windsor" and that's not a compliment. Anyway, Prince Harry was being interviewed while traveling in Barbados, and he took time out to complain that the portrait made him look "a little bit more ginger in there than I am in real life." Harry went on, saying the artist gave William "more hair". Oh, snap!
Prince Harry, fresh from a temper tantrum at a Barbardos polo match on Sunday, has a new complaint: the official portrait unveiled of him and his brother last month makes him look more "ginger" (red-headed) than he actually is.

The Sun reports that the young prince, upon being shown the portrait, said "I don't know, I'm a little bit more ginger in there than I am in real life, I think, I don't know, and (William) got given more hair so, apart from that, it is what it is, but no its nice, it could have been worse."

Harry clearly enjoys ribbing his brother about his thinning hair. According to The Sun, he told a war veteran in Barbados on Saturday that Prince William "was already bald aged 12."

While speaking during a recent visit to New Zealand, Prince William made a point of calling his brother ginger.
[From Huffington Post]
This is right in line with the hilarious, bitchy interview I covered of the two Princes back in June of last year – it seems they consistently mock each other's hair (or lack thereof). Here's the thing, though – I don't really see a difference between the portrait and William's real hair, whereas I can see that the artist made Harry less of a ginger. Why is there so much ginger-hate in the UK?