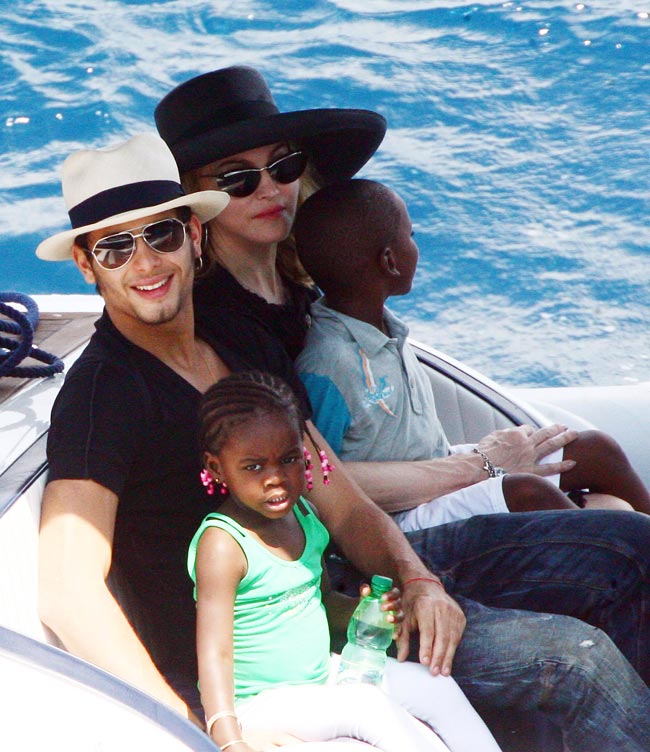 The fairy tale romance between 51 year-old Madonna and 23 year-old model/DJ boyfriend, Brazilian Jesus Luz, may be over. Bill Zwecker of the Chicago Sun Times reports that Jesus broke up with Madonna, but that it was "totally amicable" and Madonna was ok with it. You know that Madonna's camp did not leak this news if it was Jesus that did the dumping, not her. Here's the brief report on their split:
While it's true that Madonna and Jesus Luz, her boytoy of the past year, have gone their separate ways — it not only was totally amicable, but it was Luz who initiated the split. Apparently, the 23-year-old Brazilian realized their age difference (she's 51) and overall lack of mutual interests nixed a long-term relationship.
[From Sun Times]
Last week we heard that Madonna had a secret weekend hookup with her ex, Alex Rodriguez, in mid January. Maybe Madonna was "cheating" on her younger kept lover, or maybe she was consoling herself in the arms of an ex, fantasizing of sweet centaur loving.
It's good news that Jesus has cut Madonna lose. He may miss out his allowance, but he'll be able to forge his own way in life without answering to a girlfriend as old as his grandmother. And we won't have to read any more speculation that Madonna and Jesus are trying for a baby.
There's a story that Madonna has taken up with an "a retired Wall Street exec" and Kabbalah devotee in his mid 70s. The two were supposedly seen making out, but this story originated with "Brangelina" author Ian Halperin. There's less than a 50/50 chance of a story from Halperin being based on more than his imagination.
Jesus and Madonna are shown with Mercy and David on 8/17/09. Credit: Fame Pictures