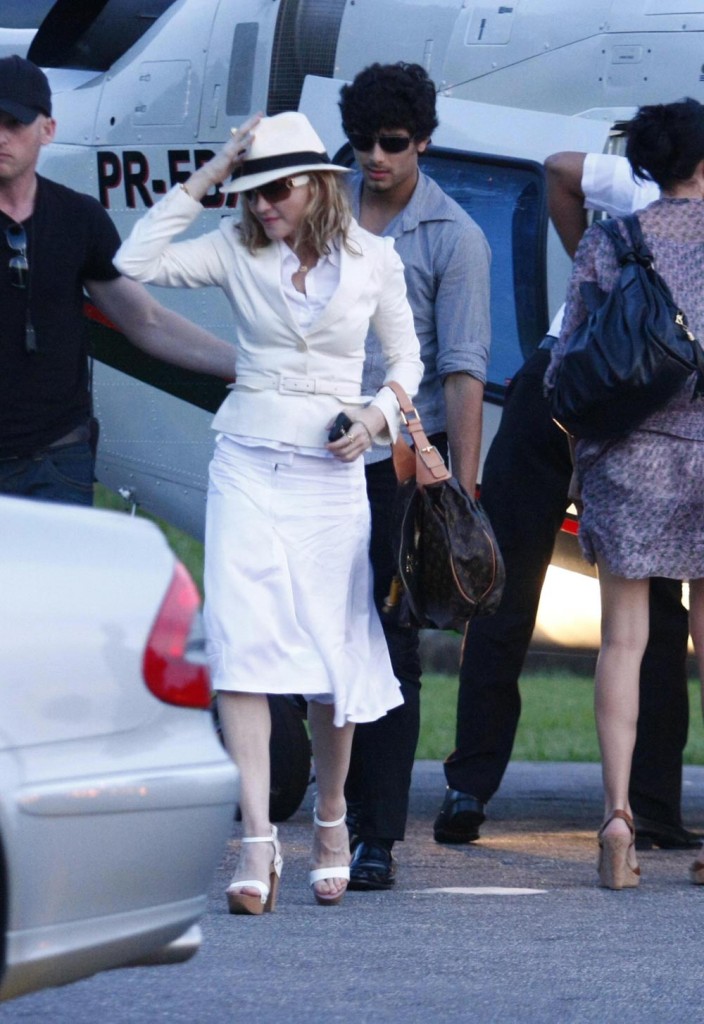 Let's hope this story is made up, but British paper The Sun claims that 51 year-old pop star Madonna is hoping to conceive a child with her much younger lover Jesus Luz, 22. Women have become pregnant through in vitro fertilization into their 60s, with the oldest known mother at 67. The key is to use donor eggs so that the pregnancy is viable. Most US fertility clinics have age limits for attempting pregnancy in post menopausal women, with the most liberal going up to 52. If this report is true, Madonna's clock is just about to stop ticking even with help from the latest scientific advances. Madonna doesn't let much get in her way, so I can see how she would think this is both possible and a good idea:
Madonna is trying for a baby with her toyboy lover Jesus Luz.

The Queen of Pop – who already has four kids – has consulted doctors about conceiving another child at the age of 51, pals said.

Brazilian Jesus, who at 22 is less than half Madge's age, has told her that becoming a father would be "his greatest adventure".

She is said to have agreed he would make a "fantastic dad" and told friends: "I have endless love in my heart for another child."

Madge already has daughter Lourdes, 13, by Carlos Leon and son Rocco, nine, by ex-husband Guy Ritchie.

She is also mum to her adopted Malawian orphans David Banda and Mercy James, both four.

A close pal, who calls Madonna by her preferred nickname Em, said: "Em says motherhood is her greatest achievement and the most fulfilling thing in her life.

"She knows that, at 51, it's going to be harder to conceive naturally. But she is Olympic-athlete fit and is ready for the challenge."

Madge has been with Jesus for more than two years, meeting him during a photo-shoot in Brazil shortly after she divorced Sherlock Holmes movie director Guy, 41. The pal added: "Jesus is very religious and deeply in love with her.

"He adores her kids but has always wanted a child of his own.

"He told Em fatherhood would be his greatest adventure, and that he wanted to go on this journey with her."
[From The Sun]
Of course Jesus wants a baby with Madonna. That would secure him a nice payday for years to come. 22 year-old guys do not generally yearn for children as they have plenty of time left. It's understandable that Madonna wants another baby for her nannies and staff to raise. Babies are so cute and provide so many magical moments and photo opportunities. They also might keep a 30 years-younger lover on the hook once he starts earning his own money and realizing what he's missing.
Here are Madonna and Jesus boarding a helicopter in Rio De Janeiro, Brazil on 1/14/10. Credit: WENN.com