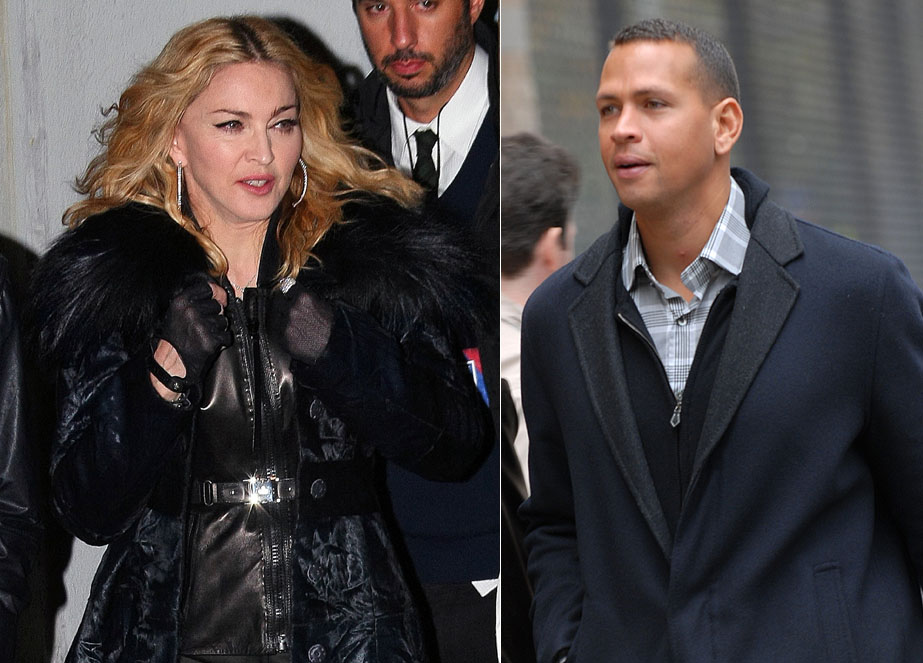 Alex Rodriguez, 34, and Madonna, 51, may be rekindling the relationship that helped hasten the end of the playboy baseball player's marriage. US Weekly (via The Scoop) is reporting that the two spent a weekend in mid January at Alex's home in upstate New York.
More than a year after Madonna and Alex Rodriguez coupled up, the two reportedly holed up together for a weekend.

Us Weekly is reporting that the onetime couple spent the weekend of Jan. 16 at Rodriguez's Westchester County, N.Y., home. Despite a denial from Madonna's rep, the magazine stands behind its reporting, saying the two "have kept in touch all along."

Rodriguez recently split from actress Kate Hudson, and Madonna has been linked most recently to 23-year-old model Jesus Luz, but a friend of the Material Girl's told Us, "She's never been a one-man woman. When she's with a guy like Jesus, whom she takes care of, she doesn't really respect him."
[From MSNBC's The Scoop]
I can believe that these two hooked up again. They're both narcissists who must get some kind of ego boost out of it. It's not like Madonna is going to be faithful to that 22 year-old DJ/Model she's bankrolling, and I doubt Luz is saving it for Madonna.
Meanwhile Rodriguez has been seen out with other women, like a 25 year-old blonde from Key West with a wealthy family. She's probably his go-to girl when he's down in Miami visiting his ex wife and kids. Madonna is his occasional booty call when he doesn't have anything else to do for the weekend in New York.
Madonna is shown on 1/22/10 leaving the Hope for Haiti benefit. Credit: Fame Pictures. Alex Rodriguez is shown on 10/1/09. Credit: WENN.com