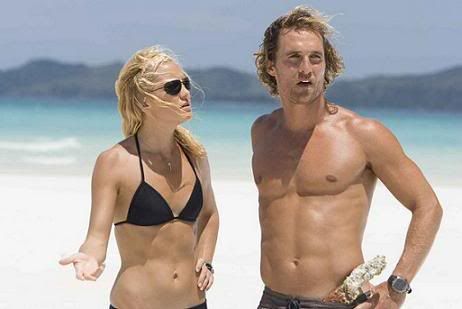 Matthew McConaughey is known as a pretty free spirit. And part of his free spirit is the apparent belief that deodorant is not a necessity. Matthew claims no one minds and that he has a lovely natural aroma – at least according to his mother. The exception being Kate Hudson. Even though Matthew claims he showers a few times a day to keep the stink at bay, Hudson could still smell him, and tried to get him to wear a natural rock salt deodorant to help her out.
We think it's pretty safe to say that Matthew McConaughey is really one of a kind. As it turns out, two-time co-star Kate Hudson is pretty happy about that. While on the set of their latest joint outing, Fool's Gold (they also co-starred in How to Lose a Guy in 10 Days back in 2003), the actress begged the shirtless one to scrap his long-standing anti-deodorant policy.

"She always brings a salt rock, which is some natural deodorant, and says, 'Would you please put this on?'" he said, according to Contactmusic.com. "I just never wore it. No cologne, no deodorant."

And he hasn't worn it for more than 20 years. Though Matthew has insisted that the ladies dig it (once saying, "The women in my life, including my mother, have all said, 'Hey, your natural smell smells, one, like a man, and, two, smells like you,'" which is both obvious and genius on several different levels), Kate, apparently, was an exception. Not that he's against hygiene. Far from it, as he brushes his teeth at least five times a day and claims, "I take a few [showers] a day."
[From Page Six]
Matthew McConaughey has got to be pretty down to earth – not only does he not wear deodorant, but he has no problem sharing this story. He did make sure to point out that Kate Hudson was his only co-star to ever bring up his smell. While that's lovely, something tells me that doesn't mean McConaughey smells like a baby; it just means Kate Hudson is the only person bold enough to tell McConaughey that he stinks. And I can't help but doubt all the women who have claimed Matthew smells great. I'm not implying they didn't say it – I'm just saying they may have had personal reasons for complimenting him.
Picture note by Jaybird: Promotional stills from "Fool's Gold." Images thanks to All Movie Photo.