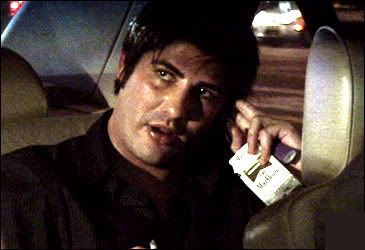 A longer video of a Lindsay Lohan fan confronting Brandon Davis for his "firecrotch" rant has been posted on YouTube. You can even see the woman's face. She first yells at Brandon when he enters the club, and again confronts him when he comes out to smoke a cigarette. The video makes it seem as if she annoys Davis so much that he's forced to leave in a waiting limousine, but maybe it's just edited together to look that way.
The woman makes a good point when she tells Davis that Lohan earned her money while he got his from daddy. According to people dishing about the demise of Davis' relationship with Mischa Barton last spring, he had to ask his family for money constantly, which may explain his vile for "self-made" teen star Lohan.
Thanks to PhoenixComplex on the JJB board for posting the link to this video.