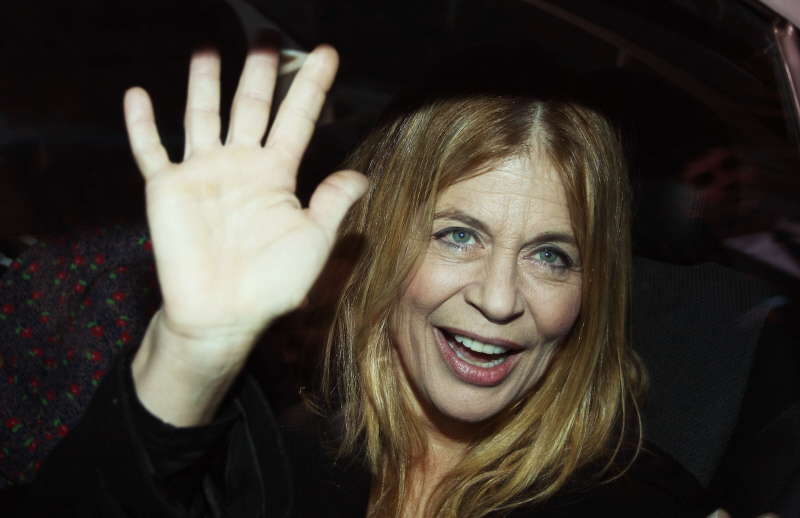 This is a very, very long story from The Daily Mail, so if you'd like to read the full piece, I'd suggest you go the Daily Mail's site. I'm just going to do the highlights, which are still pretty f-cking epic. So, Avatar director James Cameron is on his fifth marriage (to Suzy Amis). One of his ex-wives is Kathryn Bigelow, who, like Cameron, is up for the Best Director Oscar for her work on The Hurt Locker. That little side-drama is pretty good, but apparently one of Cameron's other ex-wives was feeling left out. That ex-wife? Linda Hamilton.
CB wanted me to mention that Linda Hamilton has talked about her marriage to James Cameron before, and discussed in the context of her bipolar disorder. I remember vaguely some of the interviews Linda did many years ago, where she slammed Cameron over and over. So, some of this may be old news, but I think some of it is new. The basic gist of the interview is that Linda Hamilton doesn't give a f-ck, she can't stand Suzy Amis, and she wants the whole world to know that James Cameron is really, really screwed up about women. Shocking!
James Cameron may be in line for nine Oscars for his record-breaking movie Avatar, to add to the 11 he won for Titanic, but will they make him happy? Actress Linda Hamilton, one of his four ex-wives, says the trouble with Cameron is that he always wants what he can't have – at least as far as women are concerned.

'The woman he can't get is always his dream girl,' she says. 'Work and women go hand in hand for Jimbo, and I should know.'

While he was making Titanic, and living with Linda, he fell for Suzy Amis, who had a small part in the movie. Later, torn between the two, he left Amis, went back to Hamilton and married her. The marriage lasted just eight months before he went back to Amis; she is still with him and they have a son and two daughters. But now, 11 years after they split, Linda believes she's got him exactly where she wants him.

'It's interesting because while he was making Titanic, Suzy at that time was the gargoyle on the end of my bed, waiting to swoop in. Now I'm the gargoyle on her bed because for Jim, the one who doesn't end up with him is always the one he wants. I'm the one who got away, and she has to live with that.'

Of course, there is, too, the ever-present shadow of his third wife, director Kathryn Bigelow, whose nine Oscar nominations this week for the Iraq war drama The Hurt Locker include a direct challenge to him for the best director award.

'Yes,' squeals Linda, now 53, in her sexy gravelly voice. 'Don't forget Kathryn!'

The first thing that Kathryn did after being asked to direct The Hurt Locker was to show her ex-husband the script. He urged her to go for it – although it's doubtful that he envisaged they would end up competing head to head for the same Oscars.

'Titanic was the most painful thing in the world,' says Linda. 'But this wasn't because Jim was cheating on me. Jim went off with Suzy because we were taking a break from each other and he was free to go with her. It was a painful time because we'd had a relationship where I'd push him away, then he'd push me away. Frankly, most of our relationship was us taking a big break.'

'It was a crazy time, too, because we clashed as I was prepared to stand up to him. I'd say: "I'm never going to consider going back with you, plus I'm going to tell my friends all about you." Then when he got together with Suzy I changed my mind and he came back to me and we got married. Then he felt terrible about what he'd done to her and went back to her. Yes, there was a period when he did sort of cross over because he was confused.'

Does it still rankle because Linda was the loser? 'One does want to win, of course, but I've known for many years that this was the very best way to work it. I'm the one that got away and she has to live with that and share him with me.'

It's a fact that Cameron himself has an extraordinary capacity for remaining on good terms with his ex-wives. There are still family Christmases with Cameron at Linda's Malibu home where all the ex-wives and extra children gather. Does Suzy cope well with this? Linda, anxious not to be indiscreet but irreverent enough to say it anyway, silently mouths a big 'no-no' and indicates that Suzy clearly dislikes her.

'But she doesn't have the option of not having me in her life, so we all have to manage,' she says, her voice rising in passion.

Avatar, released in the UK in December, is the highest-earning film in cinema history, with global box office takings already passing $1.85 billion. Before it opened, it was rumoured that the film – nicknamed Dancing With Smurfs – was likely to be the most expensive flop in cinematic history. But now Avatar is set to sweep the Oscars. This comes as a bit of a surprise even to Linda because she couldn't share his vision when they pored over the script together 14 years ago.

'I read Avatar while we were married and I said nothing. I didn't think it was rubbish, and I'd say to him: "Oh, that's good, honey." But it's not like I thought it was amazing, because clearly Jimbo had a vision and I couldn't translate the depth and scale to foresee it. This movie is above and beyond.'
[From The Daily Mail]
There's a lot (SO MUCH) more at the Mail, so if you liked this, you should check it out. Quite honestly, after I read the whole piece, I came away feeling like Linda Hamilton is still very, very much in love with Cameron. I also think she's a bit of a hypocrite to push Suzy Amis's face in everything, considering James Cameron left Kathryn Bigelow for Linda, then left Linda for Suzy. Try as she might, Linda still doesn't sound "over it" even 12 years later.
Linda Hamilton in London on February 4, 2010. Credit: WENN