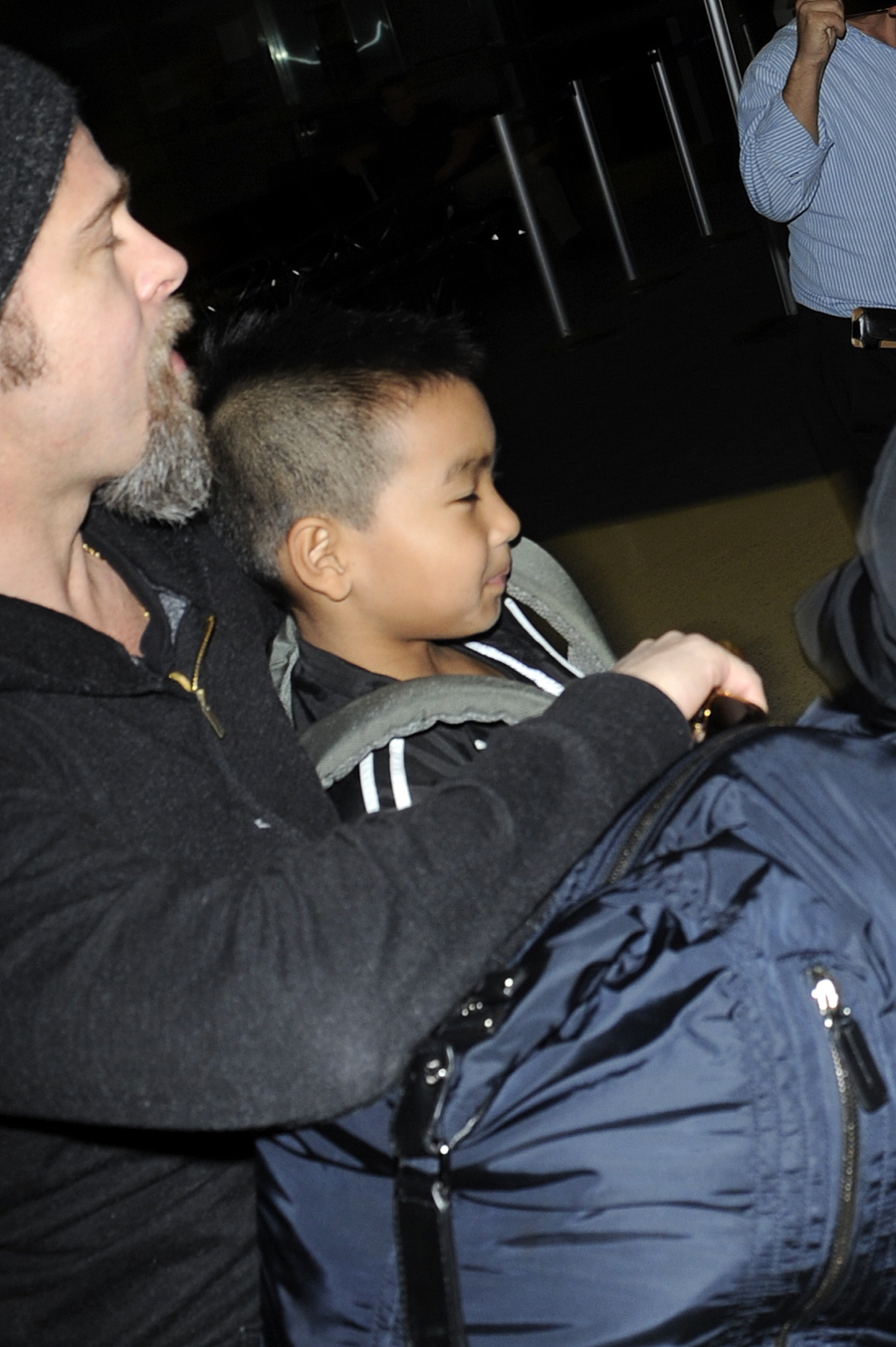 As it turns out, even though the only initial photos were of Brad Pitt and Maddox arriving at Miami International Airport ahead of the Super Bowl, Angelina came too! Maybe she came on a different flight, maybe she and God have an arrangement where she can just fly to Miami on an angel's wings or something. Anyway, several photographers got photos of Brad, Angelina and Maddox in some kind of sky box, celebrating the Saints' win last night. Unfortunately, it doesn'y look like we've got access to those photos, so you can see the cuteness here or here.
At this point, it seems Maddox and Brad are now die-hard Saints fans, and Brad managed to score some tickets to the big game. Brad also took Maddox to a NFC Divisional Playoff Game in New Orleans last month, and he and Maddox got to sit right on the field – with Patricia Clarkson! There is no sign that Brad is meeting with Patricia in Miami, though, although I'm positive he's sending her some sexy texts (the gerbils told me).
Brad Pitt and Maddox took off from LAX today headed to Miami to attend tomorrow's Super Bowl! Maddox has become quite the little Saints fan after spending so much time in New Orleans where they own a house. Brad and Mad went to a game in January, and the little guy was already decked out in a jersey for today's flight. The Super Bowl is always a star-studded event, but with the Jolie-Pitts joining the group it should be an especially exciting Sunday.
[From Pop Sugar]
Speaking of the gerbils and their gossipy ways, Ian Halperin wrote an article for The Daily Mail over the weekend, and he's still pushing the "Brad and Angelina are seriously already broken up, just wait for it… wait for it… I'm not lying I swear, just wait for it" story. I think Halperin is a f-cking moron, a delusional hack and a complete disgrace, but if you'd like to read through a work of pure fiction, the full Daily Mail piece is here. Some of the highlights include Halperin swearing up and down that Angelina can't even sit down to a read a book without spitting, hissing and screaming at Brad over nothing; that Brad has turned to Drew Barrymore for help and a shoulder to cry on; that Angelina and Brad have decided to stay quiet about their split for several months, then suddenly announce it, like Guy Ritchie and Madonna.
Honestly, though, one of my favorite parts of the story is Halperin's ideas about what Angelina will do post-split. Halperin claims that when they announce the split, Angelina "will have her eyes on a new man. As in the past, it is likely to be someone already in a marriage or attached. Jolie's romantic ambitions now run far beyond showbusiness." Apparently, she's got her eye on President Clinton or Prince William. Oh, snap! Angelina Clinton? Angelina, Princess of Wales? That would be epic!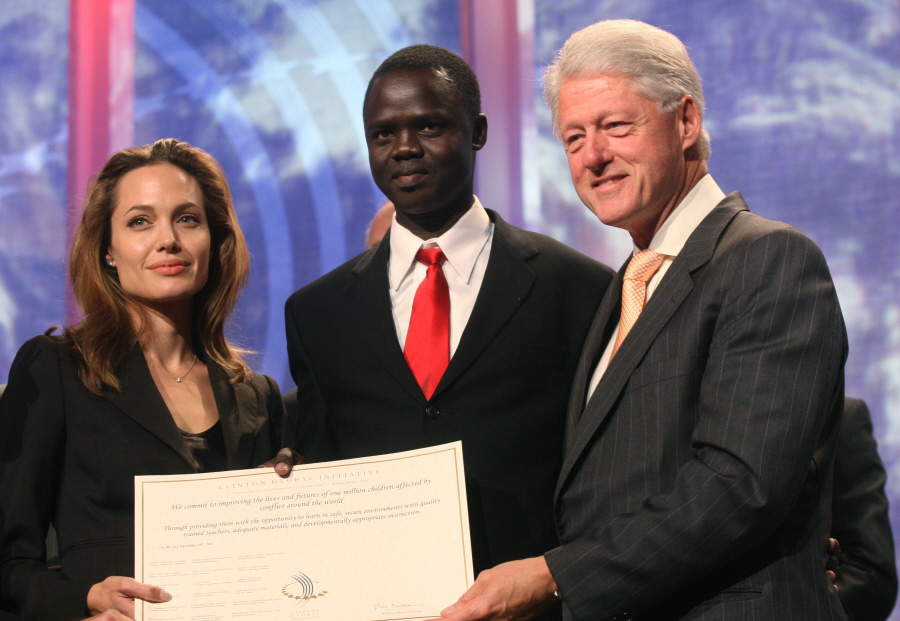 Brad Pitt and Maddox arriving at Miami International Airport on February 6, 2010. Credit: INFphoto.com. Angelina and Pres. Clinton at the Clinton Global Initiative on Sept. 26, 2007. Credit: WENN.