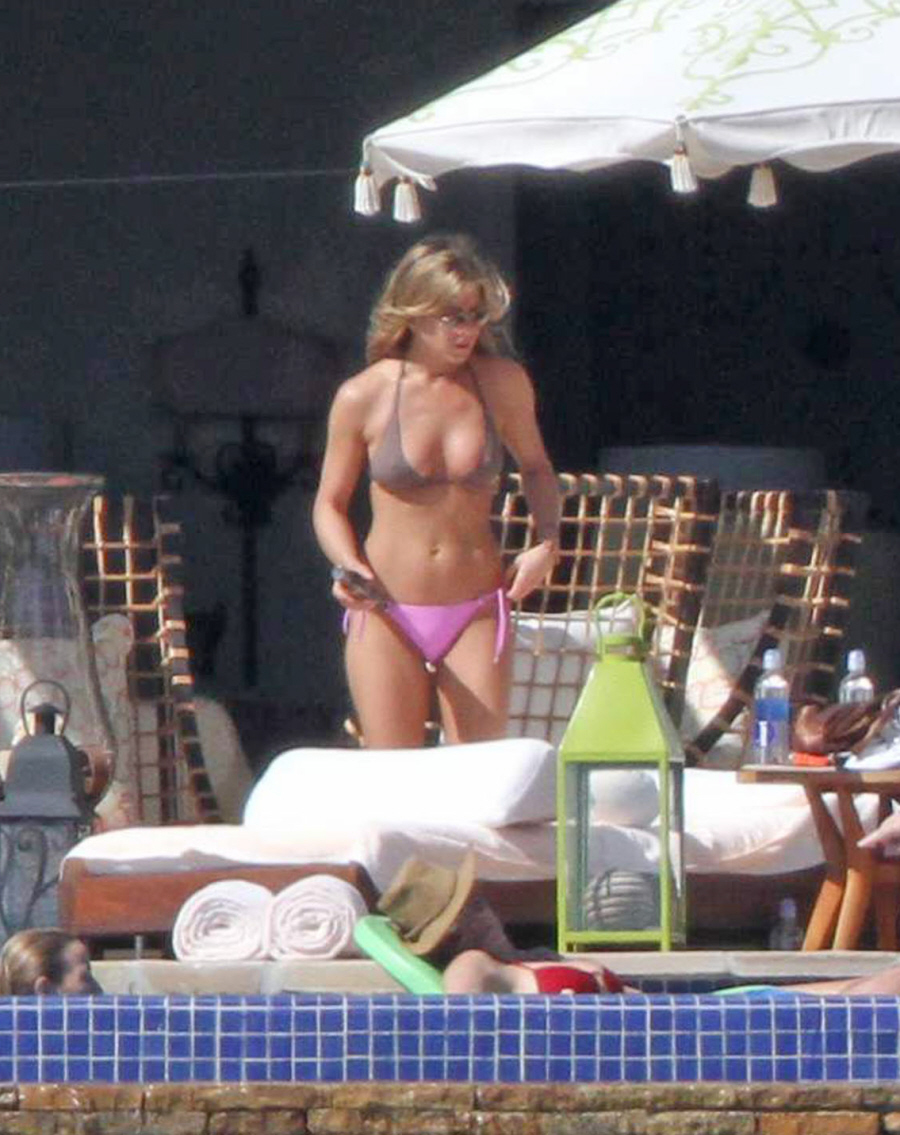 Jennifer Aniston decided to bring some of her closest friends down to Mexico to celebrate her 41st birthday a little early. Her birthday is this coming Thursday, and Aniston spent the weekend sunbathing and hanging out with her friends in Los Cabos, Mexico, which is probably her favorite vacation spot. Her friends, like Courteney Cox and Sheryl Crow, were sunbathing too, but for this visit, Aniston added someone new to the group – Gerard Butler! Unfortunately, the photo agencies we have access to don't have any photos of Gerard hanging out in particular with Aniston, we only have a couple of Gerard solo (below), but The Daily Mail has some good ones here. Gerard is playing around with binoculars, he's wearing baby-blue swim trunks, and he looks like he lost some weight since we last saw him on a beach – the now-infamous "Crazy Gut and Moobs" incident.
She's certainly a creature of habit – and why change a good thing?

Jennifer Aniston headed to one of her favorite getaway spots, Los Cabos, Mexico, where the actress is getting a jump start celebrating her 41st birthday – Aniston's big day is actually Feb. 11 – with a group of friends. But this year, she had a surprise birthday guest: Gerard Butler, her costar in the upcoming comedy, The Bounty Hunter. Last month, the two were spotted laughing and spending a lot of time together at the Golden Globes.

Aniston flew a large group of pals including Butler, Courteney Cox, her husband David Arquette and Sheryl Crow, whose birthday is also Feb. 11, to the One & Only Palmilla resort Thursday evening where the group is staying in a beautiful waterfront villa.

Friday, there was one thing on the agenda: fun in the sun! Aniston showed off her famously fabulous figure in a bikini as the pals lounged on the patio.
[From People]
My only quibble is that I dislike this movement (and Aniston is not alone) of girls who do the mismatched bikini bottoms and tops. To me, it looks sloppy, but it could totally be that Aniston just picked out her most comfortable bottom and her most comfortable top, and they happened to be mismatched.
So, is it true love for Gerard and Jennifer? Since all of the "are they dating?" stuff at the Golden Globes, Gerard has gone to dinner with Jessica Simpson, been associated with Reese Witherspoon in the tabloids, and has had a public makeout session with some random violin player in Santa Monica. So… yeah. Butler and Aniston might be getting it on. They might be friends with benefits. I wouldn't be surprised, and I actually think it's likely. But I just doubt it's a real dating relationship. My boyfriend is a slut.
Jennifer Aniston, Sheryl Crow and Courtney Cox in Cabo on February 5, 2010. Note: I did crop a few of the photos to get a better shot of Aniston. Gerard on February 6, 2010. Credit: Bauer-Griffin.