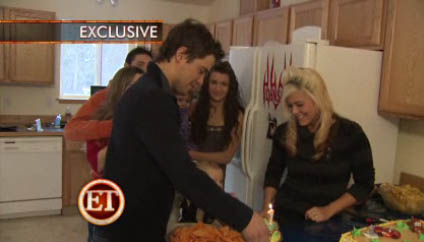 Levi Johnston needs to maximize his media opportunities in the wake of his pitiful Playgirl spread. The 19 year-old dad invited Entertainment Tonight along as he celebrated his son Tripp's first birthday. Tripp was born on December 27, 2008, so Levi is really pushing it by celebrating his son's birthday over a month after it happened. Maybe Levi was busy promoting his Playgirl spread and this is his first chance to sell the rights to his son's birthday. Tripp is of course the son of Johnston and Bristol Palin, the daughter of former VP candidate and babbling political lightning rod Sarah Palin. Levi's once potential in laws can't be too pleased that he's pimping out their cute grandchild to the press, but they did the same thing and it's not like they're trying to shield Tripp from the press. Tripp appeared in a birthday video for ET along with his paternal grandmother, who is on house arrest for dealing prescription narcotics, and his aunt.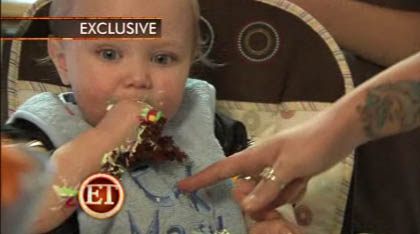 Levi Johnston is a first-time dad experiencing the joys of fatherhood, and he's invited ET along to Alaska to help celebrate his baby Tripp's first birthday!

The father of Sarah Palin's grandson was surrounded by his side of the family, including aunt Mercede and grandma Sherry, who loved every minute of her time with her grandson. Sherry must spend almost all her hours confined to her own home — the result of her guilty plea on a drug possession charge. She is allowed just four hours a week outside her house.

"I feel very bad for that, but the only thing I can do is make up for it," she says.
It wasn't long until the little boy was enjoying his first birthday cake to the fullest, and having covered himself in birthday cake, that means the last part of their time together was spent cleaning him up right in the kitchen sink — and grandma is more than happy to do it.
[From ET Online]
I have to say that Tripp is so adorable! Even though the Palins and Johnstons are kind of tenuous celebrities, I still love to see their babies. It just reminds me of that time in my special guy's life when he was little like that. It goes by so quickly. There's a cute part of the clip in which the Johnstons are singing "Happy Birthday" to Tripp and you see him looking around all confused like he's trying to figure out what's going on. Is he thinking "what's going on?" or "didn't we do this a month ago?" That said, I wonder if the Palins will try to slap Johnston with an injunction against making media appearances with Tripp. You can see that coming around the corner.
Johnston is currently being sued for increased child support for Tripp. He has separated from Tripp's mother, Bristol Palin, who asserts that she's only received $4,400 from Johnston since Tripp was born. She's asking for $1,750 a month, or 20% of Levi's estimated $100k + earnings last year. He's not going to be able to keep that money coming in for long, especially if he's resorting to celebrating his son's birthday six weeks after it happened.