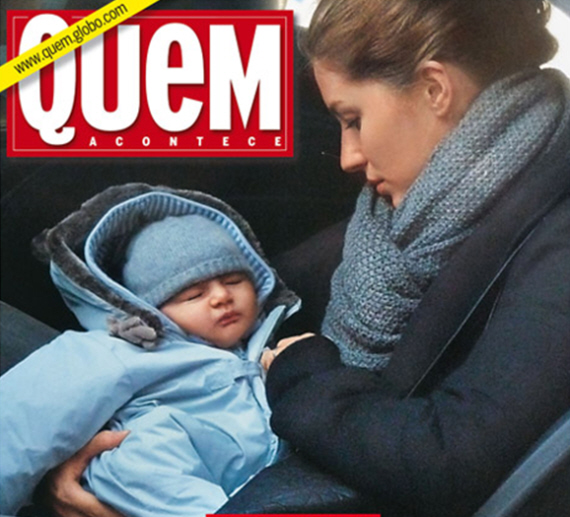 Behold, baby Benjamin Brady, son of Gisele Bundchen and Tom Brady! He looks… just like a sleepy baby. Hmm…
Back in December, Gisele Bundchen gave birth to a baby boy. It took a little while (like a week), but eventually Gisele and husband Tom Brady came up with a name for their little one: Benjamin "Button" Brady. No, not really with the "Button" but still. Ben Brady is a cute name. Anyway, since then, no one has gotten a photo of little Ben. Gisele didn't go the People Magazine route, she and Tom didn't "let" a paparazzi catch them in a "candid" moment with the baby. Until now! What's shocking, though, is that it wasn't an American publication that scooped up this candid photo – it was a Brazilian magazine called Quem.
The Brazilian magazine Quem got its hands on the first photos of Gisele Bunchden and her son Benjamin, taken during a trip out in Boston at the end of January. So far this is the only image out of little Benjamin, who's looking so cute at just 2 months old!

Gisele, meanwhile, is already getting back to modeling with her first shoot for the Brazilian brand Colcci. She might be giving up a lot of work to stay home with her son, though Gisele said she's feeling ready to pose again after a minute of post-birth doubt.
[From Pop Sugar]
Well, good for them. My guess is that Gisele worked it out with the Quem editors that they would get the first photo, rather than an American publication. She's representin' for Brazil, bless her heart. As I've mentioned before, I warmed to Gisele considerably when she was pregnant – she came across as very sweet and cool. Of course, now that the baby has been born, Gisele won't shut up about how easy the birth was, how the midwife thinks she was so brave, how she did it all without drugs and in a bathtub, and how easy it all was for her to drop her baby weight – even though she stayed so slim she didn't even wear maternity clothes. Yes, the old Gisele is back.
Quem cover courtesy of Pop Sugar and Quem online.