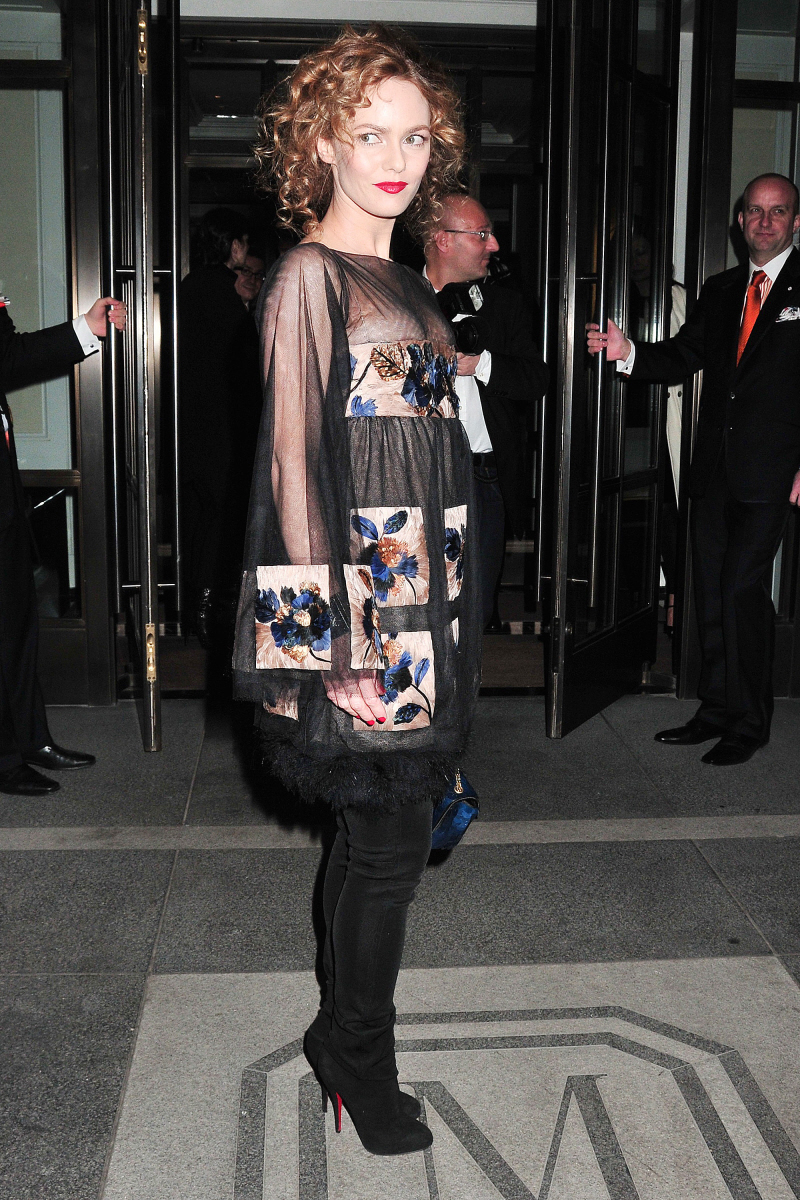 I know that Johnny Depp is still persona non grata to some people after his somewhat asinine comments defending Roman Polanski (Depp: "Polanski is not a predator. He's 75 or 76 years old. He has got two beautiful kids, he has got a wife that he has been with for a long, long time. He is not out on the street."). But I can't help but like him, regardless. Probably because I've never been a Depp-loonie, and I can separate that one crappy comment from the bulk of his amazing career and his rather lovely relationship with Vanessa Paradis. Paradis is what this post is about, actually. She continues to gush about her partner of 11 years like a school-girl, this time as she was being honored as the face of Rouge Coco lipstick.
He's not PEOPLE's Sexiest Man Alive for nothing. From the long, stringy hair and goatee to the layers of offbeat accessories and everything in between, nobody can quite pull off a look like Johnny Depp – especially as far as his longtime girlfriend Vanessa Paradis is concerned.

"I love his style, yeah, yeah, yeah!" Paradis told PEOPLE Tuesday in New York at a Chanel dinner honoring her as the new face for Rouge Coco lipstick. "I love him, and I don't have to say I like this and I don't like that. When you love somebody, you take them as they are. I would not change him."

Besides Depp's eclectic style, the French singer and actress, 37, is attracted to all the qualities of her beau (since 1998). "I like him very much in all terms and every sense of the way," she said. "He makes me happy. We are many things – we are together and, in a way, one person."

One thing they are: parents to son Jack, 7, and daughter Lily-Rose, 10, who is already having fun dressing up and wearing makeup like her parents.

"She likes it very much," Paradis said of her daughter's lipstick. "All little girls love to play with lipstick, so we let her play with it. I was a very little girl when I tried it, and it's always been a fun thing to do. It's nothing serious and nothing daily about it.

"At her age it's just to play and also it's very theatrical. So we let her wear some and have fun."

Adds Paradis, "Her father may try some on with her to have fun with it."
[From People]
Something tells me that Depp is game for just about anything with his kids, so he's probably something of a makeup lab-rat for his daughter. I imagine him sitting patiently with his daughter as she applies Chanel lipstick as eyeshadow.
The more interviews I read with Vanessa, the more I like her. She seems like a sweetheart, and a real romantic. Or is all of this just strategically placed "he's mine" quotes so Angelina Jolie won't "steal" Johnny when they work together?
Vanessa Paradis in New York for the Chanel Rouge Coco Dinner at The Mark Hotel on February 9, 2010. Credit: WENN.