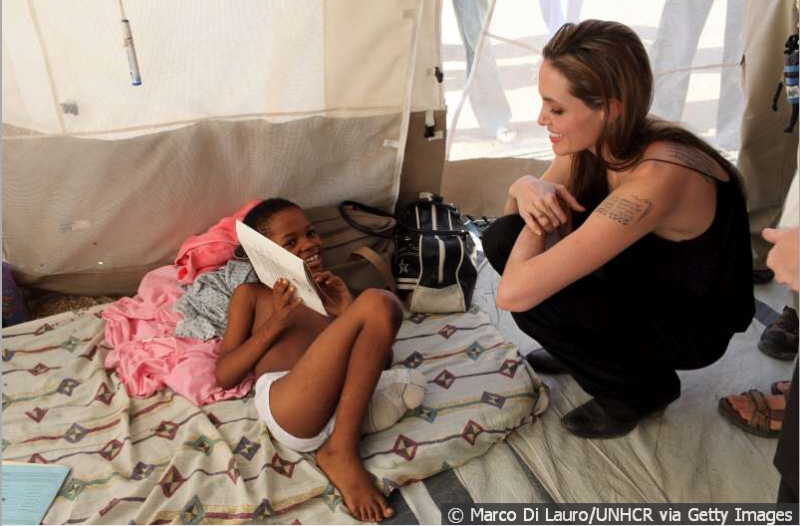 Yesterday we discovered that Angelina had flown straight from the Super Bowl in Miami to the Dominican Republic to meet with Haitian earthquake survivors and refugees. At first, I thought Angelina was just doing a day-long trip to the Dominican Republic, but she stayed on and traveled to Haiti, arriving in Port-au-Prince to view the earthquake damage first-hand, and to meet with more refugees and survivors living in-country. We still don't have access to so many of the photos coming out of her trip, but PopEater has a great slideshow. UNHCR online also updated their site with comments Jolie made in-country, and there are more details about where she traveled and what issues she was focused on, including the Haitian SOS Children's Village.
PORT-AU-PRINCE, Haiti, February 9 (UNHCR) – UNHCR Goodwill Ambassador Angelina Jolie arrived on Tuesday in the Haitian capital, Port-au-Prince, where she visited earthquake survivors and met aid workers from local and international organizations.

Jolie, who said she was in Haiti to "listen and to learn," visited medical centres, the UN mission and met with vulnerable children. On her arrival in the Haitian capital, Jolie was briefed by the United Nations Acting Special Representative of the Secretary-General Edmond Mulet on the scale of the humanitarian operation to date and the challenges that remain.

She also visited a cash-for-work programme run by the UN Development Programme (UNDP) in the Carrefour district of Port-au-Prince, which is enabling Haitians to earn an income as they help their country to recover. "To give people the ability to work towards their own future is so important at this time. It helps to restore their hope and respects their dignity," said Jolie.

The programme is assisting some 40,000 people with an aim of reaching more than 400,000. She commended the participants who told her they were happy to clean up their country and then sang her a song about Haitian pride.

In the Santo area of Port-au-Prince, Jolie visited SOS Children's Villages, a worldwide programme to raise children inside their own countries. Since the earthquake, the organization has begun providing additional care for children who have been newly orphaned or who have lost contact with their parents as a result of the catastrophe. SOS is working to reunite children with their family members and will continue to care for those without any caregivers.

Jolie applauded their work, while stressing that "new adoptions should definitely not be encouraged as an immediate response to the emergency. Haiti had many trafficking problems before the earthquake and now must keep a very close watch on the children. I would encourage as much support as possible to groups like SOS and UNICEF providing care for children in country."

The acclaimed actress also visited a tented hospital set up and run by UNHCR partner, Médecins Sans Frontières, in the commune of Delmas, also in Port-au-Prince. "I was struck by the strength and spirit of the Haitian people. Children as young as nine months old were coping with amputations with extraordinary resilience. I even met a little 10-year-old boy who had recently had his leg amputated, who was giggling to himself about a silly book as he sat on the floor," Jolie revealed.

"These doctors are extraordinary," she said. "For all the patients that had to have amputations there are also a high number of limbs and lives that the doctors have managed to save."

"It will take years to rebuild Haiti," Jolie said, after seeing the devastation from the January 12 earthquake. "Every day, the UN, governments, NGOs and local organizations are providing more people with protection, food, water, shelter and health care, yet the needs are still enormous and the displacement could last a decade.

"Providing adequate shelter to the displaced is of paramount importance, especially as the upcoming rainy season threatens to add to the devastation. Everyone is bracing themselves for a second wave of tragedy."

Before arriving in Haiti, Jolie spent a day in the Dominican Republic, where she visited Haitian earthquake victims in the local public hospital and in nearby shelters. "I was heartened to see the care being provided by Dominican doctors and nurses and to witness the generosity of local society, which is caring for discharged patients and their families in their recovery," she said.
While touring the SOS Children's Village, the Haitian people began chanting "Angie! Angie!" apparently. In addition to that, the President of Haiti Children (Mercy and Sharing), Suzie Krabacher told Radar: "I think Angelina is an angel for visiting the area and bringing more attention to all the work that still needs to be done in Haiti and I wish her the greatest success."
I get that there is a significant number of people who question Angelina's motives as a goodwill ambassador for the UNHCR. But she's been at this for nine years, and at this point, if all she needed was a quick press hit, she would have found an easier way to get it rather than donating millions of dollars and spending the days, weeks and months putting her time and energy where her mouth and wallet are. To my mind, her motives are pure, and I think she does more good than harm for the UNHCR and for the SOS Children's Village program.
To donate to the SOS Children's Village program, go here. To donate to the UNHCR, go here.
UPDATE: There's a short video of Angelina in Haiti too:
Images courtesy of UNHCR online, PopEater & Getty.