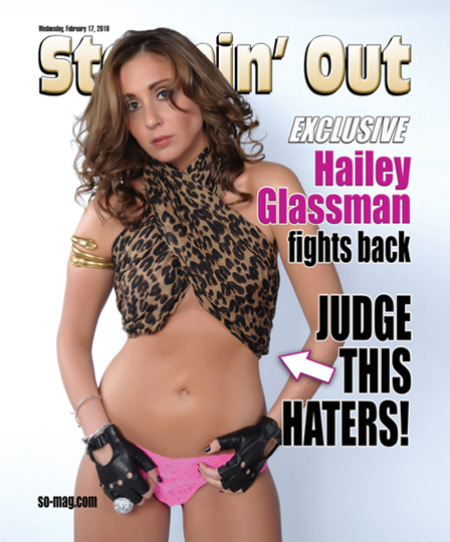 Okay, I've never even heard of this magazine, but I want it. I want it so much, it hurts. This sh-t is so classy! The tagline for Steppin' Out Magazine should be "Yes, you can polish a turd." Anyway, here's the new cover for Steppin' Out, featuring everyone's favorite ridiculous person whose name none of us should know, Hailey Glassman. You know what's especially classy? The gigantic arrow with "JUDGE THIS HATERS!" pointing to… what, exactly? I think the arrow is pointing to the bottom of her left boob…? Was her left boob in some kind of scandal in which there was some "H8ER FALLOUT"? Anyway…
The only interview excerpt from this esteemed publication (which should be renamed "klASSy Magazine") is from Star Magazine, which should tell you something. Apparently, in the interview, Hailey calls Jon a "textbook sociopath" and says he has a tiny penis. No, thank you, Hailey, or should I call you by your superhero name, Doctor Ya Think Bitch?
If former Jon & Kate Plus 8 star Jon Gosselin thought he'd heard the last of ex-girlfriend Hailey Glassman…boy, was he wrong!

Hailey is jumping out from behind the scenes to full in-your-face mode with an exclusive, no-holds-barred interview in the upcoming issue of Steppin' Out magazine.

"I feared him," says Hailey, 23, who calls Jon "vicious and evil" and "a textbook sociopath," while dishing dirt with her claims about their love life (including his "tiny" manhood!), the money he owes her, and his lies and cheating!

The full interview is on stands Feb. 17.
[From Star Magazine]
I think that about covers it. I know I say this every time, but I really hate all of these people. At one point I might have had some mild affection for Kate, or maybe Jon, or maybe someone else in the drama whose name I've forgotten, but at this point they all disgust me. So kill me. Or just JUDGE THIS HATERS.
UPDATE: Us Weekly now has more excerpts from Captain Obvious's interview. Hailey says, regarding Jon: "He was so small I didn't think he would cheat on me. He's hung like a nine-year-old boy. I'm serious. This is true." Hailey adds that if you actually put Jon's d-ck against the ruler, it comes up to "3 inches." Princess JUDGE THIS HATERS adds "anybody who sleeps with him will notice [Ed: Ya think?]. It's very noticeable. It's so tiny, tiny, tiny… [I] would laugh about it with my mom. He said, 'You know how subconscious I am of down there.' I would tell him to his face, 'I don't think you would cheat on me because you're so small.' I would tell him that all the time. Having sex with Jon was bittersweet." Oh. My. God. Did this f-cking genius just drop the "subconscious" bomb?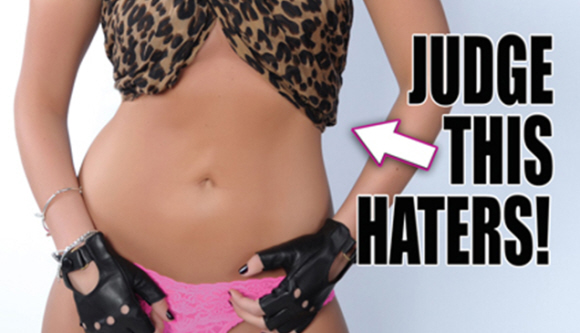 The lovely cover of Steppin' Out Magazine is courtesy of HuffPo.