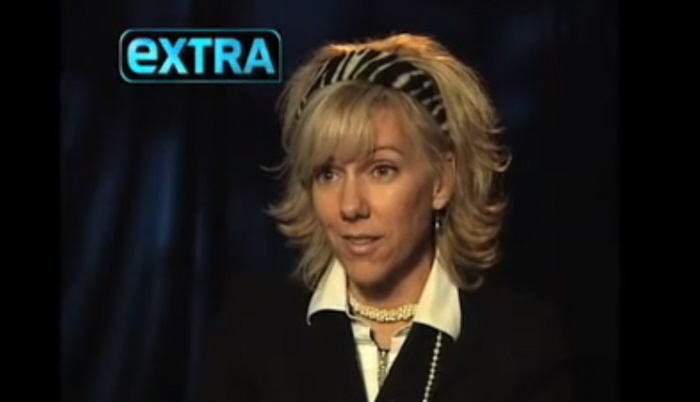 While John Edwards was cheating on his wife of over thirty years, his mistress was cheating on him with a C-lister. That is, if you believe this story from Star Magazine which claims that Rielle Hunter had something going on the side with Jeff Goldblum. Rielle was allegedly dating Goldblum around the time that she got pregnant with Edwards' baby, Frances, now two. When Goldblum found out it wasn't his, he dumped her but it was no skin off Hunter's back. She had her meal ticket and no longer needed Goldblum as a backup.
The mother of John Edwards' young child was cheating on him, Star has discovered. At the same time Rielle Hunter was sleeping with the North Carolina democrat she was also having an affair with Law & Order: Criminal Intent star Jeff Goldblum!

Jeff met Rielle in 2006 at the Playhouse West acting school and repertory theater in North Hollywood, where he teaches, we report in our Feb. 22 issue, on newsstands today.

"Jeff said he was in love," a source tells Star. "They were extremely close — totally, 100 percent, a major item."

When videographer Rielle got pregnant in 2007, Jeff naturally assumed the baby was his — and Rielle led him on. "He asked her," says the source. "She would only say, 'Maybe.' She kept him guessing."

When it finally became clear he was not the dad, Jeff, who now dates 21-year-old Los star Tania Raymonde, ended the affair — but Rielle was hardly heartbroken. "Rielle really didn't care that she lost Jeff," says the source. "She knew he was just a fling. She cares much more for John."
[From Star Magazine]
I can see this woman catting around acting classes trying to land a high profile guy. She probably worked to seduce Edwards, Goldblum, and several other men in an attempt to secure her freeloading future. It worked and she ended up with an unscrupulous married guy who basically threw away his political career for her. It's not a unique story at all.
As we mentioned yesterday, Edwards' rep denies a recent story that his client proposed to Hunter. The two could be moving in together after Edwards' wife Elizabeth finally kicked him to the curb, though. Gawker has photos from the real estate listing of the $3.5 million North Carolina beach house that Edwards reportedly purchased for Hunter. Could Jeff Goldblum afford that?