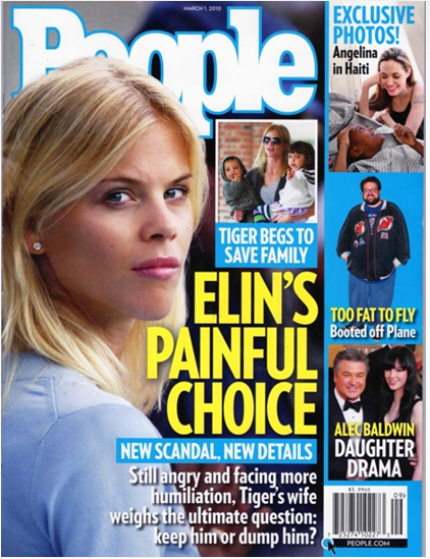 People Magazine's cover story this week asks the eternal question: "Should Elin Woods dump the man who cheated on her and humiliated her?" Except, you know, they ask it in a nicer way. I don't the answer to this question, and I can only say that I've left relationships with men I loved for a lot less than what Tiger has put Elin through. But that's me – and there were no kids involved, and let's face it, I have the luxury of putting myself and my interests first. All that being said, I still think Elin should dump Tiger in a hot second. He's a mess, and I don't see how their marriage could ever recover from the lies, the infidelity, the insanity that is Tiger's major issues with sex, with women, with his own morals system.
Anyway, People hasn't put up any part of their cover story today, so I have no idea what the new secrets and scandals are. And yet! The National Enquirer has another story about Elin that I found interesting – apparently Elin confronted Tiger's mistress Rachel Uchitel, calling her a "home wrecking whore" and a "bitch". Hm…
In a nasty showdown, Tiger Woods' enraged wife Elin spewed insults at his mistress – blasting her as a "bitch" and a "home-wrecking whore," The ENQUIRER has learned.

"Elin shouted, 'You're interfering in my family!'" says a source. "'You're ruining our lives! What's wrong with you? You're pathetic!

"'Don't you realize there are children involved? Don't you care?'"

The ENQUIRER has obtained all the behind-the-scenes details of the no-holds-barred confrontation between Elin and New York party girl Rachel Uchitel, the first woman exposed by The ENQUIRER as the sports superstar's mistress.

Elin had two bitter screaming matches with Rachel before going on a physical rampage that drove her husband out of the house — and into headlines around the world. Tiger and Elin are now living in separate, nearby houses — and Elin is enjoying life out on the town with pals.

"Elin is determined not to live in Tiger's shadow as much as she used to," disclosed an insider.

"She has dropped plans for a divorce at the moment, but she is keeping open her options."
[From The National Enquirer]
While I think that if Elin wants to yell at her husband's mistress just to get it out of her system, she should be allowed and God bless. But it bothers me that Elin might lay the brunt of the cheating stuff at the feet of the mistresses. Tiger was the one who lied, who cheated, who broke the trust, who was, in other words, a total womanizing freak. I have never really understood the urge to demonize "the other woman" when it's the dude who deserves most of the blame. Although, in Uchitel's case, I do think she's pushing to be the next Mrs. Tiger Woods. Which just shows that she's dumb as a box of hair.
UPDATE: This is weird news, but not wholly unexpected. Tiger Woods will be giving a press conference on Friday in which he might apologize and talk about his future in the game. The golf game, not the "screwing around" game. The New York Post has more.
People Magazine cover courtesy of CoverAwards.