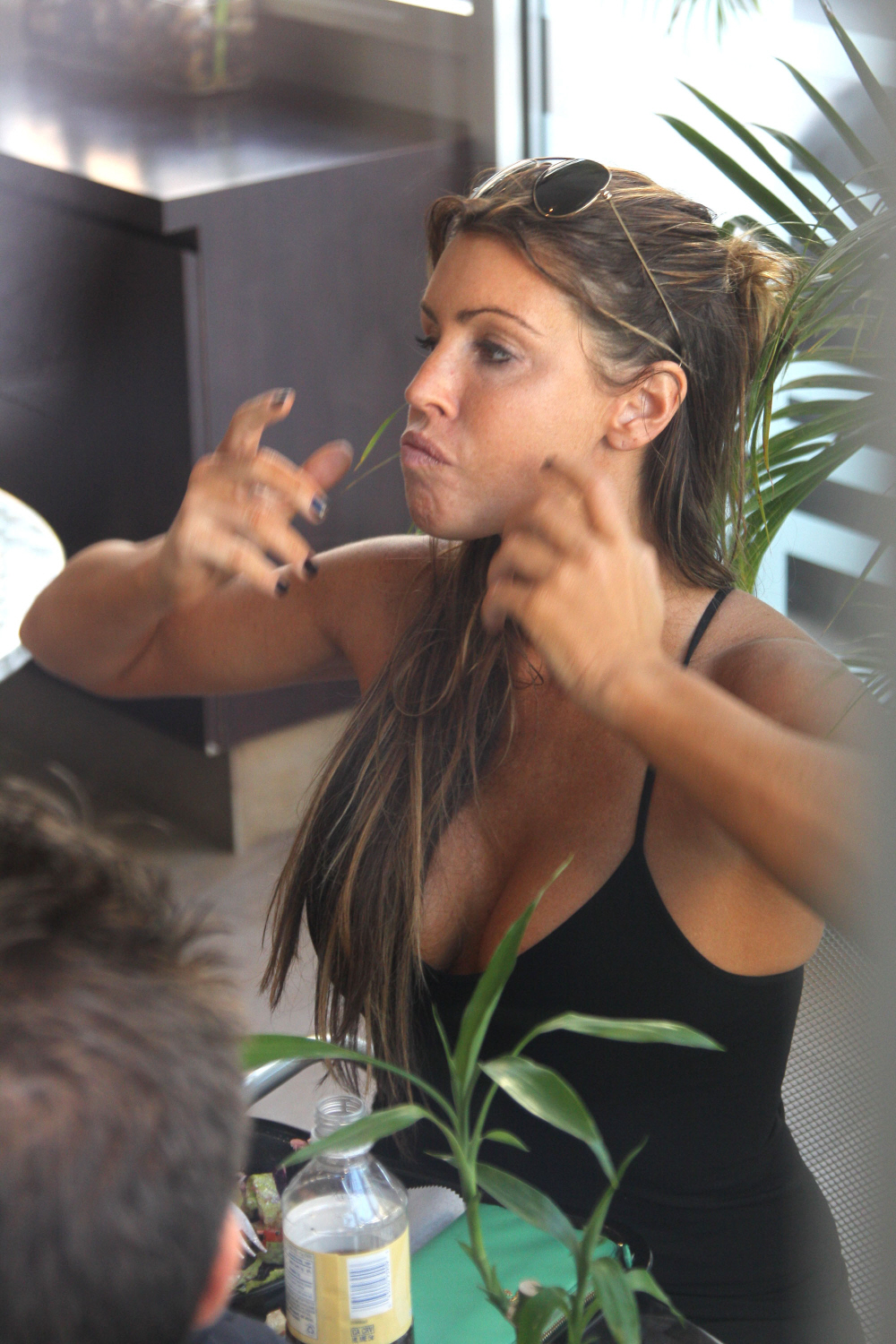 Back on Monday, there were some tenuous reports that Rachel Uchitel, Tiger Woods' first-reported and seemingly most current mistress, had flown down to Florida to be closer to Tiger. My immediate reaction was that Rachel and Tiger were probably still having an affair – and now Us Weekly is confirming my suspicions. They have a source who claims that even as Tiger was issuing his "my infidelity has caused so much pain, mainly to me" statement, he was still texting Rachel Uchitel and making plans to meet up. Jesus.
Admitting his "infidelities" to the world in a statement Dec. 11, a contrite Tiger Woods explained that he was taking a hiatus from golf to "focus my attention on being a better husband, father and person."

Behind the scenes, however, alleged mistress Rachel Uchitel is getting a slightly different message. The very first woman publicly connected to the married golfer has confided in friends that Woods remains in contact with her to this day. "They are not over," a Uchitel source insists in the new issue of Us Weekly.

The source reports that Uchitel very recently admitted that "Tiger was texting her, trying to find time to get together again. He wasn't even fazed!"

Uchitel sources also explain why the 34 year-old event organizer continues to deny the affair: Woods paid her $3 million to stay quiet. But don't mistake Woods' payoff for a sendoff. Even after the monetary exchange, "Rachel said he told her he was going to leave his wife for her, that he needed to be with her," the source tells Us.

So it seems. Although Uchitel was "disgusted" by reports of 13 other women (besides his wife) allegedly involved with her man, the Manhattanite coincidentally showed up Dec. 14 in West Palm Beach, Fla. — within spitting distance of Woods' $22 million yacht, Privacy.
[From Us Weekly]
So Tiger was sorry that he caused so much pain, but mostly he's going to do whatever the hell he wants and just pay lip service to the whole "working on his marriage" junk. What does Elin think about this? As it turns out, she might be on the verge of cutting her losses. Even People Magazine has decided to play the tabloid game, and they've got a source who claims that Elin really is planning to leave after the holidays, as previously reported!
The holidays may bring a final showdown in the marriage of Tiger Woods and Elin Nordegren, a source close to the golfer's wife tells PEOPLE, saying, "She plans to leave Tiger."

Another source says, "She's made up her mind. There's nothing to think about: he's never going to change," PEOPLE reports in its upcoming issue, on newsstands Friday.

Photos circulated this week, showing Nordegren, 29, pumping gas into her vehicle near the couple's home in Windermere, Fla., last Saturday, also captured the Swedish-born former nanny and mother of two (Sam, 2, and Charlie, 10 months), not wearing her wedding ring.

While the missing band "meant nothing," insists a source, a high-profile Florida divorce attorney tells PEOPLE that Nordegren has met with lawyers to renegotiate the Woods' prenuptial agreement.

On Thursday, workers began moving large items including what appeared to be works of art out of the couple's home in Windermere, Fla., and Nordegren was seen giving them instructions, according to the New York Post.
[From People]
What the hell is going through Tiger's mind? I mean, if he doesn't want to be with his wife anymore, then he should just say so and leave. If he's so crazy in love with his mistress, then marry the hooker and be done with it. Unfortunately, I think Tiger just wants his wife to stay and raise the kids and let him have all of the girls on the side. Although, I will say this – I do think he has feelings for Uchitel, and I think Uchitel is hellbent on making herself the next Mrs. Tiger Woods. These poor deranged morons.
Rachel Uchitel eating lunch with a friend, then getting a piggy-back ride on December 10 in New York. Credit: WENN