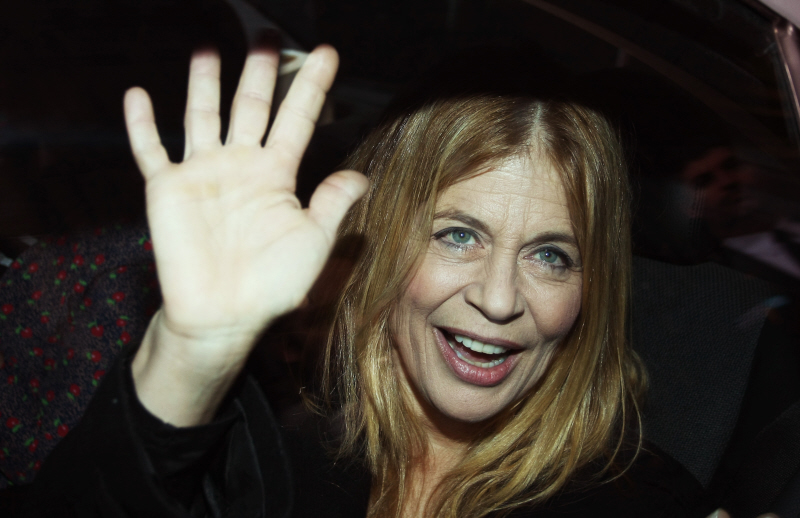 Once again, if you thought Linda Hamilton was going to go gently into that good night, you have been sorely mistaken. As her ex-husband (James Cameron) and one of her ex-husband's other ex-wives (Kathryn Bigelow) battle it out for the Best Director Oscar, Linda Hamilton just won't shut up about her divorce from James Cameron, which, by the way, was more than 11 years ago. She gave a lengthy and delusional interview to The Daily Mail less than a month ago, and now she's given another one (albeit, a shorter one) to The Lady Magazine (a British mag for, you guessed it, the ladies). Linda is still railing about ex-husband "Jimbo" and how their marriage was "terrible on every level". Jesus, Linda. Get it together.
Cameron has been married five times and Hamilton, who played Sarah Connor in the Terminator franchise, was wife number four. The couple wed in 1997, the year that Cameron made Titanic. It went on to win 11 Oscars, but Hamilton said the film's success made their marriage even worse.

"It was terrible on every level. I wasn't ready, he wasn't ready. He was terribly insecure that I was going to ruin it for him somehow, which didn't make sense since I am an actress in my own right and had been in front of the camera. It was dreadful," she said.

"Jimbo gave me a big diamond but our marriage was all of nine months, the ring meant nothing to me and I gave it away."

Hamilton said she hated accompanying her husband to awards ceremonies because their relationship was falling apart behind the scenes.

In an interview with The Lady magazine, the actress claimed: "The parading around, the lunches, the stress of being with Jim during the Titanic days – for years I could barely get make-up on, I was shaking so hard, because every damn award show we had was terrible."

The marriage ended in 1999 and a year later Cameron married his fifth wife, actress Suzy Amis. Despite their problems, Hamilton, 53, insisted: "I've never loved anyone like that since and if I did it would be a different game."

Hamilton read an early Avatar script when she was with Cameron and was unimpressed, but changed her mind on seeing the finished product. She has watched it twice: "That's how much I liked it. And I paid both times. I was invited to the screenings [but] I was like, 'Thanks, Jim, I'll get this one on my own'."

In previous interviews, Hamilton has described Cameron as work-obsessed. "Titanic was the mistress he left me for. He was the kind of man who really would rather be at work with the mistress than at home with the wife. That was hard to come to terms with," she said recently.

Cameron's first marriage, to Sharon Williams, lasted from 1978-84. He was married to producer Gale Anne Hurd from 1985-89, then to director Kathryn Bigelow from 1989-1991, before Hamilton and Amis.

He and Bigelow will compete for the best director and best picture Oscars on Sunday. Avatar and Bigelow's The Hurt Locker have nine nominations each.

Hamilton said Cameron was a faithful husband despite his track record of divorces. "He's not a cheater, he's a serial monogamist," she explained.
[From The Telegraph]
Look, I get it. It's eleven years later and she's still hung up on the guy, and she thinks that she's still relevant. So she does this push-pull in interviews of "I hate him, he's horrible, out marriage was a train wreck and it's all his fault" while saying in the same breath "I love him so much, I'll always love him, he's amazing, he'll be coming back to me any day now, right?" The thing is that every time Linda opens her mouth, I just end up feeling for Cameron. And I know I shouldn't! He's got more money than God, he's one of the most powerful people in Hollywood, and I'm pretty sure that he really is a terrible person. But something about Linda makes me sympathetic towards him.
Linda Hamilton in London on February 4, 2010. Credit: WENN.