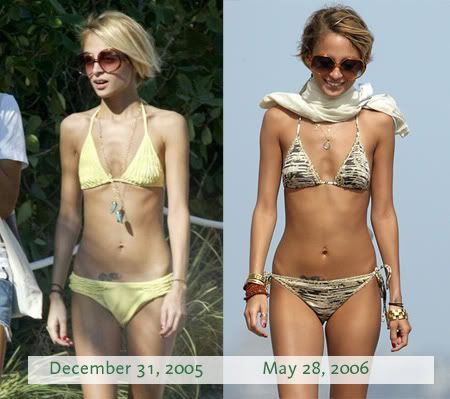 In these new pictures of Nicole Richie on the beach in Malibu on Sunday she looks like she gained a little essential weight. She's still vastly too skinny, but you have to give the poor waif a little credit. She must have had a sandwich in the time between December and now, because there's a slight difference. It could be the fact that she's cleverly hiding her sternum beneath a scarf, but her stomach looks a little more filled out, and her legs are less skinny. It looks like a 5-7 pound weight gain. She isn't a normal weight by any measure though. Picking her apart probably won't help her face up to her problem, but we couldn't resisit.
According to one of Nicole's friends, her drastic weight loss was caused by an addiction to the over the counter weight loss drug hoodia.
The brunette's close friend Crystal has revealed
the 'Simple Life' star is hooked on Hoodia – a South African herb that fools the brain into thinking you are constantly full.
She told Britain's More magazine that Nicole once told her: 'Hoodia makes you look hot in low-cut tops and backless dresses. It is good for me – the bushmen have sworn by it for hundreds of years and that's good enough for me.'
The troubled 24-year-old dropped from a US size 2 to a US size 0 in a matter of months following her brief split from Adam Goldstein last December and she recently confessed that she was too thin.
Nicole's friend sounds like she's covering up for her other addictions.
Thanks to celebworld for reposting the older picture of Nicole in a bikini for comparison.
Pictures [via]