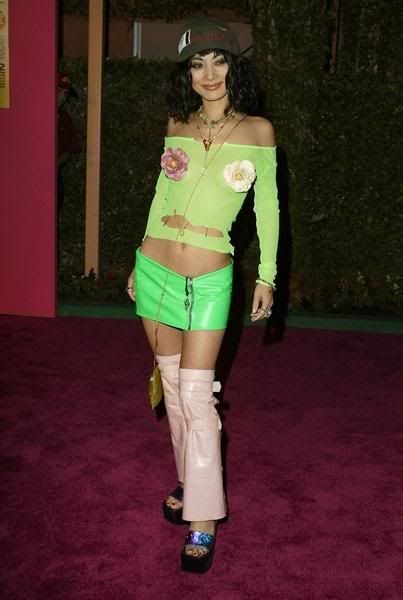 Bai Ling is one of the few people I hate more than Paris Hilton. In fact if you tossed Paris, Britney, and Lindsay into a sack, threw that sack in an industrial sized blender, and then baked whatever came out of that blender in the oven, you would have Bai Ling. I have no idea what this woman claims to do for a living – I know there's some vague thought that she's an actress, but for the life of me I can't remember seeing her in anything. What she seems to do for a living is show up to every event on either coast dressed in the most asinine, ridiculous, slutty outfit known to man, and then warble some incoherent gibberish. Bai got arrested the other day for shoplifting two magazines and two packs of AAA batteries from one of those crappy travel stores at LAX before her Southwest flight. Her explanation? Bad breakup. Honey, if the rest of us thought that was a legitimate excuse to commit crimes, 50% of the world would be grabbing fistfuls of Skittles from grocery stores twice a year.
She was dealing with the "huge problem of breaking up [before] Valentine's Day" when she was arrested for shoplifting, Ling said, adding, simply, "Wrong boyfriend."

Damon Elliott, a close pal of Ling's, says she was definitely not herself yesterday. "She was kind of in a mentally unstable state of mind yesterday," he tells E! News. "She had some relationship issues going on. She wasn't in the right frame of mind."

Ling added several prosaic postings to her personal blog later in the afternoon—none mentioned her arrest but all could theoretically be attributed to someone who's nursing a broken heart. An entry posted at 4:43 p.m.: "Delayed the flight, [wandering] again in the airport like a ghost, why can't I just be the sun smile?" it read. "Life is a sad song sometime but still sings the beauty for their loved ones…"

"She was very spacey and that was pretty much what happened," Elliott said. "She was distracted and had a lot of things going on."
[From E! News]
I don't know Bai, why can't you just be the sun smile? Has anyone ever tested this woman to see what kind of medication/illegal drugs/mental illness issues she's got? I'm guessing it's a complicated mixture of all three. Look, breaking up with someone sucks, but when you're an adult, it doesn't make a big difference that it's close to Valentine's Day. That's not the thing that pushes you over the edge from handling your breakup like a rational person to stealing $16 of crap from an airport convenience store.
Things really aren't going well for Bai Ling. There's the breakup, the arrest, the shame… but what I'm most worried about is someone who's supposedly famous taking a Southwest flight? That costs all of $72 each way. And on top of that, she's still so broke that she had to shoplift batteries? Maybe it's time she stop dressing like a clock or a frog at public events and spend a little more time working.
Bai Ling's greatest hits. Images thanks to PR Photos.