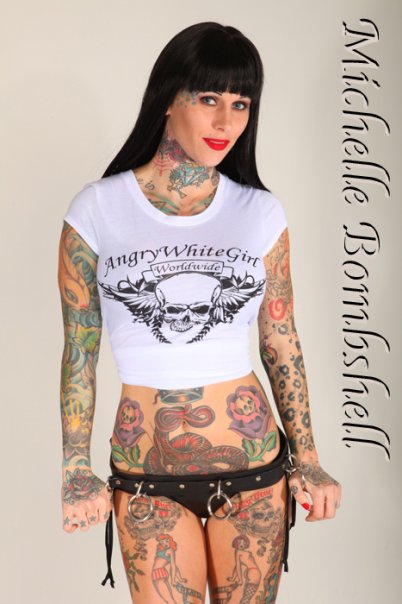 There's plenty of news about Jesse James's "alleged" mistress, tattoo model/dominatrix/webcam girl/all-around-skank Michelle "Bombshell" McGee. Yesterday we covered some of the initial details about this vile woman, and today there's plenty more. The mother of two and heavily tattooed stripper is also a white supremacist who happily posed wearing a swastika and brandishing weapons. She also allegedly has a swastika tattooed on her stomach, along with the initials "W" and "P" on each of her legs for "white power". It's always the lowest of the low who cling to racism. We don't have rights to those photos, and frankly I wouldn't want to put them up here, but you can see them on TMZ.
In other details about this shameless, disgusting woman, she was paid $30,000, or a teacher's yearly salary in some places, for her tell-all interview with In Touch. Our tabloid media really rewards hard work.
Michelle 'Bombshell' McGee collected a sizable paycheck for her tell-all interview with In Touch Weekly, Technorati.com reports.

A source close to Mcgee tells the website she was paid nearly $30,000 for her story filled with salacious details such as penis size and underwear/condom aversion. She was fully aware James was married to Sandra Bullock when the affair started (something she has denied) and hoped coming forth with her story would turn her into a "mainstream celebrity."

The tattoo model, who has two kids to support, claims that James was still texting her racy messages earlier this week. James apologized to Sandra on Thursday, denying "the vast majority of the allegations" but claiming responsibility for his "poor judgment."
[From Huffington Post]
Many of you mentioned that we shouldn't give much publicity to this creature, and I agree on some level. This is incredibly newsworthy, though, if only for the comparison she warrants to beautiful, classy movie star Sandra Bullock. (The NY Daily News interviewed some guys on the street and they all agreed that they'd rather be with Sandy than some woman they would be ashamed to be seen out with.) There's a lot of interest in this woman, who just happens to be on the cover of Tattoo Review magazine this month. The magazine is flying off the shelves, and the publisher is quoted by the NY Post as saying "This story is the biggest thing that ever happened to the tattoo industry." Or, you know, this scumbag could serve as a cautionary tale. I know that I'm hesitant to ever get inked again after seeing this excuse for a human being licking a sword while wearing a swastika armband.