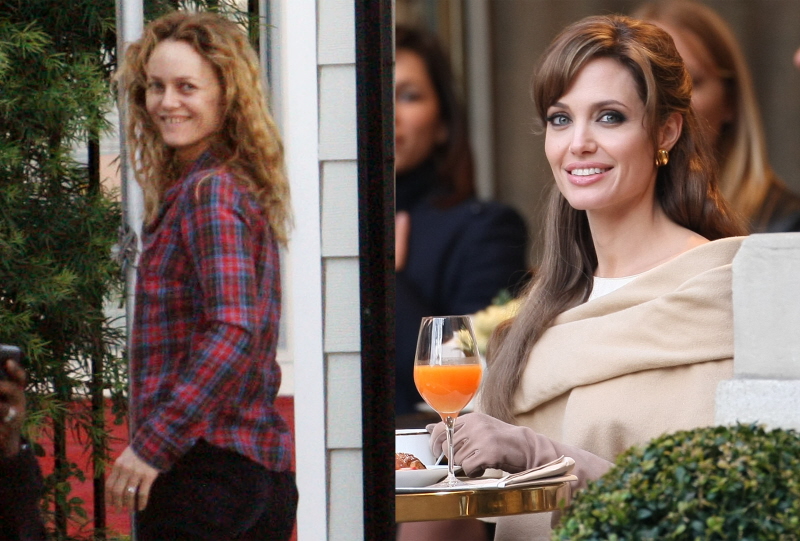 Hey, does everyone remember how all of the tabloids were like, "Johnny Depp and Angelina Jolie are going to have dirty sex, and Vanessa Paradis better watch her back, and Brad Pitt is jealous, and everyone will cry and laugh, because it will be all Angelina's fault, because she's the devil"? Remember? Yeah. Well, the National Enquirer has a scoop, and it's a much better story than we were expecting. Apparently, Depp isn't really Angelina's type. She's way more into Vanessa Paradis! This is good sh-t! Yes, Angelina is hot for Vanessa, because Vanessa is, in Angelina's mind (as translated by a "source"), just like the French version of herself: "She sees a lot of herself in Vanessa – the irreverent, sultry sexiness that comes from someone who doesn't have to try too hard." That's laying it on a bit thick, for both women. But whatever. Oh, Angelina also likes Vanessa because Angelina is total Francophile. That I'll buy:
Angelina Jolie has the hots for Johnny Depp's super sexy girlfriend, sources tell the Enquirer. Johnny's longtime love Vanessa Paradis exploded in a fury when she learned that Johnny and Angelina would be filming the movie The Tourist together in Italy and France. Well aware of Angelina's history with leading men, Vanessa was terrified that Angelina would set her sights on Johnny.

But Vanessa's fears were WAY off base, says a close source. Angelina, who has admitted to being bisexual, is far more attracted to the flame-haired Vanessa than her beau.

"Angelina laughed when she read the reports about her supposedly having a crush on Johnny… she pointed out that while there's no doubt he's a good looking guy, there's nothing especially exciting about him – and she thinks his girlfriend is way hotter. Ever since Angie first saw magazine photos of Vanessa, she has wanted to meet her."

Aside from being a knockout and one of France's sex symbols, 37-year-old Vanessa has one thing going for her that makes her irresistible to Angelina, say insiders. She's French!

Angelina loves everything French. She speaks the language and is teaching it to her kids and she and Brad live part time in a $60 million chateau in the South of France.

"Angie loves Vanessa's natural beauty, and has always talks about how lucky Johnny is to have landed her," said another insider. "She sees a lot of herself in Vanessa – the irreverent, sultry sexiness that comes from someone who doesn't have to try too hard."

Another source reiterates: "Vanessa has absolutely nothing to worry about in terms of Angelina and Johnny… the fact is that if Angelina was unattached, which of course she's not, she'd much prefer to be with a woman than a guy. Angie has always been attracted to girls and has made no secret about this. So Vanessa would be a far more likely choice for her than Johnny."
[From National Enquirer, print edition, March 30]
I'm going to go out on a limb and say that I doubt Brad or Johnny would really mind having their ladies get together for a nooner in Venice. Well… I suspect Brad wouldn't mind, I don't know Johnny's opinions about girl-on-girl action, or nooners for that matter. I also have to give credit to whoever came up with this angle – it's pretty smart, and it's a great deflection of the "John-gelina: The Torrid Affair Waiting To Happen" stories. And it's even plausible, always a plus!
By the way, here are some photos of Angelina and Brad leaving Johnny's house in Venice. Do you think Vanessa was there? Do you think Vanessa and Angelina lingered in the kitchen, flirting? Probably not. Shiloh and Zahara were there too.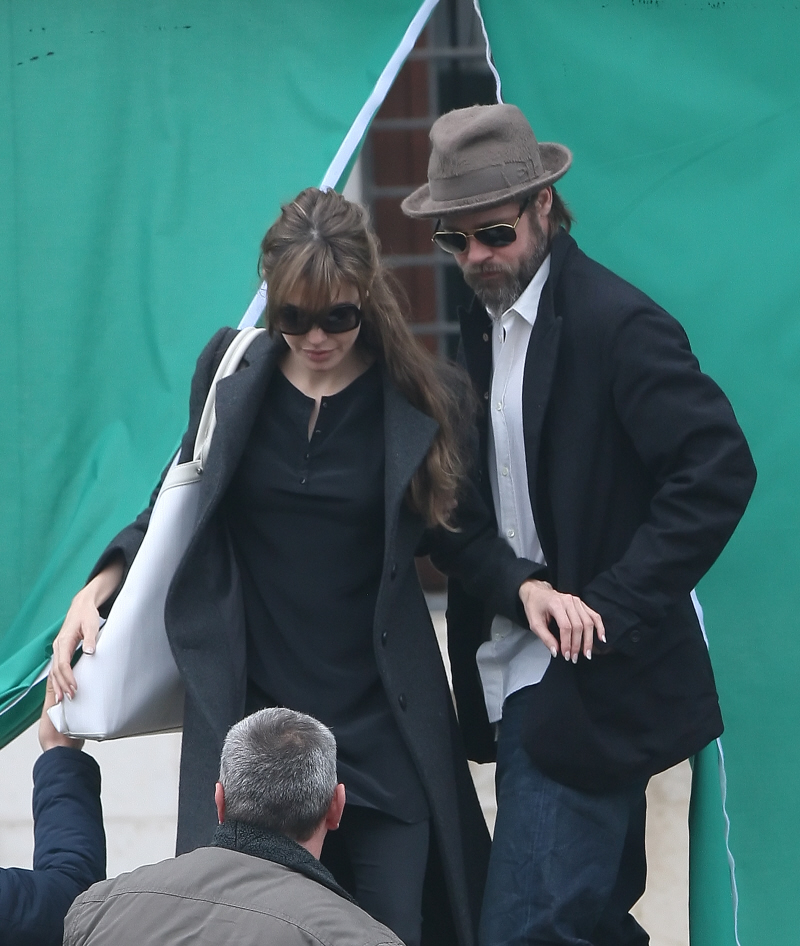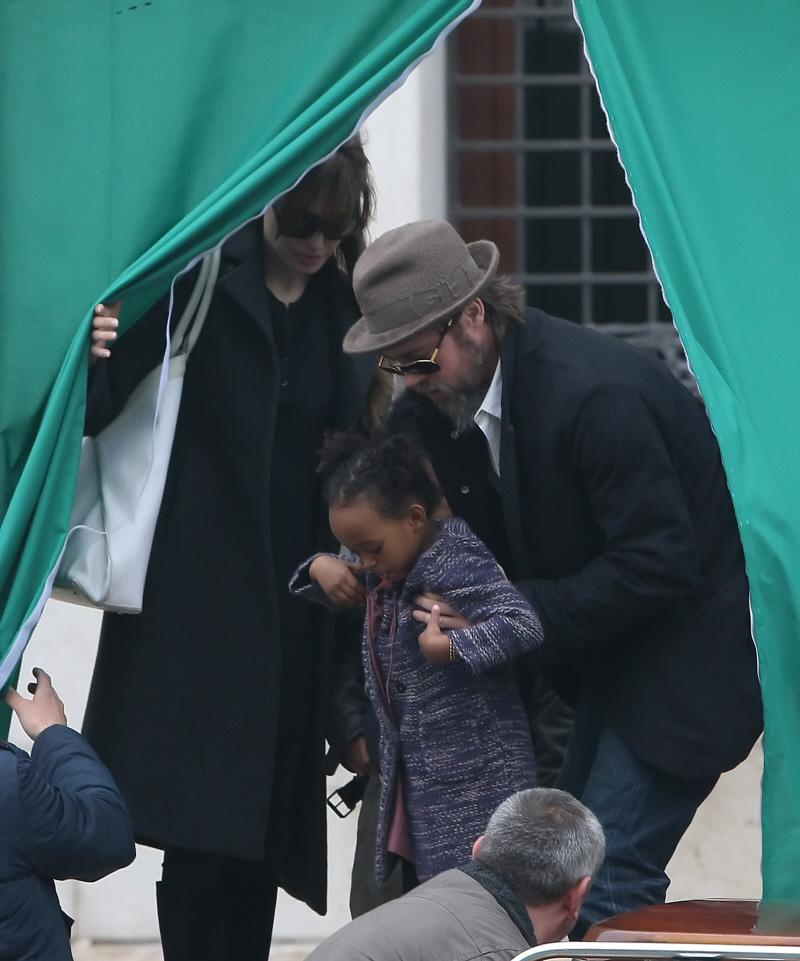 Angelina, Brad and the kids in Venice on March 21, 2010. Credit: INFphoto.com. Vanessa Paradis at the Chanel show on February 9, 2010. Credit: ANG/Fame.