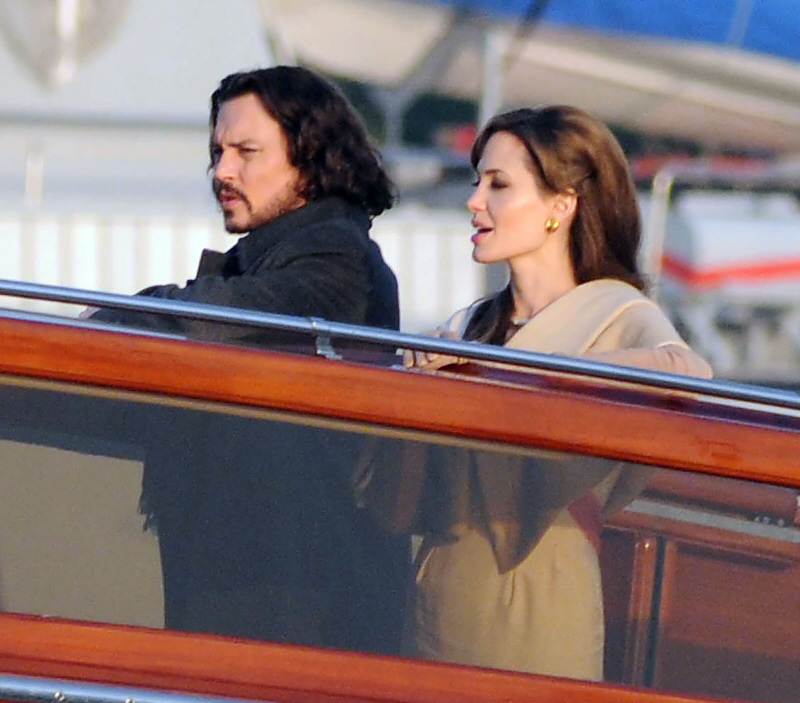 This story is hysterical, and it's yet another twist on the "Johnny Depp and Angelina Jolie are going to end up doing it, and Brad Pitt will cry and Vanessa Paradis will shank" stories. Apparently, Star Magazine now thinks that Angelina and Johnny will not end up doing it, because Johnny is terrified of Angelina and her Vadge of Doom. Star (via Jezebel) reports that Angelina has been trying to put the moves of Johnny as they've been filming The Tourist, but that Johnny is totally "freaked out" and he's asked his staff to "run interference" whenever Angelina comes near him. Um… aren't they playing love interests in this movie? She might just be standing close to him because they're in the scene together, just sayin'.
Angie is "humiliated" because Johnny Depp refuses to be seduced by her. The caption here reads: "Sexy Angie is making Johnny so uncomfortable, insiders say, that he's told his entourage not to leave him alone with her. 'He and his bodyguards have developed signals,' reveals a source. 'When Angelina gets too close, Johnny gives the look and someone runs interference.'"

Here are her methods of seduction on the set of The Tourist: She stands too close, invades his personal space, and once even brushed crumbs off of his beard. BRAZEN HUSSY! Once, the script called for them to kiss — just a little peck on the lips — but Angelina used tongue. An insider says: "It totally freaked Johnny out, and he drew away, but Angie just gave him a naughty smile."
[From Star Magazine via Jezebel]
Is any of this true? It's funny if it is. It would be a great plotline for a farce, with Johnny falling all over himself not to be sucked into the vortex of the Vadge of Doom. Too bad The Tourist seems to be an action-drama!
Anyway, just a little lightness so we can enjoy these lovely photos of them working together. This one is my one of my favorites, because Johnny really does look freaked out!
Johnny: "Uh… where are my bodyguards?!?"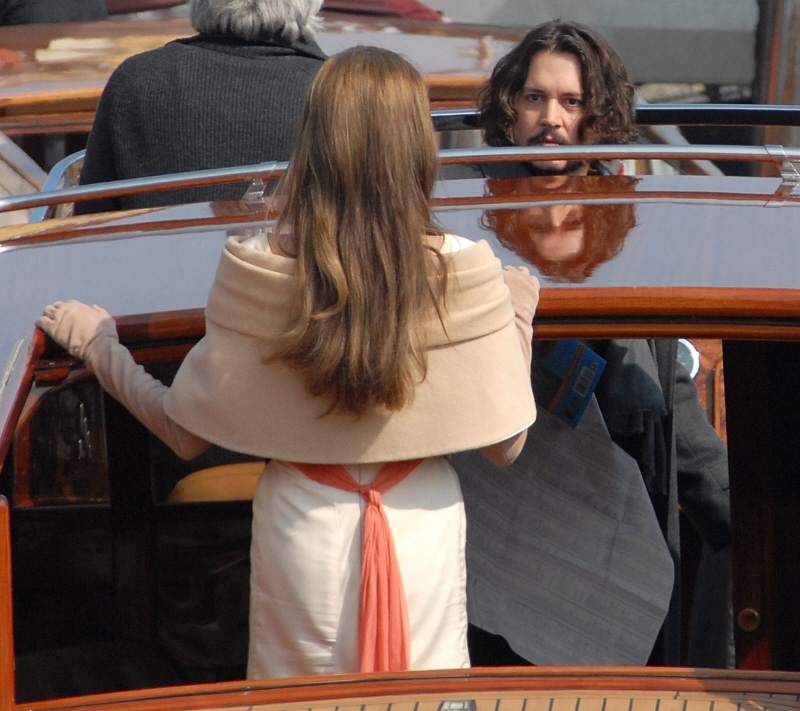 Angelina: "Oh, you will be mine!"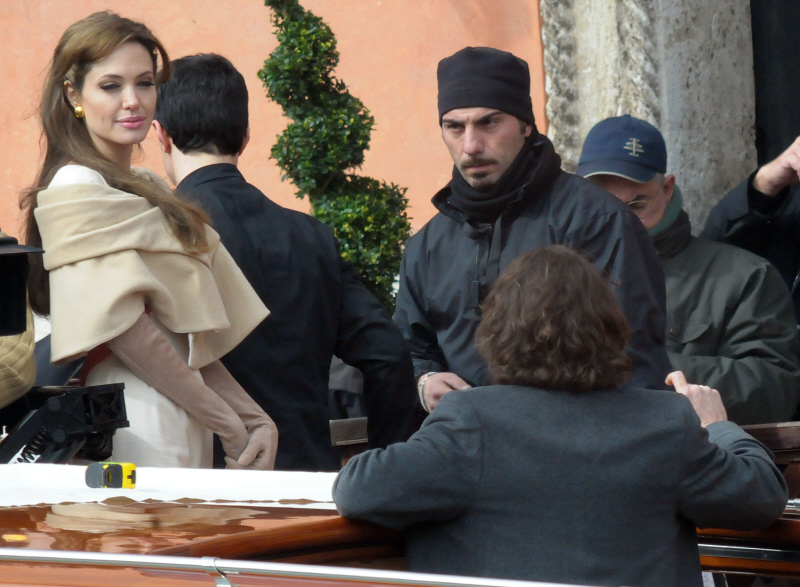 Angelina: *chuckle* "Vadge of Doom, good one, Johnny!"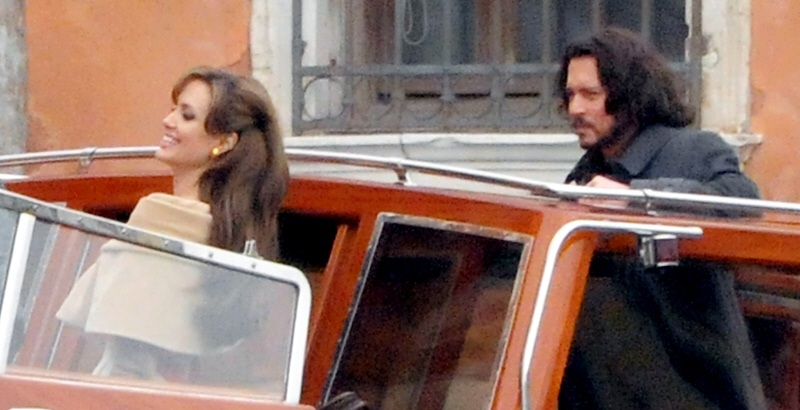 Johnny: "Don't stand so close to me, okay?"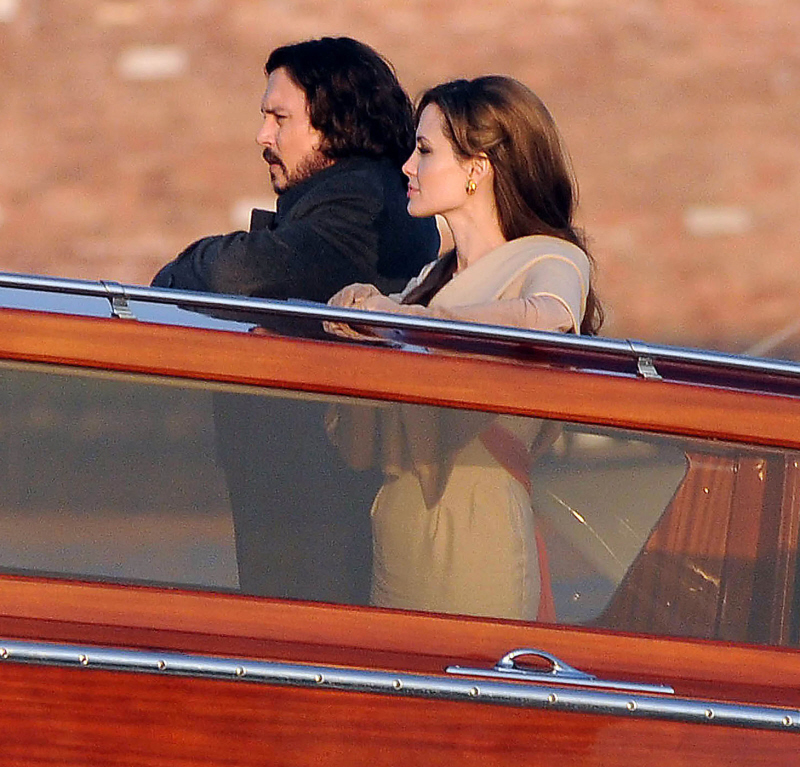 Johnny and Angelina filming 'The Tourist' on March 16, 17 & 18, 2010. Credit: WENN.