I have a love-hate relationship with Demi Moore. More hate than love, but occasionally I do think Demi is right on some things. But this is one of the many times where I really hate her. The story: Kim Kardashian twit-pic'd yet another photo of herself, this time with some friends. Kim captioned the photo: "Big pimpin w @SerenajWilliams @LaLaVazquez @Kelly_Rowland Love u girls!" Yes, Kim said that she was "big pimpin" with some friends. So Demi Moore climbed up Kim's ass about it, sending a flurry of tweets about "pimpin" and slavery. Here's the screen-capped tweets from Demi Moore's account and a summary by HuffPo: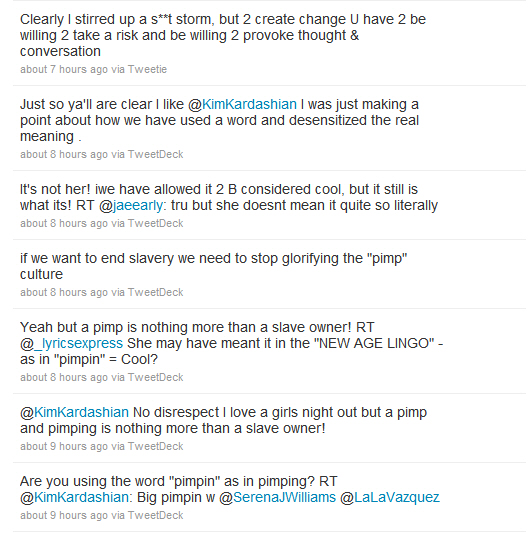 Demi Moore does not think the word "pimpin" is cool, despite Jay-Z singing about it, and Kim Kardashian found out by being called out on Twitter.

Sunday night Kim tweeted a photo of herself and three celebrity friends (seen below) at a Miami party with the message, "Big pimpin w @SerenajWilliams @LaLaVazquez @Kelly_Rowland Love u girls!"

Demi responded, "Are you using the word "pimpin" as in pimping?", to which Kardashian replied: "Doesn't everyone? LOL… Nothing wrong with dancing to Big Pimpin' by Jay Z in the club! Having a girls night out, gotta love that song!"

Not so fast! Demi, who campaigns against child slavery with husband Ashton Kutcher, wrote, "A pimp is nothing more than a slave owner!.. if we want to end slavery we need to stop glorifying the "pimp" culture.. I was just making a point about how we have used a word and desensitized the real meaning."

An hour later she wrote, "Clearly I stirred up a s**t storm."

In the end Kim, who at first defended the word, tweeted, "Good point!I agree! It was just a song not literal."
[From Huffington Post]
I never thought I would say this, but Team Kardashian. For goodness sake, it's not like Kim was being terribly original, she was quoting a f-cking Jay-Z song, she was hanging out with her girls, and she so obviously did not mean anything about hookers or pimps or slavery or anything like that. So Demi needs to go on her meds or something. And as LaineyGossip points out, Demi and Ashton are friends with P. Diddy, who does more to denigrate women and encourage a "pimpin" culture than any f-cking Kardashian. Does Demi need a new definition of "pimpin" to make this sh-t real? Here you go, Demi. My definition of pimpin: Rumer's Hollywood career. How much did you and Bruce have to pimp her out to get her a career?
Demi's tweets screen-capped from her Twitter.