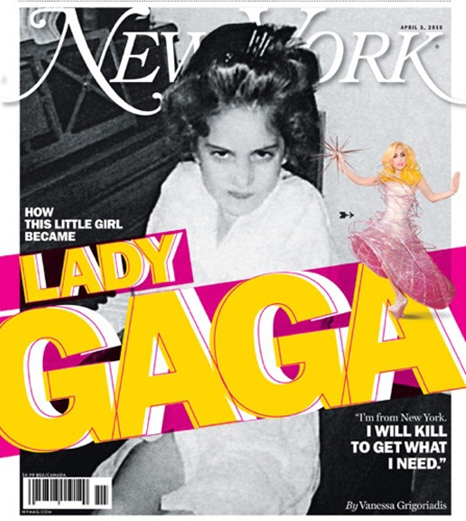 New York Magazine's newly released cover and cover story is all about Lady Gaga. It's not just a profile on all things Gah however – it's actually a fascinating read about the transformation of an Italian Catholic school girl named Stefani into the first fully-formed, pop music icon ready to take over Madonna's mantle. It's a lengthy piece (here for the full article) with lots of interesting details about Gaga today versus the Stefani of five years ago. Gaga explains: "I went through a great deal of creative and artistic revelation, learning, and marination to become who I am. Tiny little lie? I wanted to become the artist I am today, and it took years." What I find most interesting though is the constant ghost of Madonna throughout this article – and in Gaga's own career. New York sums it up quickly:
Gaga's presence also introduces the formerly unthinkable idea that Madonna, another voracious Italian girl, may really, truly, finally be on her way out. Her new look is an appropriation of Madonna's circa "The Girlie Show" and "Blonde Ambition" (the darkened brows, the platinum-blonde hair, the red lips), and her music-video director, Jonas Åkerlund, is a major latter-day collaborator of Madonna's. But the two are very different: Madonna hasn't had a sense of humor about herself since the nineties, where Gaga is all fun and play. At her core, she's a young art-school student, full of optimism and kindness, childlike wonder at the bubble world.

Though she may not be bisexual herself—of the many friends of hers interviewed for this article, not one of them recalls her ever having a girlfriend or being sexually interested in any woman offstage—her politics are inclusive, and she wants to promote images of as many sexual combinations as are possible on this Earth. Gaga says she's a girl who likes boys who look like girls, but she's also a girl who likes to look like a boy herself—or, rather, a drag queen, a boy pretending to be a girl. There's little that gives her more pleasure than the persistent rumor that she is a hermaphrodite, an Internet rumor based on scrutinizing a grainy video. That's not Madonna. Madonna wouldn't pretend she has a penis.

But that's the genius of Gaga: her willingness to be a mutant, a cartoon. She's got an awesome sense of humor, beaming tiny surreal moments across the world for our pleasure every day.
[From New York Magazine]
I had never thought about it that way – that Madge's fatal flaw was that she took herself too seriously. But it's true! I'm just not sure how apt the whole "Madge = humorless, Gaga = fun times" equation is. Gaga seems to take herself seriously too – and she seems to enjoy taking on the crazy affectations that Madge enjoys too. But for now, yes, I do think Gaga is definitely more fun. Not only would Madge never pretend to have a dick, Madge wouldn't wear a diamond-encrusted lobster on her head. At least, not unless the diamond-encrusted lobster manufacturer was paying her. Maybe that's another difference between Madge and Gaga: Madge manipulated pop culture for profit, for business, because at heart, Madge is one of the smartest businesswomen around. But Gaga? I don't really think of her as a businesswoman. Maybe she is. Maybe she's being very smart about her money and her business and how she spends. But I think she might have the heart of tortured artist rather than a cash register.
Oh, one last thing. Gaga is talking about how she took acting classes when she was a kid, and she said this hilarious sh-t: "I remember the first time that I drank out of an imaginary coffee cup. That's the very first thing they teach you. I can feel the rain, too, when it's not raining. I don't know if this is too much for your magazine, but I can actually mentally give myself an orgasm. You know, sense memory is quite powerful." No comment!
New York Magazine cover courtesy of CoverAwards.