This story has some sexual details and is not for under-18
This month's Vanity Fair has more from four of Tiger Woods' mistresses, one a Perkins restaurant manager named Mindy Lawton who sold her story to News of The World right around the time the story broke. Mindy tells the disturbing story about how she got busted by the National Enquirer having sex with Tiger in a parking lot in 2007. (The Enquirer reportedly quashed that report in exchange for an exclusive interview with another publication owned by the same company, Men's Fitness.) Lawton was having her monthly friend at the time, but Tiger insisted she have sex with him so she took out her tampon and they did it pressed against a car at 5:30 in the morning before a tournament. The Enquirer reporter, whose photos were too blurry and faraway to prove it was Tiger, grabbed the bloody evidence and held it as collateral.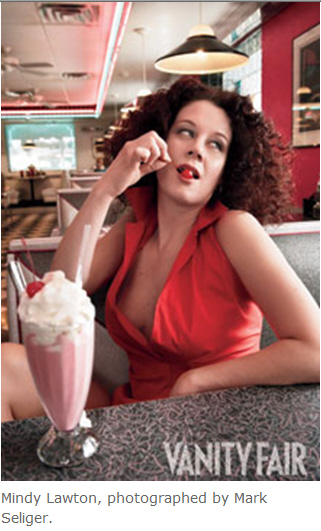 There are photos online to accompany the article. Lawton is sitting in a diner wearing a top that's open to show most of her right breast. She's eating a cherry suggestively and looking off into the distance like she's up to something. (I assume the cherry is used in reference to her sex in the parking lot story.) Another mistress, a porn star and professional escort named Loredana Jolie, poses seductively on a bed surrounded by tabloids with Tiger headlines. Jolie has had so much work done that she looks like a transsexual, but I doubt that matters to Tiger. She said that she routinely went on shopping sprees using Tiger's credit cards and once spent $13,000 at a pop. The article preview on Vanity Fair's website is brief, and Bossip has more details, including Lawton's story about how Tiger did her up against an Escalade.
The Enquirer's Smoking … Piece of Evidence

• Mindy Lawton says she met Woods for one rendezvous at 5:30 in the morning, before he had to leave for a golf tournament. Although she was menstruating, he insisted on having sex with her, but when the key card to access his office didn't work, he drove to a nearby parking lot, where they had sex in his car. After they left, Lawton claims, reporters from The National Enquirer, who had been following her, picked up the tampon she had dropped in the parking lot, and later threatened to use it as part of a story exposing Woods's infidelity. When the tabloid contacted one of Lawton's relatives, Lawton texted Tiger in a panic, and he put her in touch with Mark Steinberg. "That's when their brush-under-the-rug, the cover-up, happened," Lawton says, referring to a deal that the Enquirer allegedly made with Tiger's handlers to hold the adultery story in exchange for Woods's giving an exclusive interview to its sister publication Men's Fitness. (A spokesperson for The National Enquirer denies that the paper held the Lawton story in exchange for an exclusive on Tiger.)

Earl Woods's Dark Side

• Reports have emerged that Tiger's late father, Earl, was a womanizer, and one insider tells Seal that he was a heavy drinker as well. The person recounts sitting next to him at an awards dinner: "Everybody was in coat and tie, and Earl's sitting there in these little hot pants—short-shorts—and a golf shirt, and he's got a big old vodka gimlet going and a cigarette burning, and he's sound asleep, just hammered, shitfaced. And the announcer says, 'Ladies and gentlemen, Earl Woods!' And he jumped up, spilled his drink all over the front of his shirt.… And he gets up there at the podium and starts talking psychobabble."

Tiger's Gambling Habits

• Woods's preferred place to stay in Las Vegas was the Mansion at the MGM Grand, where a one-bedroom suite costs $5,000 per night. He would gamble in the ultra-exclusive V.I.P. casino nearby. According to a source known as Robin Hood 702, "sometimes the only people in the place were me, Tiger Woods, and Michael Jordan. Each of us sat at our own private table and played big. Tiger plays big. Up to 30 grand a hand … and when you're playing splits and doubles, you can have 150 grand on one hand."

• "When Tiger showed up in Vegas, he was always with Michael Jordan and Charles Barkley," according to Las Vegas Review-Journal columnist Norm Clarke. Years earlier, however, John Merchant had warned Woods to avoid Jordan and Barkley, saying of Jordan, "Stay away from that son of a bitch, because he doesn't have anything to offer to the f*@&ing world in which he lives except playing basketball." Merchant adds, "Are they his black role models? You've got to be kidding me."

Tiger's Spending Habits

• With many of his mistresses, Woods was allegedly exceedingly cheap. Mindy Lawton says the only thing he ever bought for her was a chicken wrap from Subway (he was stopping there on his way to meet her). Tiger and his mistress Jamie Jungers broke it off, according to Jungers, because he refused to help her financially.

• Of the women interviewed, Woods spent money on only one: Loredana Jolie Ferriolo, a former Playboy model he met through madam Michelle Braun. Ferriolo says she went on $15,000 shopping sprees and charged everything to Tiger's hotel room.
[From Vanity Fair]
I have nothing against period sex, but you need to prepare for it with one of those products like Instead that make it less messy. It's not surprising that Tiger would insist on having sex anyway – that's all these women were to him. What can Vanity Fair report that we haven't already heard, though? I guess the most damning information would be that Tiger's people were more than aware of his massive indiscretions and helped him both plan for frequent sex with paid professionals and cover it up. If he used company money to hire hookers and transport them across state lines he could potentially be in trouble, but the guy had a 'ho in every port. I doubt that we're going to hear that he's under any sort of investigation.