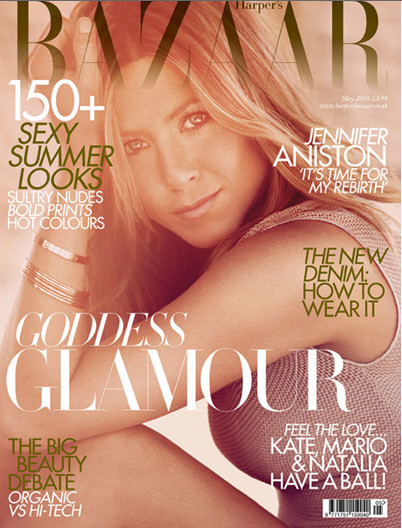 Jennifer Aniston is the cover girl for the May issue of Harper's Bazaar UK, and HuffPo has some of the interview excerpts. First, what do you think of the cover shot? It's striking and interesting, but the whole artsy color wash seems better suited to an inside-the-magazine photo shoot but not for a cover shot. Just my opinion. But it does stand out. Here are the excerpts: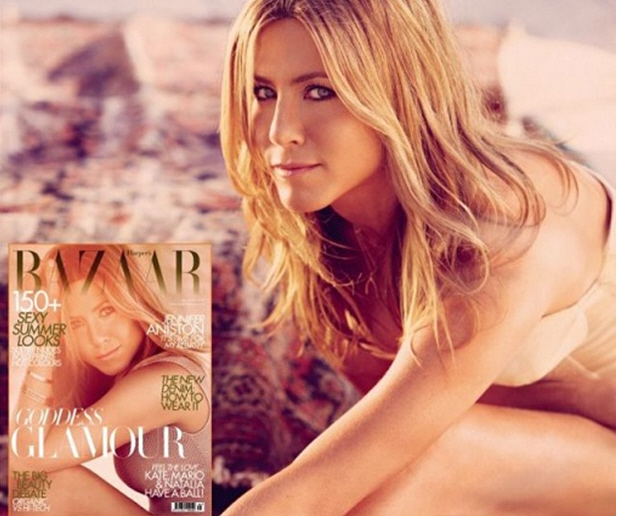 Jennifer Aniston has summarized her secret for looking good. The "Bounty Hunter" star is on the cover of the UK Harper's Bazaar – on sale this week – and inside, responding to her thoughts on Botox (which she says she has avoided) she says she could never give up wine or dairy and, "My advice: just stop eating sh-t every day."

She also talks about her "rebirth" five years after her split from Brad Pitt and the failure of "Derailed." Below are quotes from the press release.

On her love of British comedy:
"I so love the British sense of humour – I was obsessed with Benny Hill and Monty Python as a child. Oh my god, and I am so hooked on Ricky Gervais."

On her fans being upset by her racy roles:
"With Derailed [a dark action thriller opposite Clive Owen], I loved being racy. Love it…But people couldn't cope with me being involved in rape and murder."

On her rebirth:
"The last five years have been about spring cleaning for me. Now it's time for my rebirth. I love trying new things. I can't just be put in a box."

On the power of women:
"I grew up admiring strong women like journalist Barbara Walters and super-agent Sue Mengers, who represented Ali McGraw. But now look where we've got to as women. We've had a woman run for President. There is nothing like our power."

On botox:
"I could do it, and I mean these lines are getting deeper every day, but when I tell you what's happened to me – these lines are just about living. Look I eat really well and I work out, but I also indulge when I want to. I don't starve myself in an extremist way. You're not taking away my coffee or my dairy or my glass of wine because I'd be devastated. My advice: just stop eating shit every day."

On her fellow Hollywood leading ladies:
"I love what Drew Barrymore is doing with directing. It's so much about a rebirth for her, and I love it when people are living in the now, like her. I hate it when people look back and regret what they haven't got. That's how I feel about my own life now. And my God, let's talk about how much I love Demi Moore as well. What kind of Kool-Aid is she drinking?"
[Harper's Bazaar interview excerpts courtesy of HuffPo]
Um… Demi Moore is drinking the "Kool-Aid" known as "a really good surgeon who does work incrementally so she doesn't walk around with a new face all of a sudden even though we can all see that Demi does in fact have a new face." I mean, are there people out there in the world who really look at Demi and say "100% natural"? Or is Aniston just kissing her friend's ass?
Regarding the other stuff… I love Ricky Gervais too, he's awesome, and yes, it is amazing how much better you feel and look when you "stop eating sh-t" and actually drink a ton of water and exercise regularly. I rolled my eyes at "The last five years have been about spring cleaning for me" line, but whatever. I hope she does try new things.
Oh, and SPOILER – as someone who actually sat through Derailed (apparently Aniston didn't read the script for the film she appeared in), there was no rape. There was a pretend rape, but really her character was having sex with her "boyfriend" and pretending to be raped. She was a con artist. And people didn't like the movie because it was a horrible, terribly miscast movie. Clive Owen as a poor schlub who can't catch a break? Uh, no. Vincent Cassel as a gangster operating in Chicago? Uh, no. Jennifer Aniston as a femme fatale? Uh, no. It was like they cast that movie by picking names out of a hat.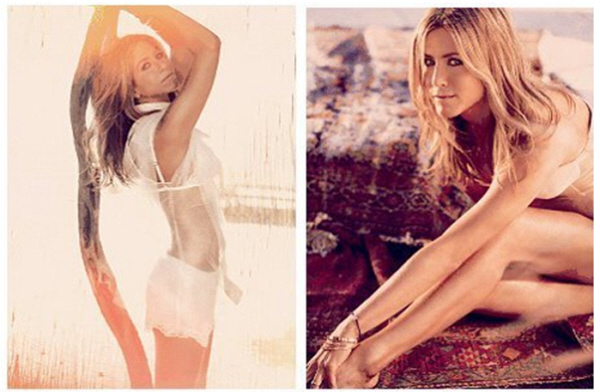 Bazaar images courtesy of HuffPo.