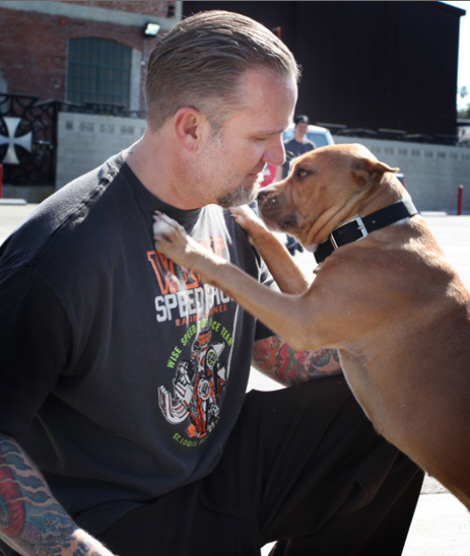 I guess I was expecting this sh-t, but it's still slightly surprising that two weeks after In Touch Weekly's "Bombshell" report about Jesse James' infidelity that we're still talking about this sh-t, and that there's still so much new information coming out about him. The National Enquirer's cover story this week all about how Jesse is one of those motherf-ckers who DOG FIGHT. As if the Nazi sh-t wasn't bad enough, now you're bringing innocent puppies into your horrible f-cking behavior. This man is just a terrible person:
Jesse James may have entered rehab to stave off a divorce from Sandra Bullock but that's the least of his problems as a horrible new scandal has emerged. He's accused of outrageous cruelty involving his pet dogs!

Two of Jesse's favorite pit bulls fought in a bloody battle to the death – and Jesse's terrified dog Rudy was ripped apart in the savage attack that tore a leg almost completely from his body.

Shockingly, the tattooed TV mechanic treats the vicious encounter as a big joke, charge sources.

"Sandra was horrified and in tears when she first heard what had happened to those animals," said an insider.

"She believed he was this gentle biker with a heart of gold. But if he can let this sort of thing happen to his dogs, that tells you who he really is – Jesse IS heartless."

FOR THE FULL STORY with all the sickening details about Jesse James' penchant for cruelty – animal and otherwise – grab the latest ENQUIRER – ON SALE NOW!
[From The National Enquirer]
I know it's the Enquirer and I know I should take it with a grain of salt, but from what I already know about Jesse, I am prepared to believe this. It would also explain why Cinnabun keeps running away – the puppy doesn't want to dog fight.
In other Jesse James-is-a-disgusting-pig news, Life & Style got an interview with a tattoo artist (Eric McDougall) and his receptionist (Skittles Valentine, the best name EVER), who both claim that they had "foursomes" with Jesse and Bombshell McGee. Note: I don't think Eric and Jesse boned. I think they were just trading off between Bombshell and Skittles Valentine. Oh, and no one used a condom, kind of. Unless you count a vague memory of the finger cut-out of a latex glove (don't):
In an exclusive interview with Life & Style, tattoo artist and owner of Ocean Beach Tattoo and Piercing in San Diego, Eric McDougall, and receptionist, Skittles Valentine, confess to having a freaky foursome with Jesse James and Michelle "Bombshell" McGee last June – and Skittles had intercourse with Jesse without a condom.

The racy encounter took place one drunken night after the Ink-N-Iron tattoo festival last June while Sandra Bullock was busy promoting The Proposal. "Michelle came into my shop and was like, 'I'd like to introduce you to my boyfriend,'" Eric tells Life & Style. "I recognized Jesse right away."

After Eric filled in Jesse's octopus tattoo with a little color free of charge, Jesse and Bombshell went to a liquor store downstairs and returned with booze to lighten the mood. Michelle made the first move, kissing Skittles, and then they all found their way to the tattoo parlor's private back room. "Jesse and Michelle both wanted Skittles," says Eric, noting there was never a mention of Sandra.

"Eric and I were having sex, so we switched off, and Jesse and I had sex," Skittles tells Life & Style exclusively. "I had an awesome time. I think Jesse is so cute." The foursome ended only when Bombshell got jealous of Skittles spending too much time with Jesse — and the two ended up in a hair-pulling, knock-down fight! (Requests for comments from Jesse and Michelle were not returned.) While Eric can't recall if he used protection during the more intimate part of the night, Jesse didn't use any protection. "Maybe I used a latex glove," says Eric. "I don't know. Sometimes as a last-case scenario I tie a latex glove finger off."
[From Life & Style]
Okay, maybe this sh-t has gone from "this is so sad" to "Seriously? He was boning a chick named Skittles?!?" Oh, would you like to see The Goddess Known Only As Skittles Valentine? Here you go, Skittles with Eric: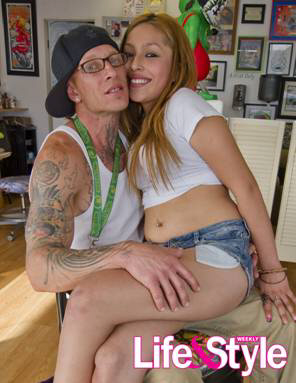 Photos courtesy of WestCoastChoppers.com. Photo of Skittles and Eric courtesy of Life & Style.