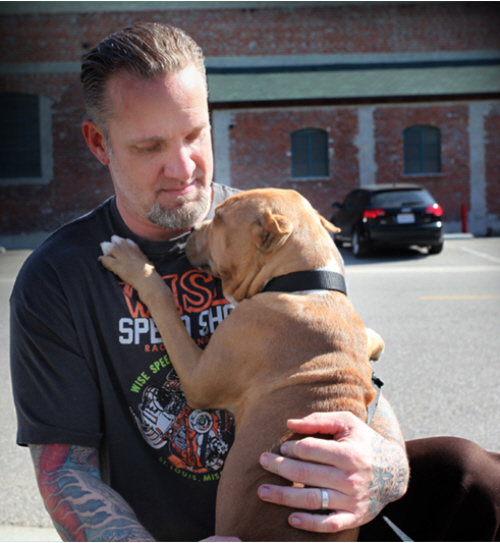 Jesse James, Sandra Bullock's husband and the reality star owner of West Coast Choppers, was devastated when his beloved pet pit bull went missing on January 25th. James put up fliers around Long Beach, CA where he has his custom motorcycle shop, but he didn't hear anything for weeks and probably feared the worst. The good news is that someone found the dog and brought her back to James' shop. The poor pup was dirty and had lost 15 pounds but was otherwise ok. I have to admit that I'm tearing up here and I don't even consider myself a dog person.
Jesse got a call this AM from a woman who saw a picture of the missing doggie on a flier. The woman brought the dog to Jesse's shop in Long Beach ten minutes ago. It was indeed Cinnabun and everyone there started bawling.

The woman says she found the dog roaming the streets in Long Beach "a while ago." Jesse says she was "cool" and he's going to give her a reward.

The dog went missing on January 25.

Cinnabun is OK, but really dirty and has lost 15 pounds.
[From TMZ]
It sounds strange that the woman found Cinnabun "a while ago" and that the dog was still dirty and hungry. Did she just see him around and not feed him and/or take him in? I guess I don't blame her because pit bulls can be intimidating and I probably wouldn't adopt a stray one either.
James had offered an initial reward for Cinnabun of $2,000, and later upped the amount to $5,000. He also hired the company FindToto.com to assist in the search. Thank goodness that this story has a happy ending!
Photos courtesy of WestCoastChoppers.com