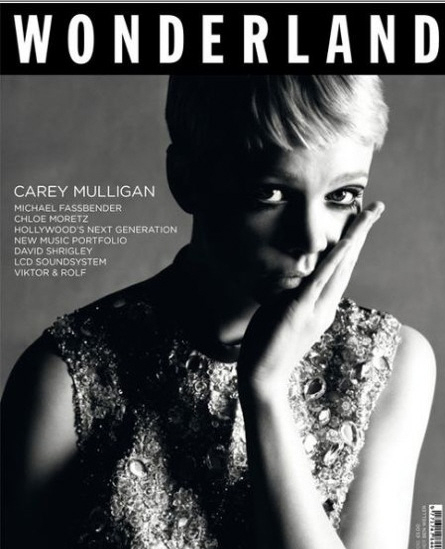 I wanted to do this piece just as a way to cleanse the palate after all of the horrible, nasty stories that came out today. So here we have little elfin beauty (and Best Actress Oscar nominee) Carey Mulligan on the cover of Wonderland Magazine for May. She's channeling Twiggy, by the way. My first thought was Mia Farrow circa Rosemary's Baby, but they were actually aiming for Twiggy. It's a cute look for her, but I like her better with long hair. Anyway, in the interview she talks about being known for fashion rather than acting, her work schedule, and she gushes about "amazing" Shia LaBeouf, her boyfriend and Wall Street 2 costar. Here's more:
With her cropped hair and elfin looks, Carey Mulligan pulls off a pretty stunning mipression of Sixties pin-up Twiggy. In a series of photographs for a magazine cover shoot, the up-and-coming British star poses in a white Prada shirt looking very like the waif-like model.

The actress, who won a BAFTA for her role as Jenny in An Education, is taking a brief break from acting after the awards season and her numerous roles on screen.

Carey admitted she has not worked since filming wrapped on her first Hollywood blockbuster Wall Street: Money Never Sleeps in November. But it was there she met her co-star and now boyfriend Shia LaBeouf when she played his love interest.

'The first time we read together we were so nervous,' she said. 'It was just me and Michael [Douglas] and Shia, and neither Shia or I looked up. You never know how these things are going to work. I'd wanted to work with Shia since A Guide To Recognizing Your Saints. He's amazing. He was so incredible in that film, and we ended up working together well.'

As well as being on the promotions trail for An Education last year and making the sequel to Wall Street, Carey has also filmed Never Let Me Go, an adaptation of the Kazuo Ishiguro novel, with Keira Knightley.

So perhaps she has earned her long break. She told Wonderland magazine: 'I actually don't have a job [coming up]. It's been hard to make decisions whilst all this is going on because you don't want to jump into something.'

She said her busy schedule meant she hardly ever got to see her family and friends.

'My agent came up to me and was asking for the only half hour I had in the next two weeks. And I was home, so I wanted to see my friends and I was like, "Don't take the five seconds left that I have. I just don't want to be in a movie! I don't want to have the responsibility of being a big actress, I don't want to be on a poster."'

Carey, 24, said her break since November was a long time coming.

'That's the longest I've taken off since I started acting,' she said, explaining that it was hard to film during awards season.

And she added that the award circuit had been daunting at first.

'I was really freaked out at the beginning – not to a crippling degree – by the red carpet stuff. It just felt scary, but slowly I've realised, this is just so mad.'

But she also said she had been annoyed that interviewers always questioned her about fashion, rather than her acting.

'I was at a press conference and Woody Harrelson was answering questions in front of me and they were asking him what his motivation was, and how he felt about his character. I got up there, and they said, "What are you wearing?" And I thought, "There was a time when I was an actress. Not just someone who wore dresses."'
[From The Daily Mail]
See? She's a cutie. And I think she's going to have a long career too. Carey is also rumored to be the lead in the new version of My Fair Lady – written by Emma Thompson. Carey is Emma's pick for Eliza Doolittle, which speaks volumes about both Carey and the remake.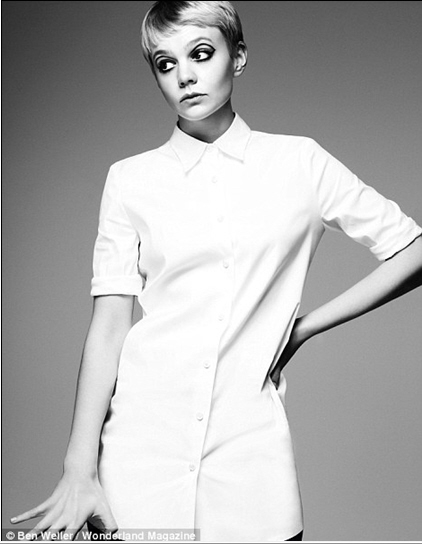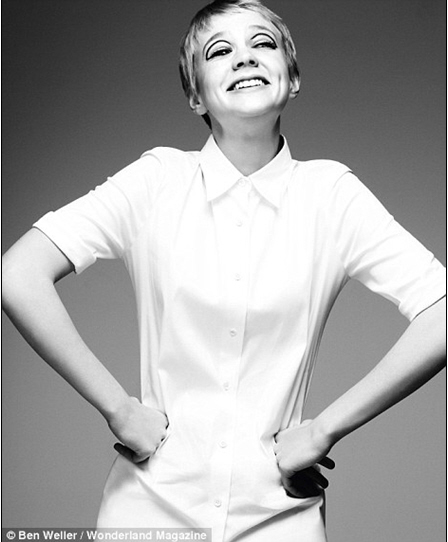 Wonderland photos courtesy of The Daily Mail. Wonderland cover courtesy of CoverAwards.