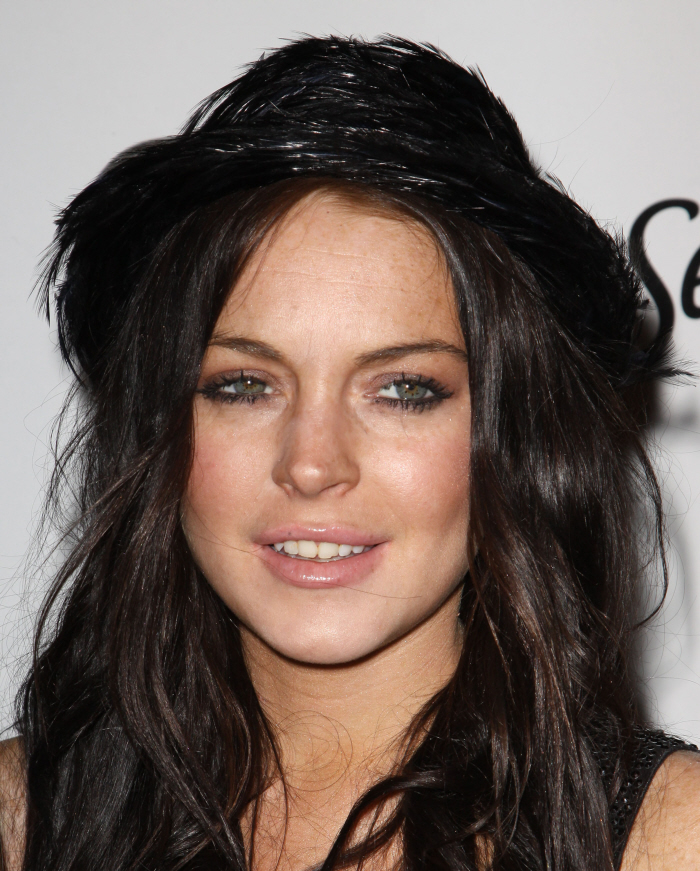 Here are photos of Lindsay Lohan out last night to celebrate something to do with Star Magazine. Star regularly reports on Lindsay's dumb, drugged-out ass in highly critical terms, so I have no idea why Lindsay was there to celebrate the tabloid, other than she loves going out and getting high, so why not do it in a room with a bunch of tabloid reporters, right? Incidentally, Star Magazine has another big "Lindsay is a f-cking disaster" story this week, this one about Lindsay's cracked-out tangle with a paparazzi/cactus/cocaine/milkaholism. Star (via Jezebel) reported:
Remember the night Lindsay Lohan fell into a cactus? That night, "She was wasted and causing such a scene, talking loudly and making extended trips to the bathroom," says an eyewitness. She knocked over some cups and followed Jesse McCartney around. A few nights before, she hooked up with Adam Senn even though he was with someone else — "she screamed in the girl's face until she left without Adam," says a source. The mag says it's well known that Lindsay Lohan is into cocaine, but hints that she's "moved on to harder drugs," quoting a source who claims to have seen her "nodding off."
[From Star Magazine via Jezebel]
Eh. I buy just about every Lohan story these days, so I'll buy this. CB has thought in the past that Lindsay's drug problems were about Adderall and alcohol, but I've always thought her sh-t of choice was stronger. Like coke. Like crack. Like heroin. Like anything she can snort or smoke or shoot up that will get her eyes to look that dead.
Anyway, Radar ran an interesting little report about Lindsay too – apparently, she and Leonardo DiCaprio were in some kind of deep conversation a few days ago. Now, Leo and Lindsay have a past. Allegedly, she gave him a lap dance once, and I've always suspected she was consistently trying to hit that. Has Leo ever hit it? I don't know. You decide:
Hollywood's elite flocked to Sunset Strip's newest celeb hot spot, Trousdale, on Tuesday night. But two stars stood out from the gorgeous A-list crowd – Leonardo DiCaprio and Lindsay Lohan – and an eyewitness tells RadarOnline.com that the two looked like the best of buddies!

"Lindsay and Leo were talking for ages," the eyewitness dishes. "They were engrossed in some really deep conversation, heaven only knows what it was about, I mean what kind of deep conversation do you have with Lindsay Lohan?

"I didn't pick up a flirty vibe from them, well at least not from Leo, I'm sure Lindsay would die to date him! But they looked like really good friends and I would definitely say this wasn't the first time they had spent time together. Lindsay was totally holding Leo's attention and he was even ignoring all the gorgeous girls that came over to hit on him – very un-Leonardo like of him!"

Don't worry though ladies, our source assures us that as soon as he was done with Lindsay he was back to scoping out and flirty heavily with all the beautiful babes.

"Lindsay was an absolute hot mess though. She was sweaty, and dancing all over the place with a cigarette and drink in her hand continually all night long. She was chain smoking and was really knocking back the drinks, she was clearly messed up."
[From Radar]
I really want to believe that Leo isn't so gross that he would bone a Lohan, but he might. Another possibility that I'm working on is that Leo was trying to talk to Lindsay about getting help. In his recent Esquire profile, Leo spoke about River Phoenix: "When I was eighteen, River Phoenix was far and away my hero. Think of all those early great performances — My Own Private Idaho. Stand by Me. I always wanted to meet him. One night, I was at this Halloween party, and he passed me. He was beyond pale — he looked white. Before I got a chance to say hello, he was gone, driving off to the Viper Room, where he fell over and died. That's a lesson." Doesn't Leo seem like the kind of guy who would be trying to talk Lindsay into getting help? I think so.
Sidenote: Her hair looks God-awful, doesn't it? Ugh.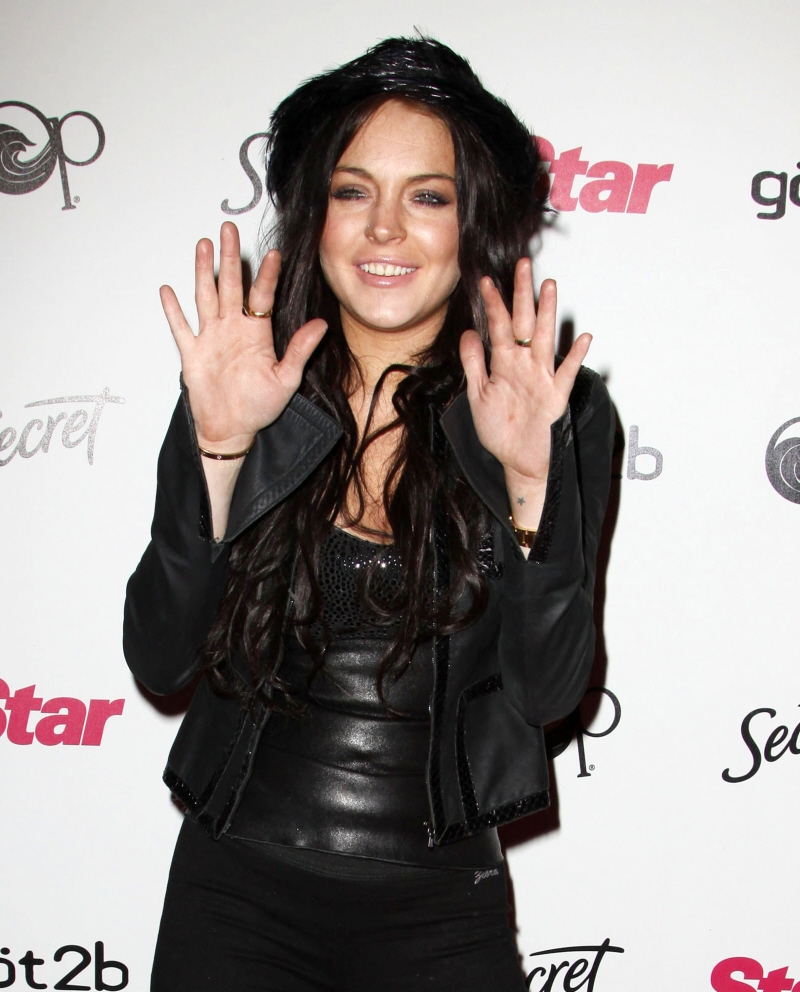 Lindsay in LA on March 31, 2010. Credit: WENN.