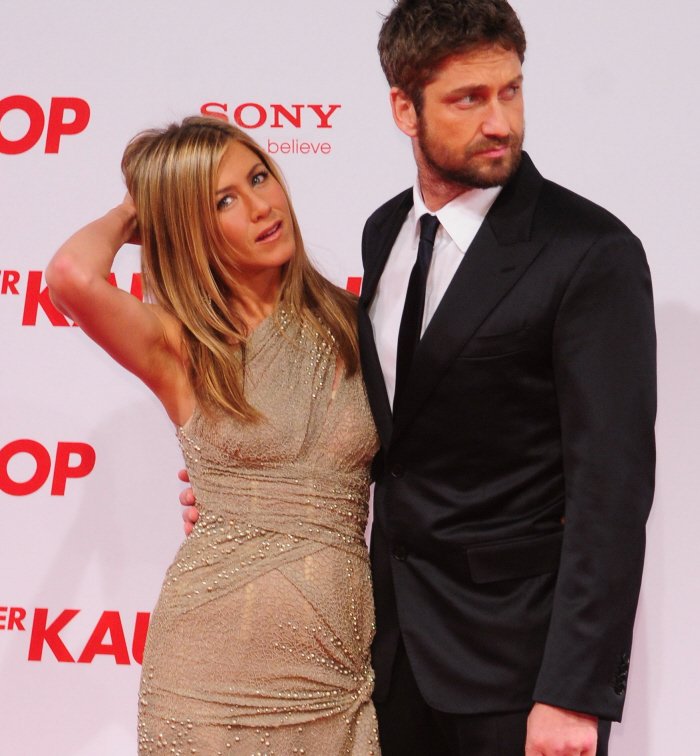 Epic! Jennifer Aniston might have finally named that perfume that she's going to launch. According to Life & Style Magazine, Aniston has decided on "Lola V". Are we saying it like "Lola Vee" or "Lola the Fifth"? I don't know, but both would be equally bizarre in my opinion. I kind of don't believe it. Everyone knows that Jennifer Lopez is the one with the "Lola" fixation.
Michael K at Dlisted of course had brilliant suggestions for how to interpret "Lola V". Michael K writes: "Is that the formal name for LOLvag? Maybe it's short for Lonely Vagina. Or maybe just maybe, Jennifer named her perfume after Gerard Butler's c-nty ass dog Lolita. If that's the case, then I'm okay with the name. Anything named after a bitch who don't play is fine by me." LOL-VADGE! Is it too mean to suggest we call Aniston LOL-VADGE from here on out? But the Gerard Butler (and his little dog too) angle is interesting? Many people are beginning to wonder just exactly what is up with the Butler and the LOL-vadge. Us Weekly put a flirty, sexy angle on their relationship and that now-infamous finger-up-the-ass incident:
No butts about it: Jennifer Aniston and Gerard Butler are more than friends. On March 27, after the Bounty Hunter costars joined Sony execs in Paris for a two-hour cruise down the Seine (just like the one she took with ex Vince Vaughn in 2006!) the Scotsman, 40, flagrantly groped Aniston's fanny.

"To put it bluntly, Gerard put his finger where the sun doesn't shine!" a witness tells [US Weekly's] Hot Stuff.

Though Butler has said he and Aniston, 41, are "just friends," a pal of his insists the duo – who stayed in separate hotels while promoting their flick in France – have been "hooking up for a while."

They slept together on her February birthday trip to Mexico, another source confirms. And though an Aniston insider says "she'd like it to be more, they're friends with benefits."
[From US Weekly, print edition, April 12, 2010]
I'll buy that they're friends with benefits. I'll also buy that LOL-vadge wants more than that, and Gerard is all "Whoa, slow down, I've got lots of ladies/hookers on the side!" After all, he did go trolling for strange as soon as he hit Madrid. Of course he did – he was in a city full of lovely, dark-skinned ladies with long dark hair and long legs (aka, his type). And although Us Weekly put a flirty vibe on the ass-fingering, the National Enquirer was less pleased, quoting sources who claim that the whole incident was inappropriate, disrespectful, demeaning, crude, crass and offensive. Seriously, the Enquirer got a bunch of old ladies who are clutching their pearls over this. Honestly, I'm down the middle on this one. I didn't think it was horrible or crude, I thought he was probably just joking around with her, trying to get her to loosen up or something.
UPDATE: Us Weekly confirms that the name of Aniston's perfume is actually "Lola Vie" which apparently means "laughing at life" in French. Oh noes, she did in French?!? It's a signal to Brad!
UPDATE #2: Gerard also spoke about the ass-finger incident when he was on a radio show today. He told "Johnjay and Rich" that he's "a bit of a bad boy… by the way, I'm still not sure my hand was really on her butt. I think that's just the way the camera was angled. I actually haven't seen [the photo]." He also once again denied that he was "dating" Aniston, saying: "If I was going out with Jennifer, I'd be more than happy to say I'm going out with Jennifer — it's just not true." And now Aniston's "rep" is getting involved (probably Huvane) – the dude told Us Weekly, "the 'friends with benefits' label is crude and incorrect. They were not flirty in Paris." Oh, snap. So both of them just hit it and quit it, apparently.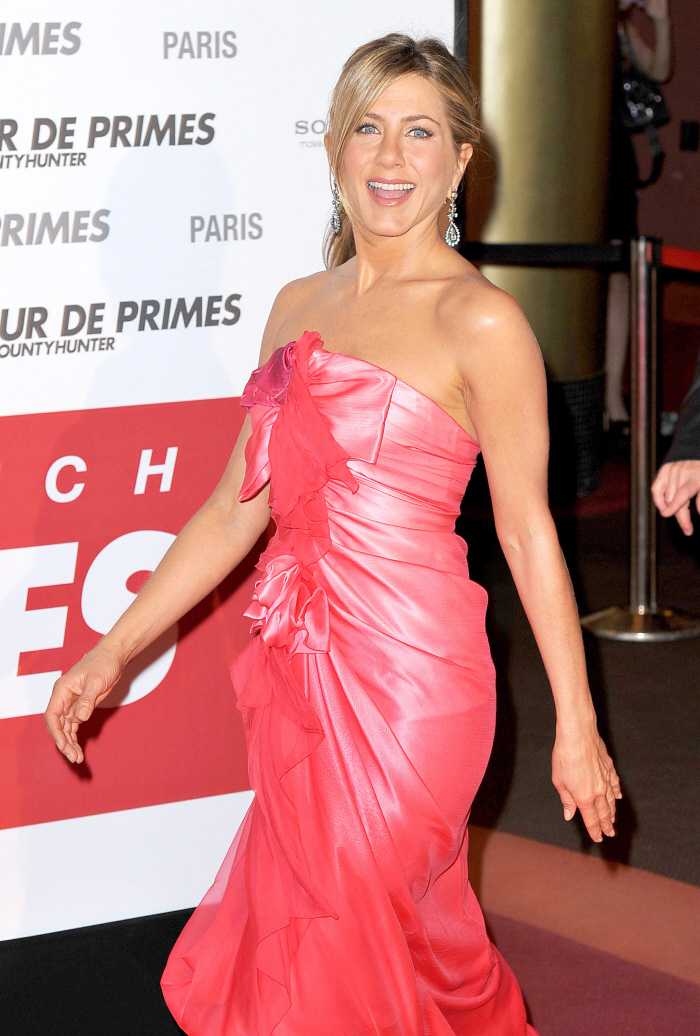 Aniston & Butler promoting 'Bounty Hunter' this week in Europe. Credit: WENN.