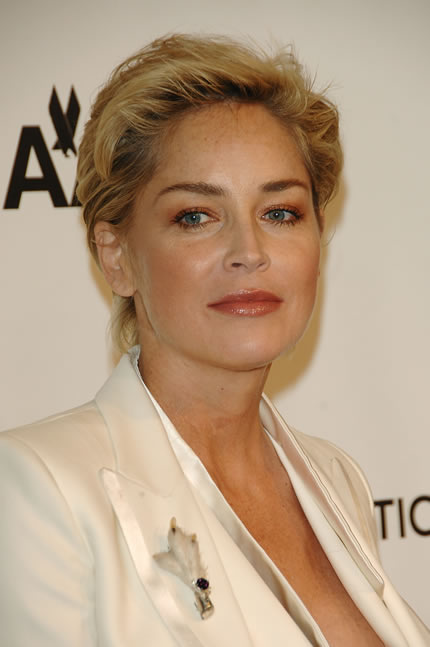 Sharon Stone has appeared at Elton John's Oscar Party wearing a lucky rat's foot. No, that is not a typo – she wore a rat's foot, not the traditional lucky rabbit's foot.
PETA, who have never been a fan of the fur wearing actress, have launched an attack on the jewelery. I can't blame them – the badge is just so ugly.
In a scathing attack on Stone for her fashion attire, PETA campaigners said: "Maybe Sharon, passed over by the Academy yet again, was jealous of 'Ratatouille"s Oscar win and thought a rodent paw might go with her haggard look."

"Her accessories these days are as dead as her career."
Now, Sharon is said to be wearing the foot as it is an item that Scotsmen wear on their wedding day. I've never heard of this tradition, or been to a Scottish wedding, so I'm not sure if it's meant to be lucky for the groom. I'm not sure how it is lucky, unless it's because we've just had Chinese New Year and it's the year of the rat. I guess we can safely assume that the brooch wasn't so lucky for the rat that is now missing a paw.
At least this zebra print outfit was fake, although I think that's the nicest thing that can be said about it. When did Sharon Stone lose her sense of style?
At the same event, Sharon donated a vintage Corvette racing car for the auction raising money for Elton John's AIDS foundation. A guest started the bidding at $1 million, only he didn't have the money. It seems his was just a dummy bid, and he was planning to drop out when someone bid more. Unfortunately even the most shiny of vintage cars is unlikely to net $1 million, and the bidder had to explain he didn't actually want the car. Whoops.