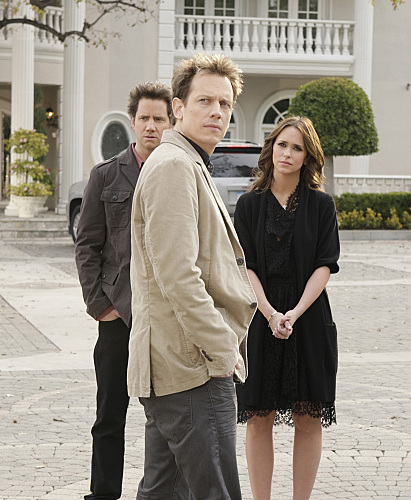 Jennifer Love Hewitt, her ex Jamie Kennedy and her new bf John Asher, in a Ghost Whisperer episode called "Dead Eye." It airs tonight 4/9/10.
Jennifer Love Hewitt waited a hot minute before dating another co-star in the wake of her breakup with Jamie Kennedy. According to both Life & Style and The National Enquirer, Hewitt, 31, is dating an actor named John Asher, 39, who divorced Jenny McCarthy in 2005. (Jenny and John have son Evan, 7, together.) Hewitt hooked up with Asher the same way she met her last two boyfriends – on the set of her hit TV show, Ghost Whisperer. Enquirer and L&S have Hewitt and Asher spotted at different events looking coupled up, so it sounds like this is happening.
Less than a month after her romance with Jamie Kennedy ended, Jennifer Love Hewitt appears to have found a new Mr. Right — and he's a friend of Jamie's! Jennifer was spotted at a small March 27 dinner party with actor and director John Asher, Jenny McCarthy's ex-husband (and father of Jenny's 7-year-old son, Evan). "Jennifer was all over him," an eyewitness tells Life & Style. "They were holding hands and canoodling. She was not hiding her affection or attraction to him at all. " – From Life & Style

Jennifer was spotted getting cozy with… Asher, 39, at a bookstore where she was signing copies of her new book…

"The two of them definitely gave off a 'new couple' vibe, very into each other. There were lots of smiles and touchy-feely playfulness," an eyewitness told the Enquirer.

Jennifer got chummy with Asher after he guest-starred on a new episode of "Ghost Whisperer" as the ghost of a private eye named Charlie. – From The National Enquirer, print edition, April 19, 2010
Would it kill Jennifer Love Hewitt to wait a while before she jumps into another long term relationship? She's admitted on her book tour that she doesn't date much and just has boyfriends. It's like she's so focused on that damn engagement ring she visits every month that she can't relax and enjoy life. I like her, though, and hope she's happy. She's practically holding her breath until she gets married and maybe it will finally happen for her. It's not the best sign that the guys a divorcee who already has a kid, but it could work out.
That said, Asher might not be the best catch. He kisses and tells and once told a radio station about threesomes he had with McCarthy and other women. He also called her a "freak in the sack." Apparently their relationship ended due to the stress over their son Evan's autism. Maybe the guy has matured since he spilled the beans on his ex wife last year. It's not the best sign, though, when a guy brags to the press about his ex being a sex freak. Given Hewitt's penchant for oversharing, she may have met her match.