The latest US Weekly has a whole photo spread that shows that Jennifer Aniston is still rocking the same hair, makeup, accessories and fashion choices after over a decade. They include side by side photos from 1997-99 and 2009-10 that show that Aniston hasn't changed her look much. I don't know, I just think she has a classic look that doesn't go out of style and that she favors solid colors and simple styling. She has mixed it up a little with her fashion choices lately, but it wouldn't kill her to do something different with her hair. I was thinking – "well Aniston did have that messy tousled hair on The Late Show," but then I found a premiere photo that showed her with similar hair in the late 90s. There's only so much you can do with long hair parted in the middle. If anything the photo comparisons show that Aniston hasn't aged much and that she's still as gorgeous if not better looking now as she was 10 years ago. We should all be as lucky. Here are some photos I found that illustrate US' point. They're not the same pictures used in the magazine.
Hair and Makeup: late 90s (This photo is not dated by the photo agency, but it's probably circa 1998/99.)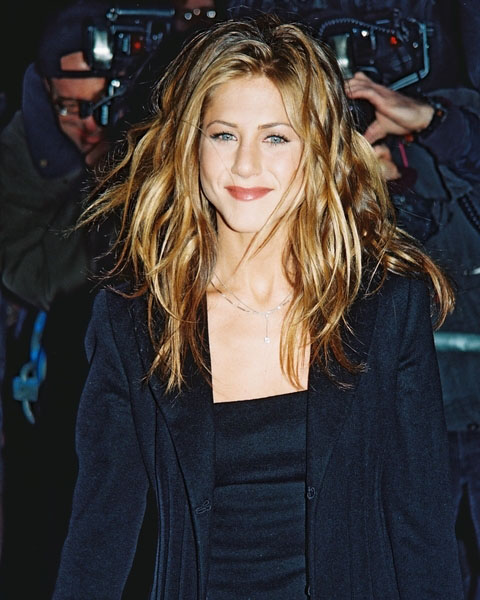 Hair, Makeup and Styling, 2002

Hair, Makeup and Styling, 2010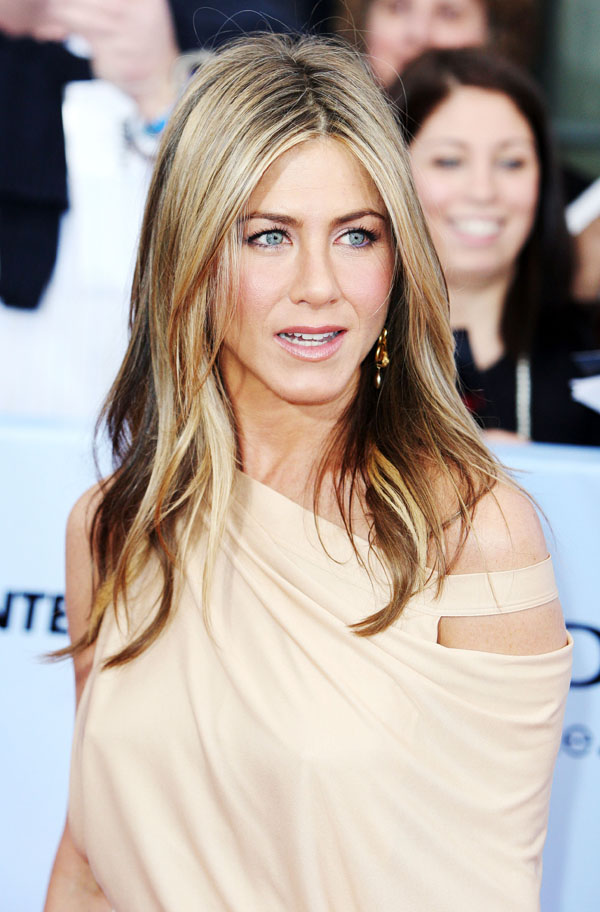 Same Outfit: 2009 (Note: These pictures are more striking when you see the full view of her 2009 outfit. She's also wearing black flip flops.)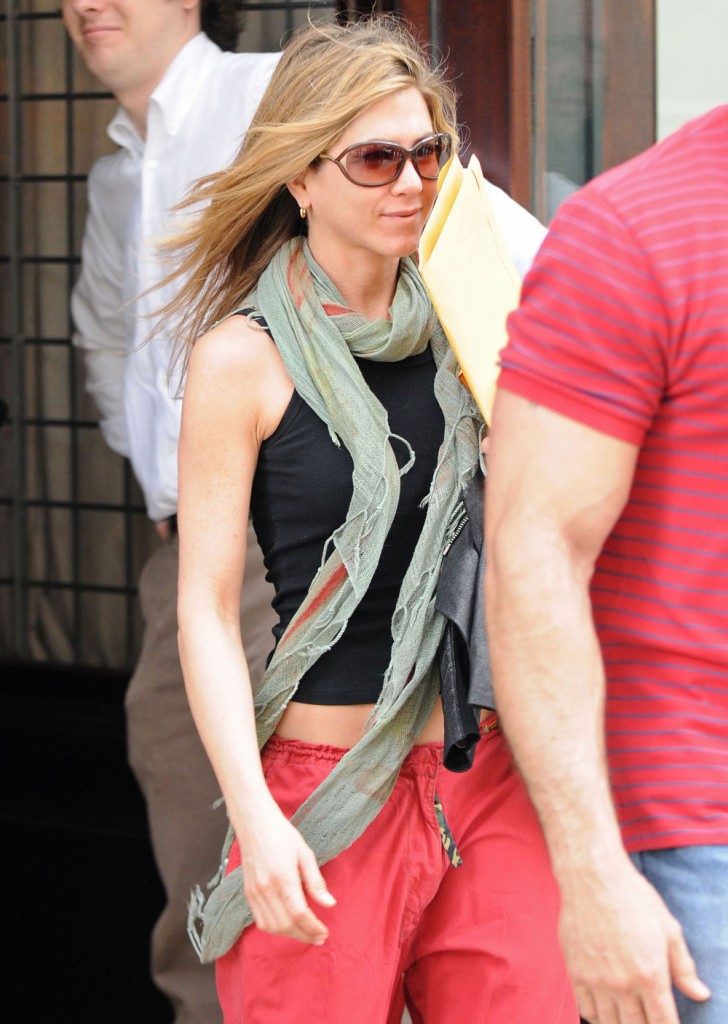 In the article, US points out that Aniston loves little black dresses, her scarf (here's a picture of her with one in 2001), her toe ring, which she's been seen wearing in 1999 and 2009, and of course her hair. They also point out that she has similar body language with Gerard Butler as she had with her ex Brad Pitt on the red carpet. And Aniston is known as a creature of habit. She vacations to the same place in Mexico practically every year and eats the same thing for lunch every day. Here's their explanation of that:
So set in her ways
Sunday dinners with Courteney Cox, annual trips to Cabo: Aniston's behavior is pretty predictable.

Her diet: "I ate the same [Cobb] salad every day for 10 years," she confessed of her Friends days. Since then, little has changed. She always orders the McCarthy salad at the Beverly Hills Hotel and the butter-lettucce salad with chicken at L.A.'s Sunset Tower.

Romantic Getaways: She cruised the River Seine in Paris with Pitt in 2004 and again with former boyfriend Vince Vaughn in 2006. On March 27, she made it a hat trick on a Seine sail with Butler.

Hatred of technology: "I'm computer-illiterate," the Blackberry phobe has said. Noted ex John Mayer in a recent interview: "Her success came before TMZ and Twitter… She's still hoping it goes back to 1998."
[From US Weekly, print edition, April 19, 2010]
I'm one of those people who tries to mix it up and doesn't like to go to the same places and do the same things. I don't like getting in a rut and I get bored with the same things. My hair is different than it was 10 years ago, but I probably dress in the same kind of comfortable preppy style. There are plenty of people like Aniston who find what works for them and stick with it and there's nothing wrong with that. She looks incredible and she doesn't look dated at all. It's not like she's still rocking 90s mall hair with poofy bangs.