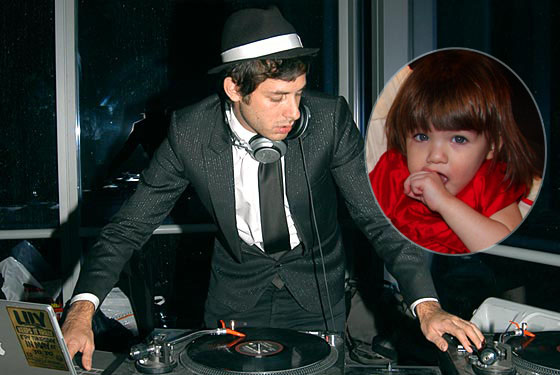 composite image made from Splash News and image from NYMag.com
Suri Cruise allegedly turns 2 years old on April 18, and sources say the party is going to rival anything you've seen on MTV's "My Super Sweet 16." The entertainment for the toddler's party won't be a clown or a pony– instead, it's going to be a Grammy-winning producer and DJ, Mark Ronson, whose latest claim to fame was producing Amy Winehouse's album, "Back to Black."
Tom Cruise and wife Katie Holmes have asked top British music producer Mark Ronson to DJ at their daughter, Suri's second birthday party.

Suri turns two on April 18 — and the Hollywood couple are planning a huge bash to mark the occasion.

They reckon Grammy and BRIT Award winner Mark — who has worked with the likes of Amy Winehouse, Lily Allen and Robbie Williams — is just the man to spin some tunes.

32-year-old Mark — who made his name as a DJ on the New York club scene in 1993 — was the official DJ when Tom, 45, married Katie, 29, in Bracciano, Italy, on November 18, 2006 and impressed the groom with a re-worked version of the Top Gun theme.
Last year, when Suri allegedly turned one, the Cruises had a simple party in comparison – close friends and family ate cupcakes and pizza in a backyard party on the Cruise compound, which was decorated with dragonfly pinatas. It looks like this year, Suri decided to step it up a notch. After all, she's been alive for millions of years and already knows everything she needs to know.
Seriously, though, what does she care who the DJ is, as long as he plays The Wiggles?
I hope my 8-year-old daughter doesn't catch wind of this. She announced last week that she wants Beyonce to sing at her birthday party in November. I don't have those kind of connections!