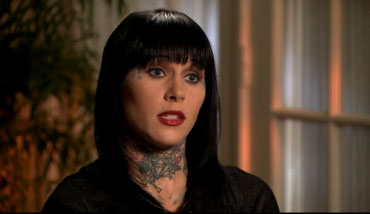 Jesse James' first known mistress, white supremacist Michelle McGee, has agreed to co-host a reality show created by the guy responsible for "Cheaters." One of Tiger Woods' mistresses, Jamie Jungers, is also on board. You might remember Jungers as the blonde one who took home the crown in the Howard Stern Tiger Woods Mistress pageant. The show, called "Celebrity Cheaters" would work like the original Cheaters show in that celebrities and their mates would be enticed to cheat in order to catch it all on tape. So far it's only a concept that is being shopped around, but both McGee and Jungers are game. I bet there are plenty of other mistresses among Tiger and Jesse's scorecards who would be happy to participate. Here's TMZ's report:
TMZ has learned a new reality show is in the works that would be hosted by Michelle "Bombshell" McGee and Jamie Jungers — and according to the creator, it's all about celebrities who cheat on their loved ones.

Jesse James' alleged mistress #1 and Tiger Woods' #we-lost-count would front a show called "Celebrity Cheaters," which is currently being shopped around town. The show was created by Bobby Goldstein, who created the original "Cheaters" — and would, according to the pitch, try and "catch celebrity cheaters with their pants down."

Ironically, we're told McGee once applied to be on "Cheaters" to try to trap an ex. She was denied.

The show hasn't found a home yet — but Goldstein says McGee and Jungers have both agreed to do it, though nothing has been signed yet.
[From TMZ]
That's kind of despicable and I hope no one buys that show, but it sounds kind of inevitable considering all the cable networks vying for ratings. Meanwhile Tiger's mistress Joslyn James is continue to cash in on the scandal by stripping at clubs that are close to wherever Tiger happens to be playing golf. She stripped near the Masters in nearby Atlanta, GA, and also set up a website, where she released dirty text messages allegedly from Tiger.
Jesse James mistress Michelle McGee is also making an infamous name for herself. She was fired from a planned hosting gig for a Miami club when the owner was met with protests, but she's stripping at another club in Vegas instead. McGee also granted an interview to E! Online last week, her second from what I can tell. She was full of self-righteousness and indignity at the way she's been portrayed in the media and said "I am not a homewrecker. I don't believe I destroyed their marriage. Jesse destroyed his marriage. My message to Jesse would be, 'If you were honest to me up front…we wouldn't be in this situation.'" Ooh it looks like someone has an axe to grind! Maybe she should be grateful for all the media opportunities and jobs she's getting thanks to sleeping with Jesse James. If she didn't have the affair and go public she'd still be wiggling her butt for dollar bills on a greasy stage every night.
Jamie Jungers: