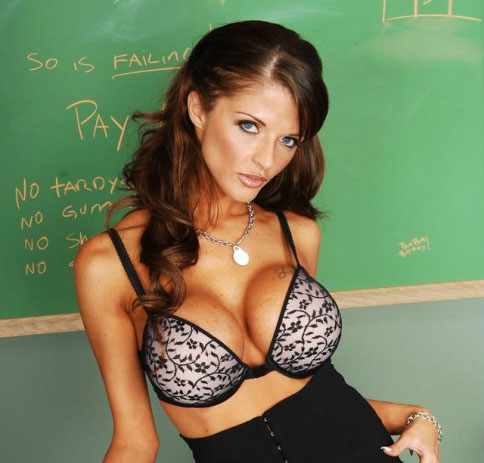 Joslyn James, one of the porn stars that Tiger Woods bedded (no not that one, the the now-redheaded one who did a press conference with Gloria Allred) has gone public with the text messages that Tiger sent her. She set up a website, SextingJoslynJames.com, which messages allegedly from Tiger. The website wasn't loading the many times I tried to check it, but TMZ has the details and they're damning. (As if any additional details in the Tiger Woods scandal could be damning at this point. Unless a video and/or photos come out, this is pretty much par for the course now.) We only have the messages Tiger sent Joslyn and don't know what she sent him first, but if she was baiting him it worked. Tiger was nasty and talked about golden showers, choking, and threeways. We've already seen Tiger's messages to Jamie Jungers, and those were sexual but not that bad, probably because Jamie wasn't so into sexting. Joslyn probably was, though:
Joslyn James pulled the trigger on her website, splashing more than 100 text messages Tiger Woods allegedly sent her — and the messages hit topics that include slapping, choking, three-ways and golden showers.

The site, sextingjoslynjames.com, includes texts that say:

- OK, I would like to have a threesome with you and another girl you trust.
- I want to treat you rough, throw you around, spank and slap you
- Have you ever had a golden shower done to you? … just morbid curiosity.
- You are my f**king whore. Hold you down while I choke you

It's interesting … Joslyn has omitted the messages she sent to Tiger, so we don't know what she said that may have egged him on.

And then there's this, on September 8, 2009: "Having a few issues at home. Might be a little later before I see you tonight." That text is followed by "parent hood melt down "

And the last message is dated October 4, 2009. It says, "Don't f**king talk to me. You almost just ruined my whole life. If my agent and these guys would have seen you there, F**k."

For the record, Tiger references golfing in three different tournaments in the texts: The Buick Open, Bridgestone Invitational, and BMW Championship — he won all three.
[From TMZ]
I kind of like how Joslyn waited to release these until she could stand out in a sea of mistresses with similar evidence. She should have waited until the Masters in two weeks, though, and done it early that morning on the start day in order to steal Tiger's comeback thunder. I hope that someone tells Elin about this and has her read the messages. If she's wavering as to whether she'll buy Tiger's excuses this might help her make a firm decision.