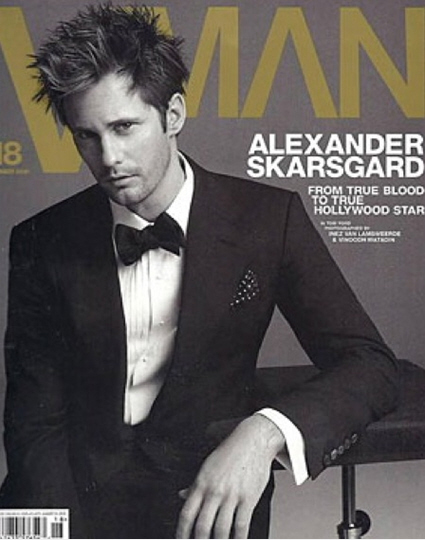 Here's Alexander Skarsgard on the cover of the summer issue of VMAN Magazine. The man does look good in a tux! But is that enough of a reason to keep loving Alexander Skarsgard? Because he starting to really stink of Kate Bosworth's stank. There's been too many photos of the two of them lately – I'm starting to fear that Alex is completely in her trap. "Trap" = "vadge of doom". From spending the last few days looking through photos of Alex and Kate, you can just tell she loves every minute of the attention she's getting with Alex. She even seemed to get turned on when Alex got into some drunken altercation with a paparazzo at Coachella. Maybe she really is getting some auditions off of this relationship? Could be.
Us Weekly and some other outlets have some new photos of Kate and Alex in Palm Springs – he's shirtless and she's flaunting her too-thin body in a bikini. It looks like a classic Bosworth photo-op, honestly. Anyway, even though we should have access to the pics, we don't have them yet, but you can see them at Pop Sugar. Be prepared… they are gross. She's all "Look at me, my anorexic body is so f-cking hot." And Alex is all "Mm… why are you only facing the cameras? Why are you posing like that?"
Here are some additional photos of Alex and that bitch at Coachella:
Vman cover courtesy of CoverAwards.