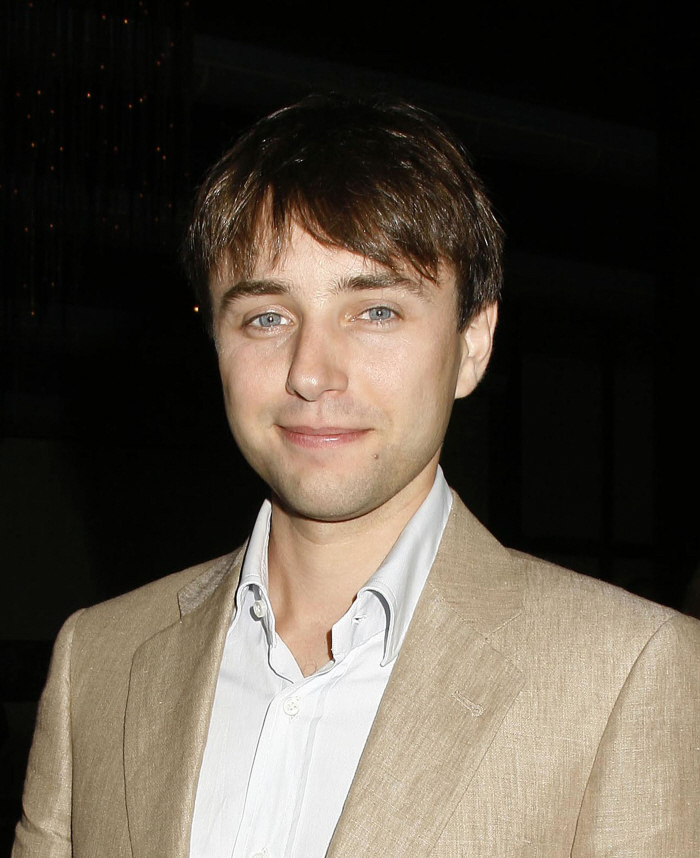 The Guardian/Observer had a fascinating interview with Mad Men's Vincent Kartheiser over the weekend. It makes sense that a British newspaper would interview someone who is basically the fourth lead on a basic cable cult hit in America, because from what I've heard and read, Great Britain has become a nation of Mad Men worshippers, and more Britons probably love the show than Americans. That, and Vincent is starring in some British production that he's promoting (that I don't care about right now because PBS won't get it for another year probably).
Now, I've mentioned my love for Vincent Kartheiser before – he plays Pete Campbell on Mad Men. The character of Pete is so obnoxiously multifaceted – at times, Pete makes me cry, leaves me heartbroken and devastated, and at other times, I think he's a f-cking psychopath. Vincent plays him so well, and plays the highs and lows so convincingly that it's not hard to believe Vincent the actor would make people feel queasy, just because they associate him with Pete. The Guardian gets this dichotomy out of the way fast: "Vincent Kartheiser seems at pains to be everything Pete Campbell is not: scruffy, charming, relaxed, witty, unshaven, likable."
Anyway, the full piece is a great read (Vincent really is a strange duck), but there were a few pieces that people are talking about already:
On playing a good "psychopath": "I definitely do psychopathic. I don't try to but it just sneaks out of my character."

On not having a car in LA: "I go on the bus, I walk. A friend left his car recently at my house and I took it out one day just for 15 minutes and it was terrible. You know why? I felt like I was back in LA again. Four or five years ago, when I had a car and I had been out of the city I wouldn't feel I was back until I got in the car, you know. But now I feel off the grid. I feel that I am not part of the culture. And because I don't have a car I don't really go anywhere to buy things. In fact, I have been in a slow process of selling and giving away everything I own."

On not having a toilet in his house: "Like, I don't have a toilet at the moment. My house is just a wooden box. I mean I am planning to get a toilet at some point. But for now I have to go to the neighbours. I threw it all out. It started a couple of years ago. It was in response to going to these Golden Globe type events and they just give you stuff. You don't want it. You don't use it. And then Mad Men started to become a success on a popular level and people started sending me stuff, just boxes of sh-t. Gifts for every holiday, clothes. One day, I looked around and thought 'I don't want this stuff, I didn't ask for it'. So I started giving it to friends or charity stores, or if it is still in its box I might sell it for a hundred bucks. I liked it so I didn't stop."

On not having a mirror, either: "I was wondering, should I have a screen in my home? It seems like the next step. I haven't had a mirror for six or seven years, though I admit that causes a lot of problems when I have to tie a bow tie. Or if I have to, you know, comb my hair for something. I'm forever looking in the mirrors of parked cars. I probably should be worried. Sometimes, I look around my house and think: is this normal, Vinny? I mean it's a bit more than just a remodel…"

On being a "grown-up": "I don't think anyone feels like a grown-up. I have four sisters and they all dated guys and they are all married, and all of the guys they dated always seemed to me like grown-ups, you know, but eventually you come to see that underneath they are all little boys really. Grown-up is just a word that kids use to describe someone who is not having any fun."

Men are a-holes: "Well, men are a–holes at some level, aren't they?" he suggests, with feeling. "The powerful white male in history is like the most evil entity, isn't he? Mad Men is a portrait of white men doing their stuff, just as their power is coming under a bit of threat. Don Draper is from a time when he can persuade everyone that what he is doing is right. Pete can't quite do that. He fears his shallowness. But don't we all?

On monogamy: "I've never been monogamous. It might happen, but it never has yet. I don't understand women, I'm off that kick." He wears a wedding ring, "just so I can flash it to warn people off if I need to," he laughs, in a stagey demonic way, "or at least put it on in the morning."
[From The Guardian/Observer]
I told you he's a strange duck. I can get on board with the having-no-mirrors thing, I really can. Mirrors are overrated, in general. I can get on board with the no car thing too, although having no car in LA must be a pain in the ass. But I can't get on board with the no-toilet situation. That's just… nasty. Even for a dude, who can easily piss on a tree in the middle of the night or whatever. But, ladies, if you went on a date with a guy without a toilet, wouldn't you run for the hills? Which brings me to another point: Vincent needs to get laid. Big time. I think having a girlfriend would help his neurosis quite a bit. And she would also make him get a toilet.
Vincent in NY on April 22 & August 9, 2009. Credit: WENN.