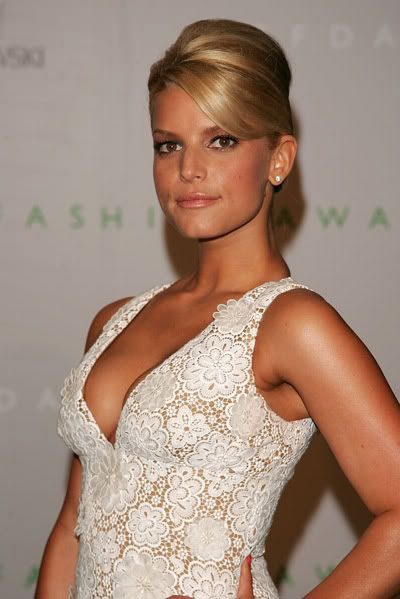 Jessica Simpson has been seen out looking unhappy and disheveled, and people suggested that she's been seeing a therapist. Jessica has admitted to psychotherapy in the past, making it likely that she's getting professional help during a difficult divorce.
When she was photographed leaving a medical clinic on May 29th she may have been seeing a doctor, not a psychiatrist as was suggested. A source told Britain's OK magazine that Simpson underwent testing for a stomach ulcer. There is no word as to whether she suffered from an ulcer or was treated for it.
As Jessica and Nick get closer to reaching a settlement in their divorce Life and Style is reporting that Jessica has been calling Nick for long conversations late at night. She's been known to drink and dial, so this could be true:
"There's definitely a closeness that's developed recently," a friend of the couple tells Life & Style. "Things that used to burn them up, like who cheated and why, aren't that big of a deal anymore," another insider tells the weekly magazine.
The report claims that the pair are no longer fighting but spending late nights chatting on the phone and having tearful bedroom confessions about what went wrong.
L&S even consults Robert Butterworth a psychologist that tells the magazine that these types of last minute doubts are common. "People often file for divorce in a moment of anger then start remembering the good times as the reality of life without the other person sinks in, Butterworth tells the magazine.
The divorce could be final in just two weeks.
Nick and Jessica have gone back and forth trying to reach a divorce settlement, with Jessica most recently offering Nick an insulting $1.5 million, which he declined. He is entitled to half her earnings during their three year marriage, and she is said to have made $30 million last year.
If this report is true about Nick and Jessica talking frequently, Nick must realize that Jessica is letting her father Joe run the show as usual and is not responsible for trying to low-ball the divorce settlement.
Nick has moved on to a gorgeous new brunette, Kim Kardashian, while Jessica is single after being dumped by Maroon 5 frontman, Adam Levine. We think Nick feels for Jessica but that he's not going to get back together with her.
Here's Simpson at the CFDA fashion awards in NY last night. She seems happier, and it may be because she's hanging out with her hairdresser, Ken Paves, who is visible is in the background. She looks a lot like Eva Mendes with her hair up like that.