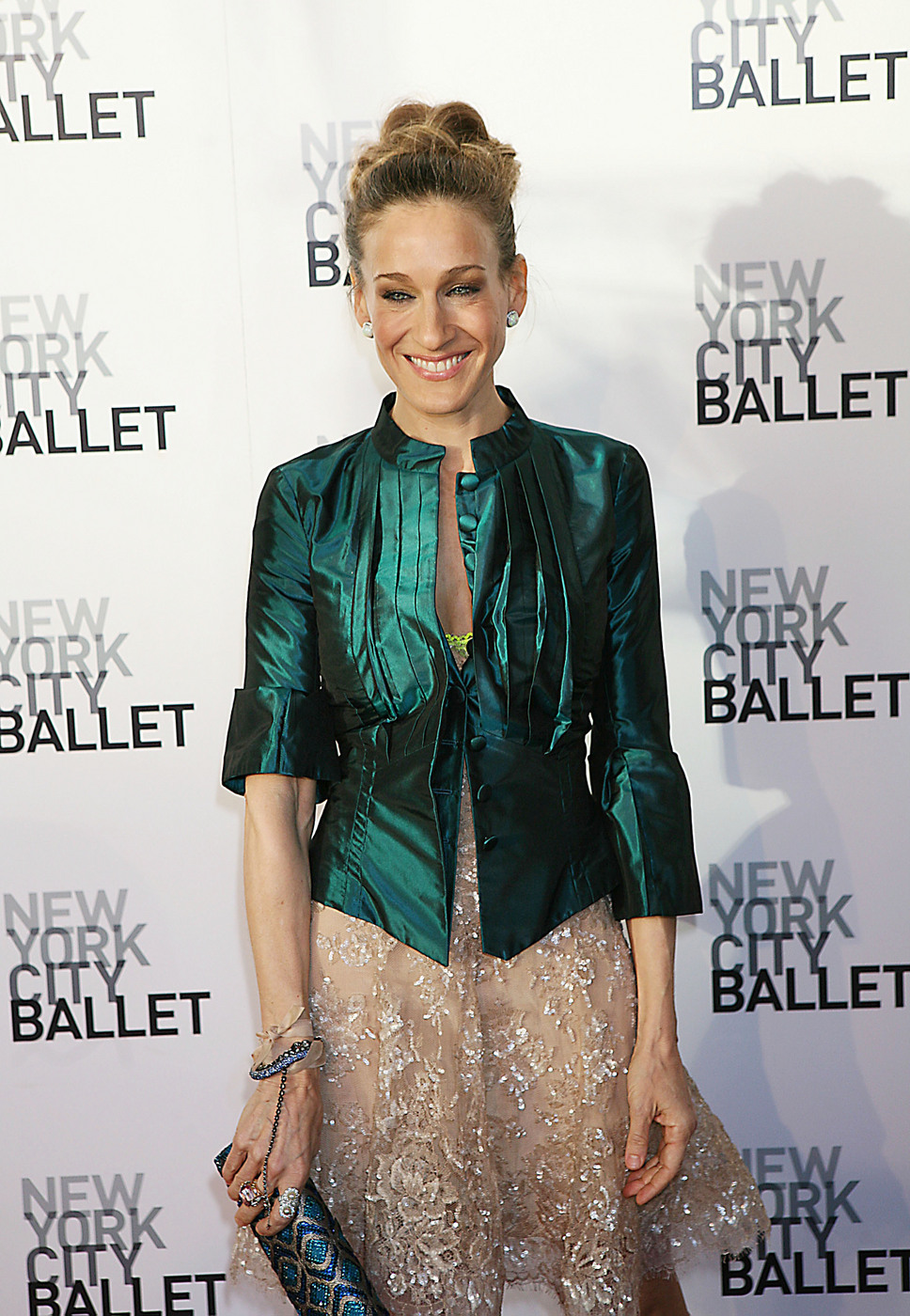 This week's Star Magazine has a short interview with Sarah Jessica Parker as part of her early promotion for Sex and the City 2. Of course this one isn't going to be as in-depth as SJP's epic Vogue profile, where she admitted that she didn't bring her newborn twins to Morocco, where SATC was filming, and that she didn't see them "except for Skype" for "nearly two months". After that little revelation, SJP then spent too much time trying to convince everyone that she was just a normal – nay, GREAT – mom. When asked by the Vogue interviewer "How many people work for you?" SJP's answer was this: "We painted our patio furniture ourselves. I make my children's food myself. We put together their high chairs ourselves; we do a lot ourselves! We do our own grocery shopping, we go to the market ourselves, you know? I do my laundry." Oh, and another one of my favorites – why did SJP want another baby? ""I didn't want [James Wilke] to have to shoulder the burden of us—later in life—by himself."
So, basically, we're going to be hearing a lot more about how SJP left her much-needed newborn girls in the care of someone for seven weeks while she filmed another hyper-consumerism, horrible, fake film. Prepare yourself. This is SJP's current version – I guarantee she'll have a new version for Oprah:
Star: How did you enjoy shooting overseas?
I loved Morocco. I didn't realize Marrakesh was such a bustling city. We went away for seven weeks, and that was a great advantage because, as opposed to filming in New York, no one cares who we were.

Star: Were you able to take the twins?
No, and I have enormous regrets about that. They couldn't travel at the time, because they were too young to get the right shots.

Star: You already have a 7-year-old son. How much harder is it raising two babies at once?
It couldn't be more different. I mean, just one alone is daunting, with the diapers, the ointments, the bottles, the pacifiers. You're carrying suitcases! There is so much more planning it's like a military operation.

Star: How are you and Matthew adjusting?
It's wonderful. We didn't want twins, but it's a blessing. They are as different as can be in every way, and I think it's good for them that they will be their own people.
[From Star Magazine, print edition]
See, I do think she's being honest. I bet she really does regret leaving the babies for seven weeks – although it was probably closer to eight or nine weeks, considering that Vogue profile took place after she finished filming in Morocco, and she was staying in London, relaxing and shopping after her grueling film schedule. So, she regrets it. And nothing huge happened, and I'm sure the babies were just fine, and Matthew Broderick and the nannies took great care of the babies. But the simple fact that SJP did make the final decision to leave them for so long speaks volumes to me, her "regrets" or not.
And besides all of that, why the hell did they need to film in Morocco anyway? One of the great joys of the television series was seeing the women in their world, New York City. Ugh.
SJP on in NYC on April 23 & 29, 2010 Credit: Pacific Coast News.