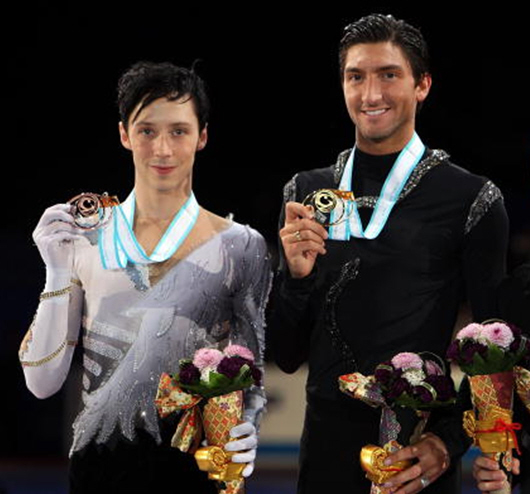 Do you know how much I love this? This is my favorite story of the week, and I'm even counting the Sandra Bullock stories. I just love when my Johnny Weir gets his claws out! Now, the summary of Johnny's feud with Evan Lysacek comes from People Magazine, and they got several wonderful and bitchy quotes from Johnny himself. However, I don't like how People decided to "begin" (chronologically) the war of attrition between Evan and Johnny. These two have been trading snotty asides, rolled eyes, bitchfaces and, in Johnny's case, an outing with a jaunty wink – all for the better part of a year, if not longer. But the Best Diva War Ever gained more steam when Evan sat down for a recent interview and basically said Johnny wasn't a good ice skater – oh, snap. Here you go, savor it:
When skating rivals Evan Lysacek and Johnny Weir were battling for a spot on the Olympic podium at the Vancouver Winter Games in February, Weir remarked that showdown would be a great "catfight."

The dust-up intensified this week off the ice as Olympic gold medalist Lysacek, competing on Dancing with the Stars, and Weir, a three-time U.S. Champion, traded slurs and barbs.

"We are at war," Weir told PEOPLE on Thursday. "My claws are out."

The latest round of mudslinging began when Lysacek suggested earlier this week that a lack of talent kept Weir off the cast of the traveling Smucker's Stars on Ice. "They only hire the best of the best to skate," Lysacek told the Indianapolis Star. "A lot of us in the skating world were really disappointed in the way he reacted, basically whining that he wasn't chosen."

Harsh Words Exchanged
The flamboyant Weir claims the show didn't hire him because he didn't fit the tour's "family-friendly" profile – a charge Stars on Ice denies. Weir also went on the attack against Lysacek, calling him a "slore" – an apparent combination of "slut" and "whore" – on the The Wendy Williams Show on Wednesday.

Then on Thursday in New York, where he announced their "war," Weir added, "I've never whined. I wasn't the one who falls dancing and gets a concussion and breaks toes and has hip replacement surgeries. If anyone whines, it's definitely Evan. He's done that his whole career, and I've never said anything about it just because there was no need."

Weir, who is opening the season for Ice Theatre of New York at Chelsea Piers, added, "I have no respect for Evan Lysacek." He is encouraging fans not to vote for his rival on Dancing with the Stars.

But there may a truce on the horizon. In a statement to PEOPLE, Lysacek says he wants to end the feud, even though Weir had said hurtful things. Extending an olive branch, he's calling Weir "an accomplished and talented skater" and wishing him well at his New York show.

"I let my personal feelings cloud my judgment in how I answered a journalist's question about Stars on Ice and Johnny that I should never have answered," says Lysacek. "I should have known better."
[From People Magazine]
You know what? This isn't one of those occasions where I can see both sides. I really think Evan was being a massive bitch when he said, "They only hire the best of the best to skate… A lot of us in the skating world were really disappointed in the way he reacted, basically whining that he wasn't chosen." First point: Johnny is a very good skater. One of the best in the world. He's not The Best, but he's certainly good enough to be chosen for Stars on Ice, and he certainly would have improved ticket sales. Second point: Johnny actually didn't "whine" in any way, shape or form about not being chosen. GLAAD made Weir's exclusion public, and Johnny merely confirmed his exclusion with the statement: "It's for real. All because I am not family friendly enough. I understand I am a little outrageous but I wish I could perform for the fans." Simple.
As for how Johnny reacted, what with all of the "slore" talk and basically issuing a sparkly, bedazzled, tasseled fatwa against Evan, I do think that he's just having fun. It's not like he's really trying to destroy Evan, he just wants everyone to enjoy a hilarious catfight.
UPDATE: Ooooh! Evan just spoke to Us Weekly, explaining why he got his claws out on Johnny: "Since the Olympics, I've dealt with Johnny's questioning my integrity and sexuality, and I've never spoken out on my own behalf no matter how hurtful those things may have been. I should have known better. Best wishes and congratulations to Johnny as he opens the new season of Ice Theatre of New York," Lycasek adds. "I wish him well in all of his future endeavors." You know what? I think these two dudes must have slept together at some point. They way they're fighting… it's the way ex-lovers fight. I bet Evan is a kinky bitch.