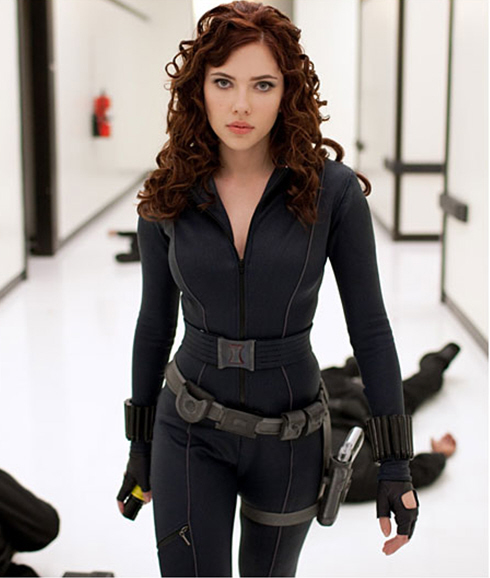 I get that some (many?) of you don't care for Scarlett Johansson. Personally, I don't hate or love her. She seems to be one of the more talented actresses working today, but I'm basing that on my love of Match Point. She's pretty when she's not styled to look corpsey. And she's generally pretty quiet, which is good, because in interviews I do think she comes across as dull and full of herself. Example: the Parade interview, below, where Scarlett is waxing rhapsodically about how she doesn't want to be "just… the sensual vision in a tight outfit." Girl… you're in a catsuit, and the studio Photoshopped your boobs, waist and hips in the posters. Let's have no more of this "I want to be more than just a sensual vision" talk. Now, if I wanted to be harsh, I would just say, "Bitch, the jig is up." Sidenote: who says crap like "sensual vision" in everyday conversation anyway?
"When you have a girl swinging around by her ankles in a cat suit, that's innately sexy, but she's also intelligent, ambitious, motivated and calculated. I've never really seen a film of this genre where there's more than sex appeal to the female characters. I would find it boring to be just a pawn in a film about a whole bunch of men fighting it out and rolling around and getting down and dirty. I didn't want to just be the sensual vision in a tight outfit," said Johansson.

Scarlett Johansson scored the coveted role of deadly superspy Black Widow in Iron Man 2. She joins Robert Downey Jr. and Gwyneth Paltrow to help take out a whole new bunch of bad guys. Parade.com's Jeanne Wolf found out that the startlingly fit Johansson wants people to notice more than her curves in a skin-tight costume.

Looking razor sharp and buff.
"I was eating really, really clean. But you can't deprive yourself. That's when you really get in trouble because you have like low energy and feel deprived. I was constantly eating, but it was all super clean food, a lot of veggies and protein, that kind of thing. It makes you feel good, especially when you are exercising. I felt really strong, efficient and athletic, all of those things. It helped me to feel confident about my physicality. It was one less thing to worry about."

As for that uber sexy black suit.
"Playing the Black Widow, I'm so physically active that the suit was the last thing I was thinking about. It was almost an afterthought. I went through months and months of training, so by the time I put on the suit I was ready to go. It was tight, but not too tight. The biggest problem was that it was so hot. I can tell you that being encased in Lycra makes you sweat when you're doing stunts and wire work."

Could the Black Widow get a film of her own?
"I would absolutely love to carry the legacy of the Black Widow forward. There's a lot to explore there. I think the audience would like this character and like me as this character. I just finished a four month run on Broadway, so I'm taking a little time right now to kind of plan the next move."

After a year-and-a-half of marriage to Ryan Reynolds.
"I make no big proclamations, nothing. It's not necessarily getting married that changes something that's between two people. It doesn't involve anyone else other than family, children. I think there are couples that are not married in long term relationships that live the same day to day life. But I think good things come with time when you are set with somebody."

Taking time off is hard to do.
"I don't mind spending a little bit of time off, everybody needs a vacation, but I have a job that I like to do. If I hadn't worked for three months, I might be going, 'What am I going to do?' You know, there's only so long you can play golf or whatever, not that I play golf. But sure, I like to travel and vacation, see friends– all that. But I love what I do. I'm happiest when I have something to focus my energy on."
[From Parade]
Yeah, the rest of the interview is pretty basic, although I did like the line "I make no big proclamations, nothing. It's not necessarily getting married that changes something that's between two people." I think she's just saying "It changed something for me, but I don't speak for every married person."
Oh, and you know the alleged fight between ScarJo and Gwyneth? I just read this quote from Gwyneth about what she thought when she first saw ScarJo in her catsuit: "I thought "Wow that is hot, that is hot right there. She was so great to work with; she is a really smart, cool funny girl. It was nice to have another girl on set this time to talk about girl stuff with, it was great." Talk about "stuff". Like how ScarJo doesn't have an Oscar, and how Goopy is going to cut her.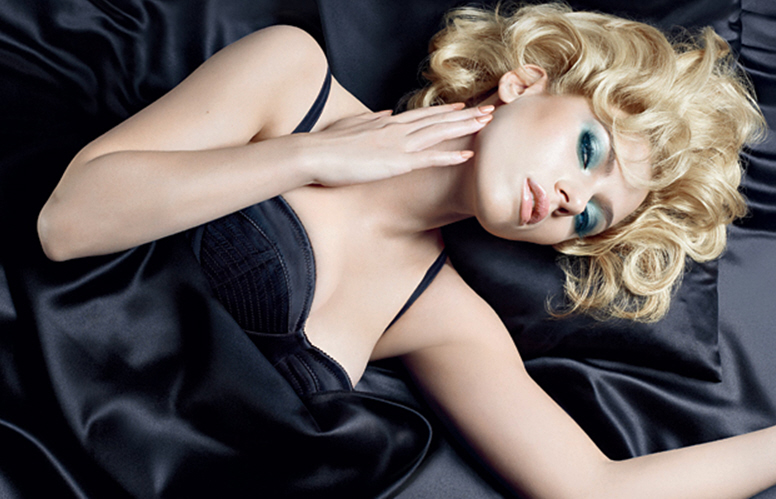 Dolce & Gabbana ad featuring ScarJo, courtesy of HuffPo. Promotional Iron Man 2 images from Popoholic.