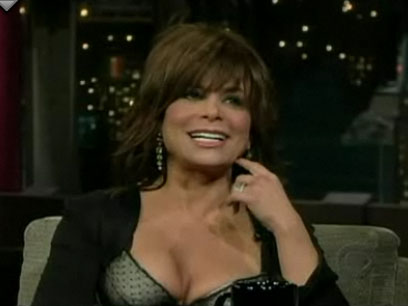 Paula Abdul was on Letterman last night and she didn't look or act too sober at first, but then perked up at the end of the interview. She was funny in that drunk party guest kind of way. Letterman asked her if she enjoyed her Superbowl performance, and she said she enjoyed it but rolled her eyes. When he asked her if she was having on good time on American Idol every night she said no, and then he asked her if she was drunk:
How was that, [your Superbowl performance] that's like a big thing. That must have been scary, all those folks and stuff, eh?
It's a huge thing, and coming back on again – no one knew I was coming on again with Randy Jackson. I came out with Randy Jackson [audience laughs] Who knew that…?
Did you enjoy the Superbowl Experience?
It was an amazing experience. Whatever.
What do you mean whatever?
Yeah, it's great. Fantastic.
You still get excited about doing that American Idol show every night?
No [shakes head]
I know you're just teasing, aren't you?
No [both laugh]
Are you drunk? Are you?
[points at Letterman] That's – not – true. No. I actually am thrilled about doing American Idol.
[Transcribed from video of Paula Abdul's appearance on David Letterman on 3/10/08, clip below]
Then Paula explained that the weird stuff she says on American Idol is actually due to Simon whispering odd suggestions in her ear. She brought up the moth and melon ball comment, and I remember that one, and then she made an hysterical dig at Randy Jackson, calling him "Dude dog dude"
The guy – the mean guy, Simon, now he sometimes, I noticed this… he sometimes has done something to cause a dynamic that makes you distracted. Am I right about that?
What a revelation! You're very keen. Yeah, it's finally coming out… Just last week, Brooke sang "Love is a Battlefield," and he was whispering in my ear during the commercial break 'You know Paula, Love is a Battlefield was a yogurt commercial"
And I said "Really? That's great Simon." Then… we're on. "Say say, 'It was a yogurt commercial…'"
Then, we're live and Ryan says "What is this a therapy session? What is he saying?"
I said, you really want to know? He was laughing hysterically… I said oh relevant things, what he used to say to me "The moth in a melon ball [unintelligible] in a wonton win"
Now everyone knows he whispers in my ear crazy stuff. And he was busted so he's all [laughing like Simon evilly]
What you could do is report him. There must be someone at the show you could talk to…
Whom? Dude dog dude to the right of me? I don't think so.
[Transcribed from video of Paula Abdul's appearance on David Letterman on 3/10/08, clip below]
Paula Abdul on Letterman, Part 1

After the break she told a story about a woman who took a picture of her over the top of a bathroom stall. She got kind of confused after telling that story, and made an awkward transition into a story about how she lost a urine specimen at the gynecologist's office and a little old lady who worked there had to admit she stole it for her son. At that point Paul Schaeffer jumps in and is like "No! No! Her Son? What was he going to do with it?" Letterman asked her if everything went ok at her checkup and she said it did.
I've often wondered why this woman has a career on television and I think the reason is that's she's funny. She may slur her words a bit and her mind is somewhat addled from whatever medication she's on, but if you pay enough attention she makes sense.
Paula Abdul on Letterman, Part 2