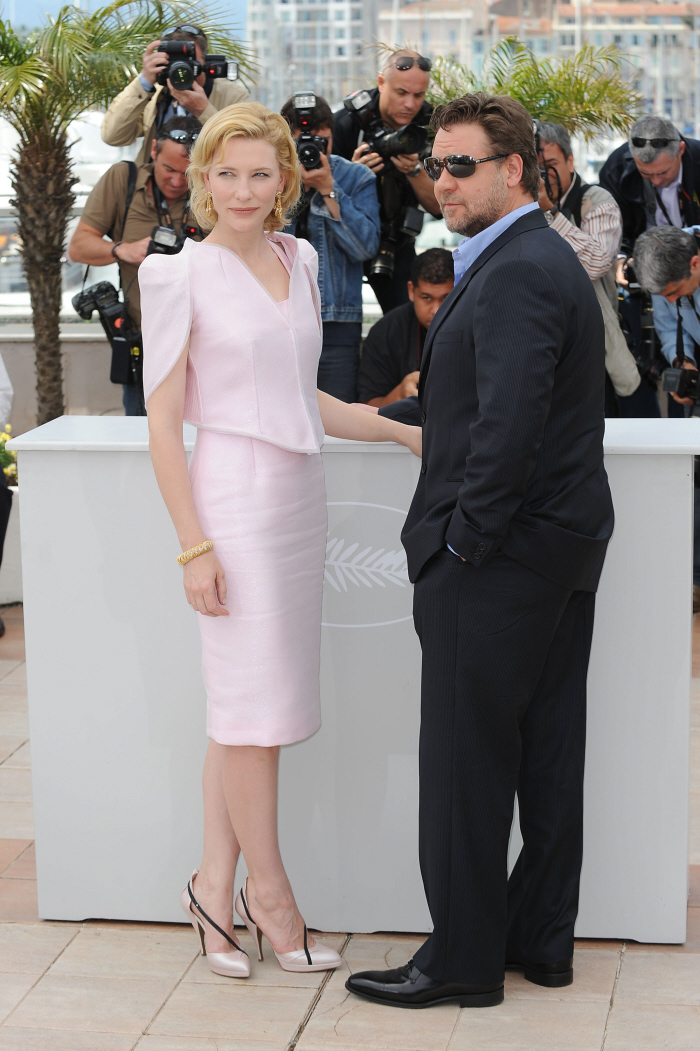 Here are some new photos of Russell Crowe and Cate Blanchett at the photo call for Robin Hood. Robin Hood is the opening film at the Cannes Film Festival, and it's also going to be Cate's big "comeback" after more than a year spent doing theatre stuff in Australia and Washington. I've missed Cate, haven't you? Especially on the red carpet. We needed her to be our great fashion icon. Cate was prepared too – delivering a great fashion moment in a very interesting, beautiful pale pink suit. Russell looks like he would rather be in a bar, or that he's just come out of a bar.
Anyway, Russell and Robin Hood director Ridley Scott sat down for an interview with The Daily Telegraph. Russell is still trying to convince us that he's not a hyper-aggressive toolbox, like he did in his GQ UK interview. The full Telegraph piece is here, and here are some of the highlights:
Russell on the character of Robin Hood: "We never assume that he is a charitable person, he's not. He's totally about looking after himself but he develops into this other thing, mainly driven by the desire, I suppose, to be loved by Marion."

Russell on working with Ridley Scott: "I love working with him. On a film set with Ridley Scott I trust in the fact the infrastructure is there, I trust in the fact that even though he's making an expensive movie it will not cost one dollar more than it needs to because he has a very responsible attitude to where the money's being spent. He knows how many severed heads he's got in the effects department; he knows what he can use and how quickly he has to move, and I really respect that."

Russell on his image as an aggressive bully and a "difficult" actor: "When you read it in black and white it sounds like I was being ridiculously aggressive, but one of the main misunderstandings is that I've been sold as an angry person and that's just not true. I like to put a lot of effort into what I do and that comes with a certain amount of energy, especially when you're weary and it requires you to dig deep inside yourself… I certainly have a temper that can flare up, but having a temper is a completely different thing from being an angry person."
[From The Telegraph]
Do I buy that Russell is just a misunderstood guy who has maligned in the press? Not really. I do think he's such a talented actor, and I also think he's probably a total douche unless he considers you a friend.
By the way, the tales of Robin Hood's disastrous film production have already come out, but here's another piece of "what were they thinking?" info. While everyone knows that it was a very expensive film to make, and that it went over budget, new information indicates that it ended up going about $80 million over-budget. Originally, it was thought that it cost $155 million to make, but the actual budget is rumored to be $237 million. And that's before the promotional and marketing costs! Good Lord. They really need this movie to be a hit.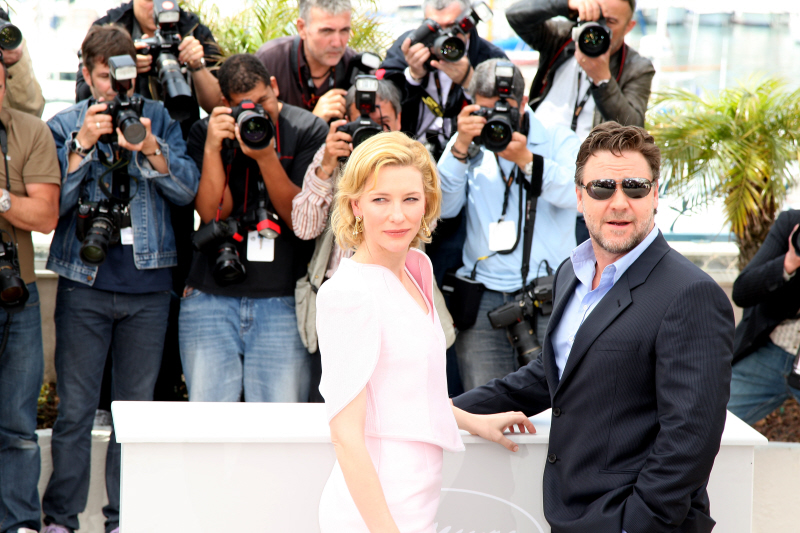 Cate and Russell in Cannes on May 12, 2010. Credit: WENN.