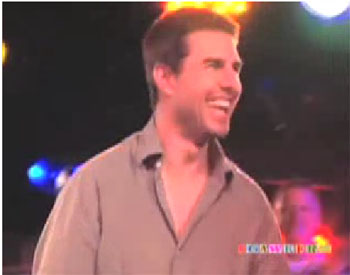 Gawker has a new video of Tom Cruise's birthday party on the Scientology Cruise Ship. It features footage of the band playing the theme songs from Top Gun and Mission Impossible while Cruise whoops and claps in the front row. Then Cruise takes the stage to sing a duet of "That Old Time Rock and Roll." He jams out with the singer, jumps around, and looks like he's having a great time.
In the Church of Scientology's statement on the Andrew Morton bio they say that Tom Cruise does not hold any position of authority in the church, but Gawker points out that they're willing to spend what must be at least six figures on this party for him.
The thing is, this video is fun and not that damning if you forget that the Scientologists are involved. Watching this, I was thinking "I wonder if everyone who works on that ship is a damn Scientologist. Is that singer a Scientologist? Can anyone escape their love bomb?" You know if Tom Cruise were talking Scientology to me I would probably look down at his wild sexy eyes and just smile and nod, losing all that pent up suppressive knowledge and anger. Damn you, Gawker, for making cults look like they have fun in between taking money and making people disown their families.
The video seems to be taken from a DVD of Scientology moments, because you can see someone chose from a menu at the beginning and there are small icons of Tom Cruise. Maybe Gawker has their hands on that DVD and is going to release more clips next week. Please let that be the case. And no more party videos. We want more speeches we don't understand about things we'll never grasp unless we embrace the program and surrender all our worldly goods and critical thinking skills.
You can watch the Tom Cruise party video at Gawker.com.
Update: This clip is undated, and seems to pre-date Tom's relationship with Katie Holmes.