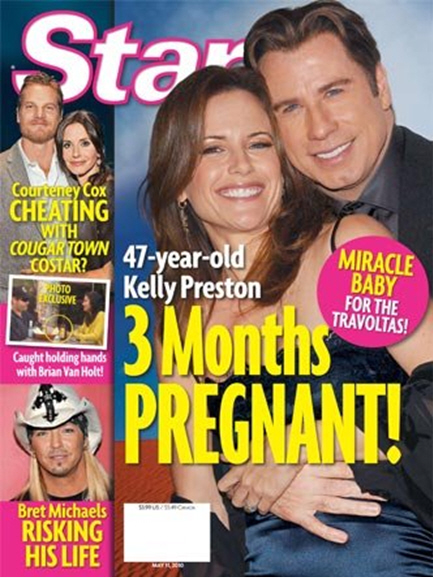 My first instinct when I saw this Star Magazine cover was "that's cruel and bullsh-t". But it looks like Star Mag got another scoop. Star's online excerpt of the cover story is brief too – basically, it amounts to an "insider" telling the tabloid: "Kelly is about three months pregnant. Both she and John are absolutely over the moon — they knew in their hearts that the time was right for this to happen." But after releasing the information last night, Travolta and Preston confirmed the news to People:
John Travolta and Kelly Preston, who have lived through the tragedy of losing a son, can now announce the best news they've had in years.

Preston, 47, is pregnant, the family tells PEOPLE.

"It's impossible to keep a secret … especially one as wonderful as this," they say in a statement. "We want to be the first to share this great news with everyone that we are expecting a new addition to our family. Love, John, Kelly and Ella"

Travolta, 56, and Preston are also parents to Ella Bleu, 10. Their 16-year-old son Jett, died of a seizure in January 2009.
[From People]
Congratulations to the happy family! I wonder if they've been trying to conceive for a while. I also have to admit – and I'm seriously not judging or being snaky – just how many fertility treatments Kelly had to have. She's 47 years old! Still, best wished to them, and they're in my (and a lot of people's) thoughts and prayers.
Star cover courtesy of PopEater.