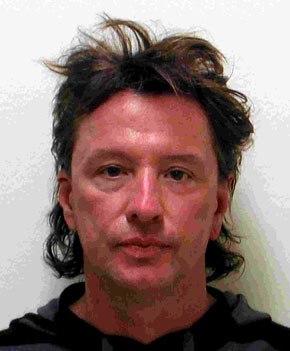 Though he went to rehab twice last year, in July and September, sobriety is apparently still an elusive concept for Richie Sambora. The Bon Jovi guitarist was arrested late last night and cited for driving under the influence in Laguna Beach. Police also confirmed that he had a female passenger in the car with him, who TMZ is reporting was his 10-year-old daughter Ava. Ava's mother is Sambora's ex-wife Heather Locklear.
Laguna Beach Police Sgt. Jason Kravetz confirmed to E! News that officers first spotted the 47-year-old's black Hummer driving erratically on the Pacific Coast Highway at roughly 10:52 p.m. Tuesday. Officers briefly followed his swerving vehicle before pulling him over.

The Lost Highway rocker was administered several field sobriety tests, all of which he failed, and was taken into custody just after 11 p.m.

Once at the nearby police station, the rocker, whom cops described as being "very cooperative," opted to take a blood test in lieu of a Breathalyzer. His blood-alcohol level has yet to be released, though police say there was no indication of drugs in his system.

Sambora was booked, briefly housed and released from the station just after 4 a.m. Wednesday morning on his own recognizance.
[From E! News]
My mind will never cease to be boggled by the sheer amount of celebrities who cannot seem to afford to call a cab or a car service. I'd be interested to find out if the percentage of DUIs is higher for famous people, or if it just seems that way because they get attention for it. Driving drunk is absolutely inexcusable, driving drunk with your 10-year-old in the car is beyond my comprehension. And I have to say that – while it's never a good idea to piss off your ex – it's an extra bad idea to do that when your ex is Heather Locklear. I obviously don't know the woman, but she just has that, "Mess with me and I'll grind your balls into the cement," expression on her face all the time. I can only imagine what would happen if you messed with her kid.
Seriously, the celebrity DUI thing is so played out that I can't even summon righteous indignation anymore. It's really sad that this has become so commonplace that it just merits a shoulder shrug.
Here's Richie Sambora with ex-wife Heather Locklear and daughter Ava at the "Perfect Man" premiere in June of 2005. Images thanks to PR Photos.
Update by Celebitchy: US Weekly reports that three other females were in the car, two of them juveniles, according to police. That probably means that one of Ava's friends was n the car, along with another adult passenger. TMZ notes that Sambora could be charged with child endangerment.